H
SBC Holdings PLC
[HSBA.L]
is by far Europe's biggest bank with €2.65 trillion worth of assets. While revenues have been growing – $13.8 billion in the last quarter – they are still down from what they were a decade ago. To fuel growth and protect itself from any Brexit fallout, the bank has pivoted its business to Asia, with a turnaround strategy led by new Chief Executive John Flint and Chairman Mark Tucker. 
€2.65trillion
Value of HSBC Holdings PLC assets
What's been on investors' minds recently?
1. Brexit concerns
As fears grow that the UK's departure from Europe will hit consumer spending and house purchases, the bank's credit and mortgage operations could be squeezed. Unlike other UK banks, HSBC's moves in Asia could offset the damage. Investors looking for a banking stock insulated against Brexit might do well to consider HSBC.
2. US-China trade war
With HSBC's focus on Asia, the US-China trade war could leave the bank exposed as any news – either negative or positive – could directly affect the share price. After US President Donald Trump and Chinese President Xi agreed a 90-day truce, the bank's share price shot up 2.4%.
3. Chairman's second job
Alongside John Flint, new Chairman Mark Tucker has done much to improve HSBC's operations, including slashing private banking approval times for wealthy clients. However, news that he is to take on the Chairman role at South African insurer Discovery, alongside his HSBC responsibilities, has raised concerns among shareholders. While there is nothing to stop Tucker being the Chairman of more than one company, the worry is that his focus will be split between two jobs and performance will suffer. 
What's happening with the share price?
At the start of December, HSBC's share price was trading around the £640 level, down 11% from where it was a year ago. It was also someway off the £798.60 52-week high hit in January. Like other
FTSE 100
companies with exposure to China, the share price took a tumble this month after the arrest of Huawei CFO Meng Wanzhou as investors became jittery over an escalation in the US-China trade war. 
Earnings, however, have been strong. In October, the bank posted Q3 results that saw adjusted pre-tax profits of $6.2 billion, an increase of 16% in the three months up until September. By driving profits, the bank has been able to focus on developing profitable operations and a booming Asian business. The share price shot up over 4% after the results were announced.
At the end of Monday's session, the stock was trading hands for £638.60.
Can HSBC compete with challenger banks?
Competition from digital-only app-based banks is a concern for large UK banks burdened by legacy systems and slow internal processes. Take online bank Monzo; in the space of just three years, it has amassed over 900,000 customers and is nearing a valuation of £1 billion. 
To see off the challenge, HSBC is reportedly launching its own digital-only bank for small businesses – known internally as 'Project Iceberg'. Investors will watch closely to see if HSBC can compete in a market where 72% of the UK adult population are expected to bank via a mobile app by 2023.
72%
Percentage of UK adult population expected to bank via a mobile app by 2023
The bank has also been investigating blockchain technology to boost efficiency and reduce fraud. Earlier this year it performed the world's first finance transaction using a single blockchain platform when it issued a letter of credit to food and agriculture firm Cargill.
Embracing new technology requires substantial investment for a company of HSBC's complexity and size. Good progress has been made, but last quarter the bank spent $7.7 billion on operating expenses. Investors will now hope to see any operational efficiencies reflected in lower operating costs and greater profits. 
| | |
| --- | --- |
| Revenue percentage change, Q3 YoY | +6.43% |
| Earnings per share (EPS) percentage change, Q3 YoY | +26% |
| Performance YTD | -15.6% |
| Market cap | £131.31bn |
| PE Ratio (TTM) | 12.37 |
HSBC stock vitals, Yahoo finance, as at 13 December 2018
HSBC profits from Asia
Q3's results demonstrate how important Asia is for the bank. Over 75% of profits come from the continent, up 13% from the previous quarter. The results also showed that Asia contributed 47.7% to total revenues, compared with 35.6% in Europe. This is all part of a concerted effort to build the bank's already substantial presence in the region. 
"At a time when Brexit uncertainty is still very much front and centre for all of the banks, generating more than half of the bank's profit from Asia is very much a positive for (HSBC)," Martin Smith, head of market analysis at East & Partners told CNBC in the run up to the Q3 results.
With Brexit hitting UK-focused banks hard, HSBC's international outlook means it is protected from any downturn in mortgage sales or credit card spending, or the prospect of a Brexit triggered recession.
In focus: HSBC in China
One of the main growth areas for HSBC has been developing its presence in China's Pearl River Delta area (PRD), which includes the cities of Shenzhen, Guangzhou and Macau. Hong Kong, HSBC's Asia base, is just over the water.
Spurred on by the Chinese government, the PRD is now the world's largest urban area and home to over 55 million people. To get a sense of the scale of growth, the population of Shenzhen grew from 58,000 to 10.7 million between 1980 and 2015. 
In 2014, the area received over 20% of China's direct foreign investment and had a growth rate that outstripped the rest of mainland China.
HSBC is capitalising on this unprecedented growth with over 100 of its 170 mainland branches based in the PRD. It has also increased its wealth services to attract newly rich domestic and expatriate clients. Powering this profit engine is the bank's decision to redeploy capital from underperforming parts of the business to support its China efforts.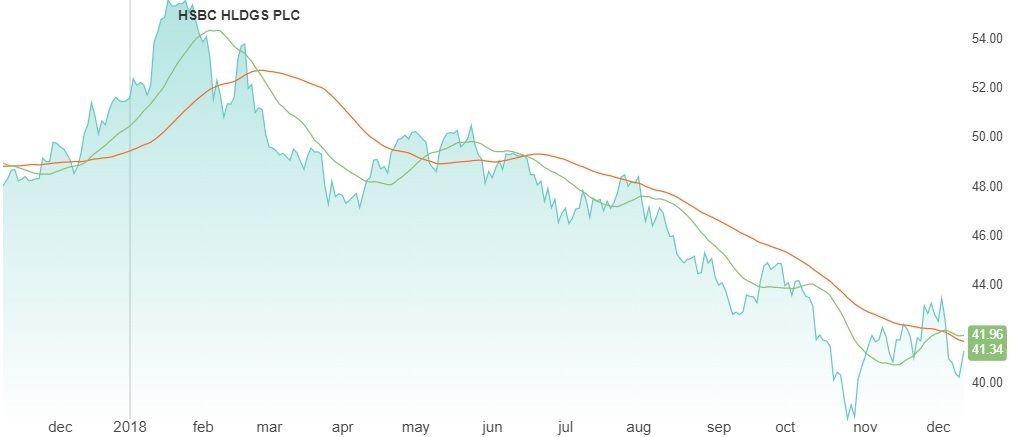 HSBC share price performance, NASDAQ interactive chart, as at 13 December 2018
Potential opportunity in HSBC stock
Morgan Stanley predicts that China will move from a middle- to high-income society by 2027, with a per capita gross national income (GNI) of $12,500 (GNI was $290 in 1985). As the Pearl River Delta Area moves from manufacturing to service and tech-based industries, HSBC's foothold in the region could see the share price gain in the mid- to short-term.
Indeed, the US-China trade war, while leaving the bank exposed to tariffs, could prove to be a sideshow should HSBC's China operation continue to expand.
"I think there will be a reduced dependency over time on the US-China trade corridor," Flint said during the bank's Q3 investor call. "People are beginning to think that way. It's possible that intra-regional Asian trade grows more than US-China." 
Overall, moves to reduce money spent on failing ventures and pump capital into retail and wealth operations show a bank that understands both its strengths, and its weaknesses. Investors in its US-listed
shares
have also been given a target return on equity of 6% by 2020 – a strong improvement on last year's 0.6%. 
HSBC's trailing profit to earnings ratio of 12.02 looks comparatively good value compared to its Brexit-exposed competitors: Royal Bank of Scotland's (RBS.L) PE is 32.10, while Barclays' (BARC.L) is a hefty 72.76. Investors looking for a steady income source will also look favourably at the bank's EPS (TTM) of 53.10 and a 6% dividend – something that new CEO Flint is keen to maintain.