The three months up to the end of May have seen Twitter's [TWTR] share price rack up more gains than tech competitors Facebook [FB], Apple [AAPL] and Netflix [NFLX], with the social media platform's shares increase by as much as 18.39%.
By comparison, Facebook has only seen a three-month gain of 10% and Apple a mere 1.1%. Netflix, meanwhile, fell into the red with its share price contracting by 4% over the same period. One company Twitter could not outdo was Snap [SNAP], which gained 21.32% within the same period after it added 2 million daily active users in the first quarter of 2019.
Taking a wider view, Twitter's share price has even managed to outperform the S&P 500 and NASDAQ, which had both remained flat within the last three months, before slumping 0.29% and 1.66% since the end of May, respectively.
Twitter shares reached a nine-month high of $40.80 by 3 May, but dropped by more than 10% to $36.44 by the end of the month.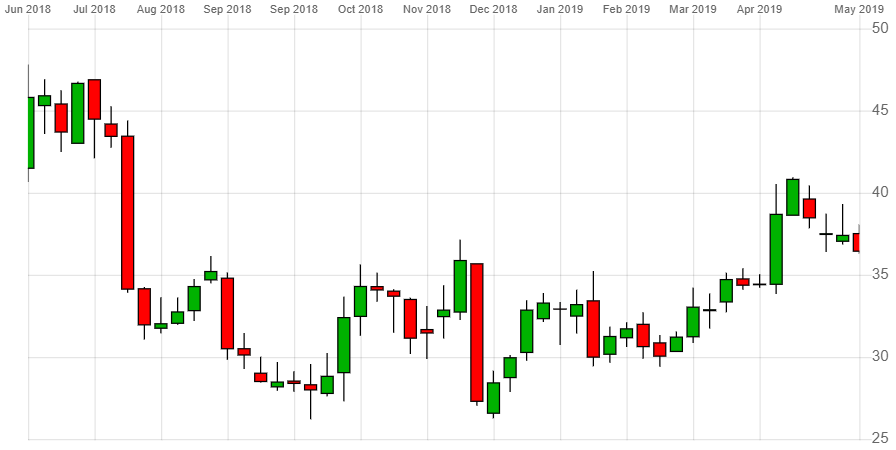 Twitter's 1-year share price performance, CMC Markets, 04 June 2019
The fact that Twitter has been lagging behind social media stocks like Facebook and Weibo for years makes the company's recent growth particularly poignant.
What's driving Twitter's growth?
Twitter's Q1 2019 results are largely responsible for its recent gains. When the social media company announced its most recent earnings on 23 April, it beat analyst expectations for revenue, ad engagement and daily (DAU) and monthly (MAU) active user additions. 
Shares jumped by as much as 15% as Twitter execs reported $787m in revenue for the quarter, up by around 20% year-on-year, and a DAU count of 134 million, versus the 128.4 million estimate. MAU came in at 330 million – a drop from the previous quarter, but still over 11 million more than expected.
Advertising revenue totalled $679m, an increase of 18% year-on-year, while ad engagements increased by 23% year-over-year.
Market cap
$

26.39bn

PE ratio (TTM)
19.95
EPS (TTM)
1.73

Quarterly earnings growth

 

(YoY)

212.80%
Twitter share price vitals, Yahoo finance, 04 June 2019
These recent results are part of a longer-term revenue growth trajectory for the company. Twitter has been consecutively beating revenue expectations for more than a year and it continues to see a strong earnings trend, more than doubling its earnings per share in 2018 to $0.37 per share. 
This growth is largely expected to continue. The company is expecting a 24% growth in earnings for FY 2019 and a solid revenue growth rate – which has over the previous three quarters risen by 24%, 29% and 24%, respectively.
24%
Expected earnings growth in FY 2019
With a presidential race around the corner, Twitter may be on track for a further stock boost: Donald Trump's controversial presidential campaign in 2016 dramatically increased traffic for the company. The 2020 presidential race is expected to be a similarly high stakes affair.
Long-term backers are rewarded
Between 2014 and 2016, Twitter had a hard time gaining momentum. For three years its earnings-per-share stayed below $0.16, with few signs of genuine growth on the horizon.
During this period, doubts about the company's future and speculations of a potential takeover by other tech industry giants dampened investors' views on the stock. 
$0.16
Between 2014 and 2016 Twitter's EPS didn't surpass this level
Now, it seems long-term Twitter backers have finally been vindicated as the tech company goes from strength to strength. 
Zacks currently ranks Twitter a "buy", pointing to its strong earnings growth prospects and the fact that the company is already outperforming other stocks in the Computer and Technology sector so far this year 
Twitter's P/E ratio is a solid 21.11, slightly lower than Facebook's 26.34 ratio and higher than Weibo's 15.17. It's widely expected that the social media company's P/E will continue to rise up to 39.22 – higher than both of its key competitors – however.
While commending this performance some analysts are still hesitant to label Twitter an outright "buy" until it provides these results long-term. Writing on Seeking Alpha, Taylor Dart who considers Twitter a "hold" says: "I continue to watch the stock for a potential entry as I'm encouraged by the strong fundamentals, but it is essential that the bulls play defense if the market does see more weakness."
While the past three months have been good for Twitter, full-year figures still pit its competitors ahead of the platform. Twitter's year-to-date price gain is 26.48% compared to Facebook's 30.8% and Snap's 105.35%.