Star fund manager Neil Woodford's decision to suspend trading in his largest fund sent shockwaves throughout the investment market on Tuesday. The announcement follows weeks of withdrawals from the Woodford Equity Income fund (WEI), prompting its founder to block withdrawals for at least 28 days in order to "protect investors' interests". 
As a result of the deepening crisis, Hargreaves Lansdown's [HL] share price – whose customers held a 31% stake in the Woodford fund as of December 2018 – also fell. By Wednesday morning, the fund supermarket's shares had dropped more than 6% since the start of the week to 2089p.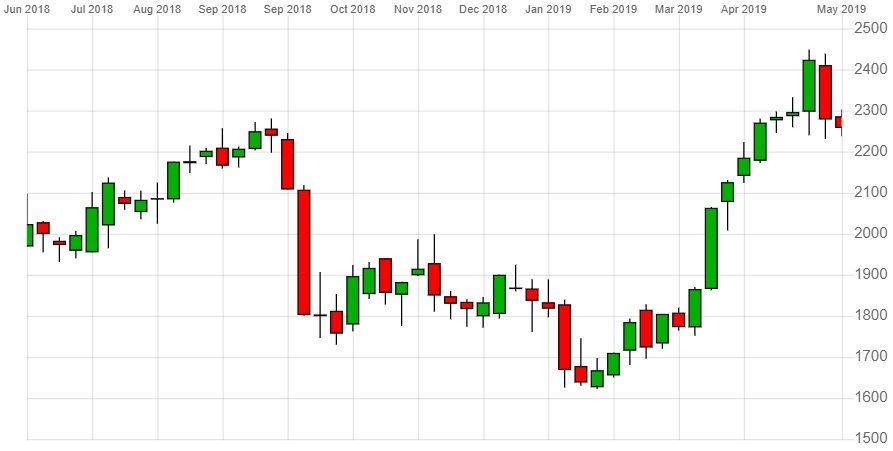 Hargreaves Lansdown 1-year share price performance, CMC Markets, 06 June 2019
Behind the Hargreaves' share price drop
This decline reflects fears that investors who followed Hargreaves' 'Wealth 50' recommendations – which until Tuesday featured Woodford Equity Income – would react angrily to being stuck in a fund that they collectively funnelled £1.2bn into, Paul McGinnis, Shore Capital analyst, told the Financial Times.
As a leading stockpicker, with a 40% market share and 1.1 million customers, Hargreaves Lansdown's stock recommendations are considered influential. The firm is now under fire for continuing to recommend the Woodford fund, despite its weakening performance. 
At the end of March, six of Hargreaves' internal funds had invested around £700m into the WEI, with a further 14% of the company's £3bn Income and Growth fund also being invested. However, head of investment at Hargreaves Emma Wall has assured investor's that the firm's operations won't be affected.
Market cap
£

9.02bn

PE ratio (TTM)
37.55
EPS (TTM)
50.70

Return on equity

 

(TTM)

67.30%
Hargreaves Lansdown share price vitals, Yahoo finance, 06 June 2019
"When the fund resumes trading, the value of the fund will be based on the value of the underlying holdings, so in the event that shares that Woodford owns increase in value the fund will be repriced accordingly, and vice-versa," she told the Financial Times.
Hargreaves isn't the only large manager of retail investors' money to have aligned itself with Woodford. Wealth manager St James's Place [STJ] – whose clients have contributed about a third of Woodford's total assets under management – saw its stock fall 2% in early trading on Tuesday, before recovering its losses by market close.
The Woodford fund's demise   
Neil Woodford's eponymous fund, which launched in 2014, reached its peak back in May 2017 when it was valued at £10.2bn. But just months later it had begun to struggle, as some of the its key holdings began to deliver profit warnings, such as Capita, Provident Financial and AA. The clincher came when Jupiter Fund Management sold its £300m stake in the flagship income fund, signalling the beginning of a constant stream of outflows. 
In the past four weeks alone, the fund has lost £560m from its value, dropping from £4.33bn in April to £3.77bn in May, according to Morningstar data.
£560million
The Woodford equity income fund's outflows in the past four weeks
While fund managers usually carry cash reserves of between 1-5% of the fund's value to cope with withdrawals, the amount of investors asking for their money back led Woodford to sell shares in the largest holdings in his portfolio to protect the value of investor's assets. "I'm extremely sorry that we've had to take this decision, we will keep our investors informed. We will use this time to reposition the fund," Woodford said of the suspension in a video posted on its website.