Glu Mobile [GLUU] was founded in 2001 and has since become a world leader in making games for phones. A small-cap stock worth about $984m, it has released earnings for Q3 that for the most part met or beat internal and analysts' expectations. 
Headquartered in San Francisco and led by CEO Nick Earl, Glu's revenue increased to $99.3m from $81m year-on-year. The company came close to being profitable for the first time, reducing its losses from $11.7m in the same period in 2017, to $0.3m. On Wednesday, the day after its Q3 earnings, stocks jumped to an 11-year high - hitting $8.36 per share, up from $6.94 on the previous close.
| | |
| --- | --- |
| Revenue percentage change, Q3 YoY | +22% |
| Performance YTD | 123.9% |
| Market cap | $1.2bn |
Glu Mobile stock vitals, Yahoo finance, as at 9 November 2018
The company excelled in bookings this quarter, a crucial facet to its business plan and a continuation of its successes in Q2. This quarter, bookings were up 17.5% year-on-year to $100.7m. 
Glu missed Zack's consensus estimate, making $0.0 per share compared to the $0.07 predicted. However, revenue for Q3 is expected to be $96.49m – a 12.6% increase from 2017 Q3. Its $99.3m intake will please investors in the gaming company. 
High-scoring growth
Glu struck gaming gold with Kim Kardashian: Hollywood in 2014 earning $150m in the game's first year. The company then experienced a significant downturn in fortunes – a 22% drop in revenue in Q1 of 2016 year-on-year, after interest in the game dwindled. So Glu opted to diversify its content instead. 
Currently it considers Tag Sports Baseball, Design Home and Covet Fashion as its 'big three'. They collectively accounted for 79% of bookings this quarter, up 64% year-on-year.
Since the heady Kardashian-inspired days of four years ago, none of Glu's like-for-like repeats truly worked out, including collaborations with Britney Spears and Katy Perry. The company had prepared to make a loss this quarter, the fifth time out of the last six.
But through 2018, buoyed by a slew of new bookings, the company's stock price has risen 108%, from $3.81 to $7.92. The company almost cleared its net loss in Q2, to $4.4m from $23.6m in 2017 Q2, meaning it may soon be profitable in the coming quarters, as it nearly was in Q3.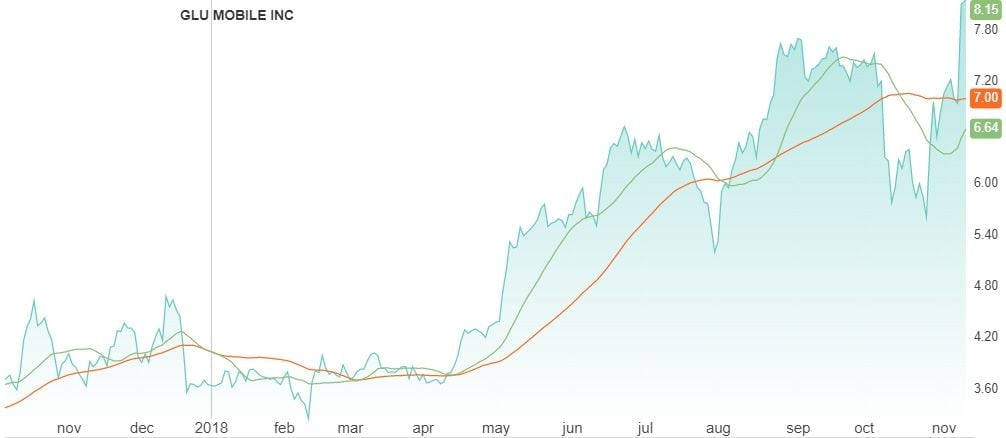 Glu Mobile share price performance, NASDAQ interactive chart, as at 9 November 2018
"Our strong top line marks our seventh consecutive quarter of reporting improved year-on-year bookings growth," said Eric Ludwig, COO and CFO of Glu Mobile.
"This accomplishment reflects our decision to pivot away from celebrity titles and focus our resources on growth games that can grow bookings year-on-year, while generating sustainable profitability and free cash flow."
Future wins?
New titles coming next year are hoped to nudge the company over that line and into profitability, with new growth games Diner Dash Town, WWE: Universe, and an unnamed Disney game all slated for release in the new year.
The big three should be increasingly popular and updatable moving forward, providing continued and fluid revenue streams for the publisher. What's more, the company's undoubtedly varied portfolio ensures a greater degree of commercial confidence on the part of investors. 
Analysts are anticipating annual growth of 15% in Glu's earnings over the next five years, providing the prospect of the stock price continuing to trend upwards.
The company has raised its bookings guidance for the year to $382.7 from $380.7m.