2019 could well be the year of the miners. The FTSE 100's mining companies have seen their share prices power to double digit percentage gains this year, with Glencore's share price soaring 18% YTD.
This is in stark contrast to 2018 when the sector couldn't catch a break. Copper, zinc, aluminum and nickel prices all fell on concerns over slowing growth in China and the country's ongoing trade war with the US. Now that the Chinese economy is back on track and an end to the trade war is in sight, investors are back in the market for mining shares. But will this be enough to maintain momentum?
Glencore's [GLEN] share price has soared thanks to the miner's ability to take advantage of the demand for copper outstripping supply. China has driven demand, and Glencore has been quick to push into the market. 
Over the past six years, Glencore has doubled its copper-trading volumes, trading 4.5m tonnes in 2018.  Good news for Coldeco - the world's number 1 copper miner - which saw Glencore account for more than a tenth of its copper sales in 2018. 
This demand looks set to continue. According to a report from Morgan Stanley, the copper market will post a deficit of 406,000 tonnes in 2019. The report also forecast that the price will rise above $3 per pound.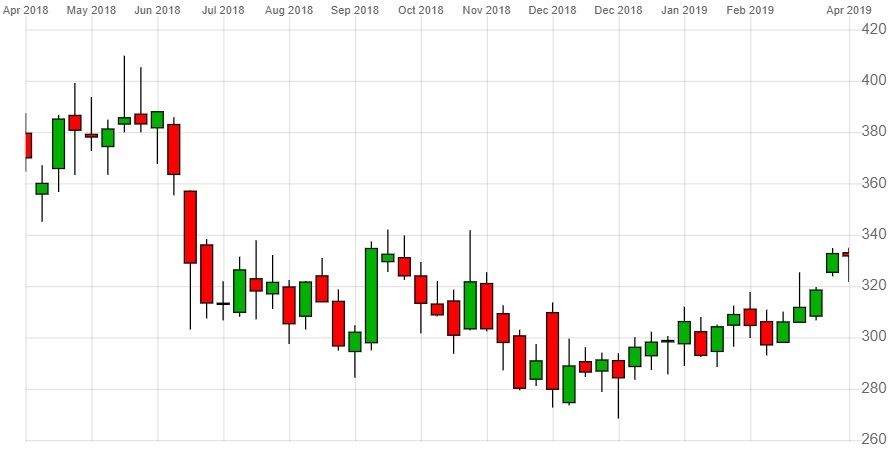 Glencore 1-year share price performance, CMC Markets, as at 15 April 2019
By increasing its copper operations to meet this demand, Glencore has seen its share price surge nearly 18% since the start of the year.
Yet, it isn't all going Glencore's way. Countries with large metal deposits are looking for a greater share of profits from mining companies that operate within their borders. Zambia introduced a 10% tax on miners when the price of copper exceeds $7,500 per tonne.
18%
Glencore's share price climb year-to-date
But the situation isn't universal. In mining-friendly countries like the United States and Ecuador, copper exploration has increased as these countries seek to diversify away from oil. And while exploration spending is off 2012's highs, it is increasing. Something that Glencore could well take advantage of.
Rio Tinto [RIO] is up 31% since the start of the year as investors buy into its strategy to target high profit minerals in sub-Saharan Africa. 
This month the miner greenlit a $500m investment in its South African mineral sands business  – Richard Bay Minerals (RBM) – to open an additional mine in the Zulti South area by late 2021.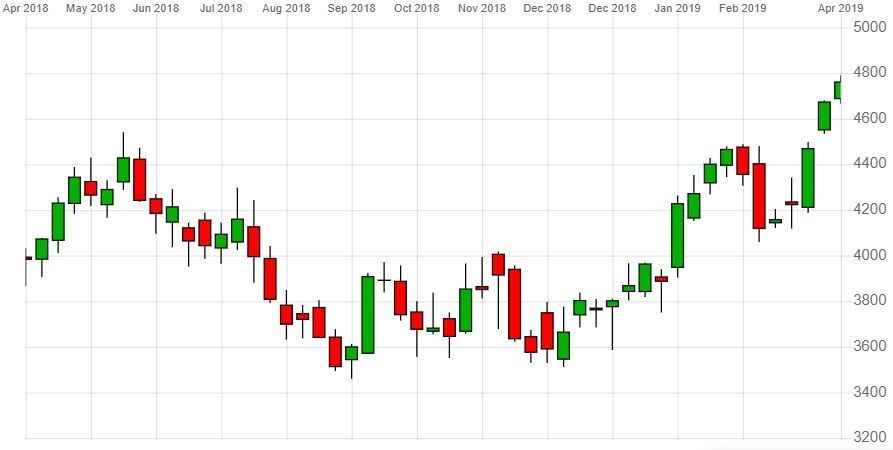 Rio Tinto 1-year share price performance, CMC Markets, as at 15 April 2019
RBM owns four mines in the Zulti North area, but with operations there degrading, this new venture will ensure continued access to high margin zircon and rutile.
Rio Tinto CEO Jean-Sébastien Jacques commented:
"The long-term fundamentals of the market remain strong, and production from Zulti South will commence in time to fill a widening supply gap, ensuring RBM's position as a leader in the sector, and delivering strong returns to our shareholders."
This latest move is likely to please investors with a promised 24% internal rate of return. But can the stock's run continue? JP Morgan Cazenove believes the share price has a potential upside of 12.2%, having set their target price at 530.
BHP's [BHP] share price came close to a year best when it touched 1950p last week. The stock has been closing in on its 52 week high for a while now, having grown an impressive 19% this year. Driving these gains has been a surge in the price of iron ore.
Iron ore prices are rebounding after a tough couple of years that saw China dial down its mammoth building projects, with demand for the metal waning as a consequence.
Market cap
£

205.37bn

PE ratio (TTM)
27.75
EPS (TTM)
2.05

Operating margin

 

(TTM)

35.95%
BHP stock vitals, Yahoo finance, as at 15 April 2019
Yet with supply shortages in Brazil and the Chinese economy once again finding strength, prices have shot up. This has seen iron ore prices close in on the boom highs of 2010, when the metal traded at $100 a tonne. BHP, which mines the metal, has seen its share price gain as a result.
But a soaring share price hasn't stopped the miner announcing it is to cut 700 white collar jobs in an effort to reduce bureaucracy. Already the company's operating margin of 35.95% outstrips that of its nearest rivals. Any attempts to further streamline the business should please investors if profit margins widen.