2018 was one to forget for Facebook [FB]. Fake news, privacy concerns and data breaches saw the stock fall over 25% over the course of the year.
March saw shares in Facebook drop from $172.56 to 161.95 in a day as the Cambridge Analytica data scandal took hold. The stock then tanked 20% in July after disappointing second-quarter results, wiping $200 billion from the market cap. December was particularly bleak as the company took a hammering from the wider sell-off in technology stocks, as well as accusations that it had broken privacy protocols.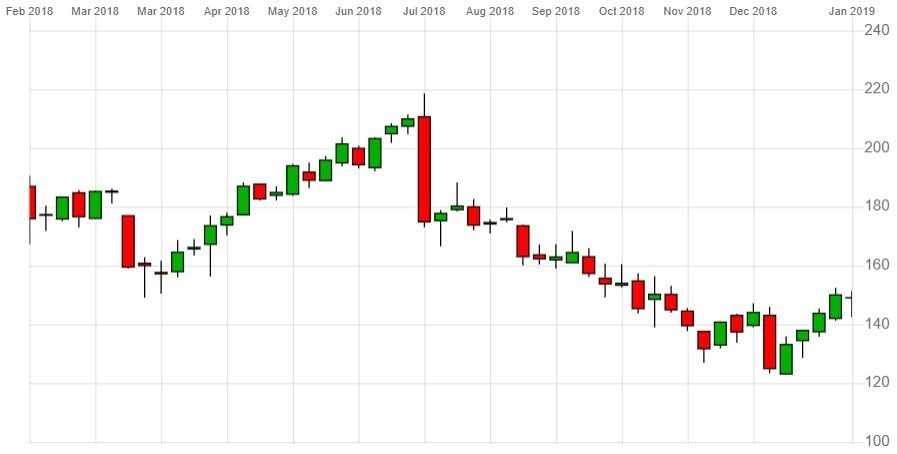 Powered by CMC Markets, as at 1 February 2019
2019 looks like it could be different after the social media giant's fourth-quarter earnings crushed expectations to deliver record profits. Investors will now be hoping that a rally towards July's all-time high of $209.94 is on the cards. Things are already looking positive: the share price is up over 10% since the start of January and Facebook-owned Instagram is forecast for huge growth.
What happened at Facebook's recent earnings announcement?
While revenues in the first half of the year surged 49% year-on-year, October's third-quarter results saw this figure drop to 33%. Coming into Wednesday's fourth-quarter results, analysts had feared that the slowdown would continue with revenue growth expected at 26%, its slowest quarter since Facebook's 2012 IPO.
Instead, Facebook shrugged-off public outrage and analyst forecasts with strong fourth-quarter results. Earnings per share came in at $2.28, up a huge 65% year-on-year. More impressive was net income of $6.88bn, a record-breaking profit for the company and up 61% from the previous year. Overall revenue was $16.91bn for the quarter, a 30% gain, and enough to beat analyst expectations. These stellar results saw the share price soar 8% in after-hours trading.
65%
Earnings per share year-on-year increase
Instagram revenue forecast to grow 60%
Hurting Facebook's stock has been falling engagement with key marketing demographics – a big concern for a company that gets 99% of its revenues from online advertising. Data from Nielson Research Inc. shows the number of over 18s on the platform fell 12% last year. And the highly desirable 18 to 24-year-old demographic – i.e. those with more disposable income – spend 27% less time scrolling through their news feeds than they did in 2017.
Fortuitously, Facebook owns Instagram, which caters for this audience. Picking up the photo-sharing platform in 2012, when it had 30 million users, was a shrewd bit of business. Today, Instagram has over 1 billion users, all of whom are potential targets for online advertisers. 
According to Brent Thill, an analyst at Jefferies, Instagram could play a big role in generating revenue this year:
"We believe that Instagram is a material driver for growth in '19 and can grow 60%+," Thill wrote in a note. "We see upside to pricing, users, and impressions as Instagram continues to improve its advertising efforts across the entire advertising funnel."
Thill has placed a $180 price target on the stock. Estimates are that Instagram's revenue will come in at $14 billion this year, up $6 billion from 2018. This would represent 20% of Facebook's total revenue.
"We believe that Instagram is a material driver for growth in '19 and can grow 60%+" - Jefferies analyst Brent Thill
Fallout from scandals could continue into 2019
Less convinced are Pivotal Research Group, which predict an 18% price drop in 2019 as the hangover from a scandal-filled 2018 lingers. And the cost of last year's mistakes could be high. Some are urging the Federal Trade Commission to extract a heavy price for Facebook breaching its 2011 promise to take steps to protect personal information. Now the social media giant is facing a record fine from the Commission following the Cambridge Analytica data scandal.
Is there opportunity in Facebook's share price?
Once number 12 in Fortune's list of the world's most respected companies, Facebook has fallen to 44. However, 2018's never-ending-series of scandals and impressive fourth-quarter results have potentially created a buying opportunity. The stock is trading above its 50-day moving average and around 28% off last year's high.
| | |
| --- | --- |
| Market cap | $479.03 |
| PE ratio (TTM) | 25.12 |
| EPS (TTM) | 6.64 |
Facebook stock vitals, Yahoo finance, as at 31 January 2019
In the quest for further growth, the company is working to integrate its messaging services, which could generate even more advertising revenue. It is also throwing cash at Instagram's long-form offering IGTV and Craiglist competitor Marketplace. In the meantime, Facebook has launched a PR blitz to manage the fallout from last year's torrent of negative news, although another headline-dominating scandal could leave the stock looking vulnerable.