Founded in Brooklyn in 2005, Etsy (NASDAQ: ETSY) is an online marketplace that allows small businesses to sell handmade, craft items to a global audience.
When it debuted on the NASDAQ in 2015, the initial $16 price offering soared to $31 within the first couple of days trading.
The impressive gains continued with Etsy's share price hitting an all-time high of $52.85 in September this year, before succumbing to the wider October sell-off. Currently the stock is trading at $43.46, up a massive 168% since its IPO.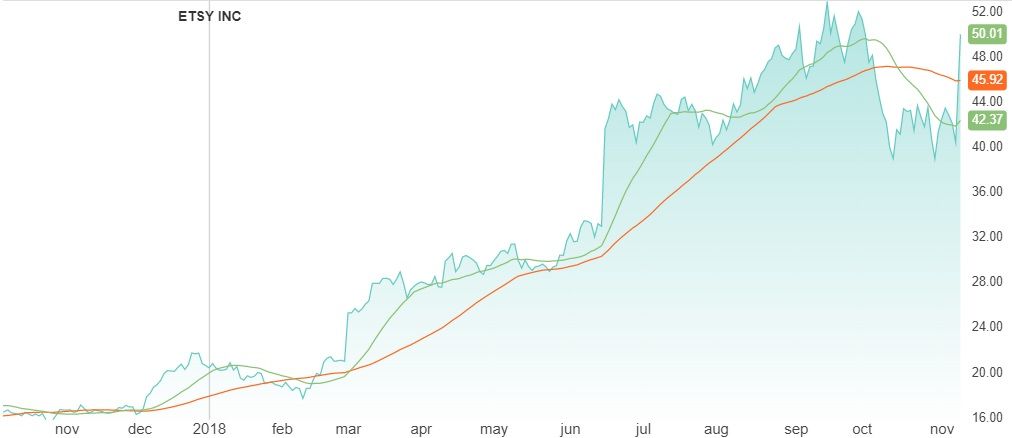 NASDAQ interactive chart, as at 8 November 2018
2017, however, was not a good year. First-quarter revenues of $96.9 million fell short of Wall Street expectations by about $2 million, despite being up 18% from the previous quarter.
Amazon Handmade also looked to mooch in on Etsy's territory. Backed by the financial and technological heft of Amazon (AMZN), the competitor rattled confidence in Etsy's ability to compete against the e-commerce giant.
Under pressure from investors, staff were laid off, including long-time Chief Executive Chris Dickerson, and a change in direction was demanded. In Dickerson's place, Ebay (EBAY.O) alumni Josh Silverman was hired with a mission to craft a turnaround strategy for 2018.
The fundamentals that have driven Etsy's recent growth
The strategy seems to have paid off. To counter the threat of Amazon, Etsy has given sellers best-in-class marketing tools to help them run sales and promotions. These include the ability to create behaviourally-targeted offers and improvements to its sellers app.
With over 50 million items on the site, customers sometimes had a tough time finding things. Now, through the use of artificial intelligence and machine learning, search results are more relevant.  The platform also makes recommendations based on location, reinforcing the mantra of buy local. 
Etsy has also expanded into central Europe with the purchase of German rival DaWanda in June. The purchase allows it to take advantage of DaWanda's existing seller community in Germany, Poland, Austria and Switzerland. 
Beyond Europe, Etsy opened shop in India in July, offering free listings and minimal transaction fees. Between July and October, Etsy's product listings in the country jumped from 550,000 to 650,000 items.
Etsy's earnings performance
Etsy's share price has moved higher after three of the past five earnings announcements, with a 3.3% bump in August when second-quarter numbers came out.
Coming into the third-quarter earnings call, consensus had estimated revenue at $149.9 million, with earnings per share of $0.07. 
The actual results handily beat these estimates. Revenue came in at $150.3 million, an impressive 41.3% increase from the $106.4 million posted last year, with adjusted earnings at $0.15. Active buyers on the platform grew by 17% to 37 million, while active sellers went up 8%. International gross merchandise sales (GMS) jumped by 26%, powered by the deal with DaWanda and localised search results.
Etsy has now upped the top-end of 2018 revenue expectations from $596 million to $600 million following these stellar results.
In after-hours trading the stock rose over 11% to trade around $44.80.
| | |
| --- | --- |
| Revenue percentage change, Q3 YoY | 41.3% |
| Earnings per share (EPS) percentage change, Q3 YoY | 41.4%​ |
| Performance YTD | 144.5% |
| Market cap | $6bn |
| PE Ratio (TTM) | 72.06 |
Yahoo finance, as at 8 November 2018
Where's the opportunity for investors?
Shares in Etsy have defied the 21% decline the Internet Services industry has suffered, with overall gains of 110.4%. The threat from Amazon Handmade simply hasn't materialised. Even when Etsy raised prices, there was no mass exodus of sellers to the rival storefront.
Continued strong earnings results and a drive to expand its customer base will be of ongoing interest for investors. Etsy's growing international presence will also be closely followed by the investment community. Global B2C e-commerce is expected to be worth $7,724.8 billion by 2025 as increased high-speed internet penetration means a growing international middle class can simply buy more things online. 
With its international GMS growing over 20% in the past four quarters, Etsy could have the online craft market all sewn up.