Ethereum [ETH] surged some 20% at the start of this week, reaching $170, a level last seen in mid-November. The sudden rally more than offset the loss suffered by the cryptocurrency between the end of February and the start of March, when it plummeted over 20% to $126.
It's the latest bout of volatility for the cryptocurrency – the second-biggest by market capitalisation after bitcoin – which, along with other "altcoins", saw value double to around $1,300 in the first week of 2018, only to shrink to a tenth of that by the end of the year.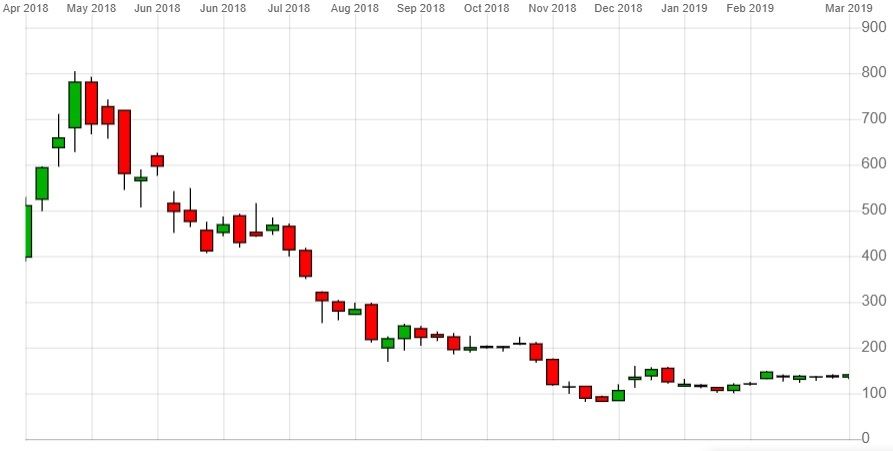 Ethereum 1-year price performance, CMC Markets, as at 4 April 2019
The surge was closely correlated to the one experienced by bitcoin [BTC], which broke $5,050 after it jumped 21% through Monday and Tuesday. Online commentators pointed to multiple factors as they tried to explain the sudden rally. 
An initial explanation pointed to the April fool's joke that the US Securities and Exchange Commission had approved a bitcoin ETF, with automated trading algorithms being tricked into buying by the news. However, analysts later dismissed this as an unlikely explanation, since even after the news was debunked, bitcoin and peers held onto gains.
Oliver von Landsberg-Sadie, CEO of digital assets firm BCB Group, told Reuters that a single, massive 20,000 bitcoin order on Tuesday, spread across three exchanges in a window of roughly one hour, may have spurred a buying frenzy in other traders' algorithms.
20,000
Size of the bitcoin order that may have triggered Tuesday's buying frenzy
What's next?
Pundits however stopped short of fully attributing the rally to the algorithms herd behaviour. Arca chief investment officer Jeff Dorman noted that the gains are yet to reverse, which should have already happened if investors were eager to correct algorithm-generated orders.
"The large magnitudes of the moves in crypto make it more interesting of a story, but it's not that different than any other asset class," Dorman told CNBC. "Buyers outweighed sellers, and market makers felt the pressure, so they took their markets higher, which triggered stop losses and liquidations, which added more buy pressure."
Altcoins susceptibility to buying crazes, and the unpredictability of their price swings, are two of the main reasons institutional investors have been wary of tapping into cryptocurrencies and forays by investment firms with crypto-based products remain timid. Options exchanges CME and Cboe both launched bitcoin contracts next year, but Cboe discontinued the offering this March. There's also the issue of frequent hacks. Just last week, $4m worth of ethereum were stolen from New Zealand-based exchange Cryptopia.
Nevertheless, crypto volatility is a far cry from what it was just a year ago. The hope for some is that as opportunistic investors exit the market for good after 2018's bubble, institutional investors may find some appetite for digital assets on the up.