There isn't supposed to be much innovation in the low-tech world of pizza – after all, the first ones were delivered well over a hundred years ago. 
But one company has bucked the trend, forging ahead with tech innovations that have left independents and smaller chains in its dust – and in doing so, posting larger growth than any of the FAANG stocks.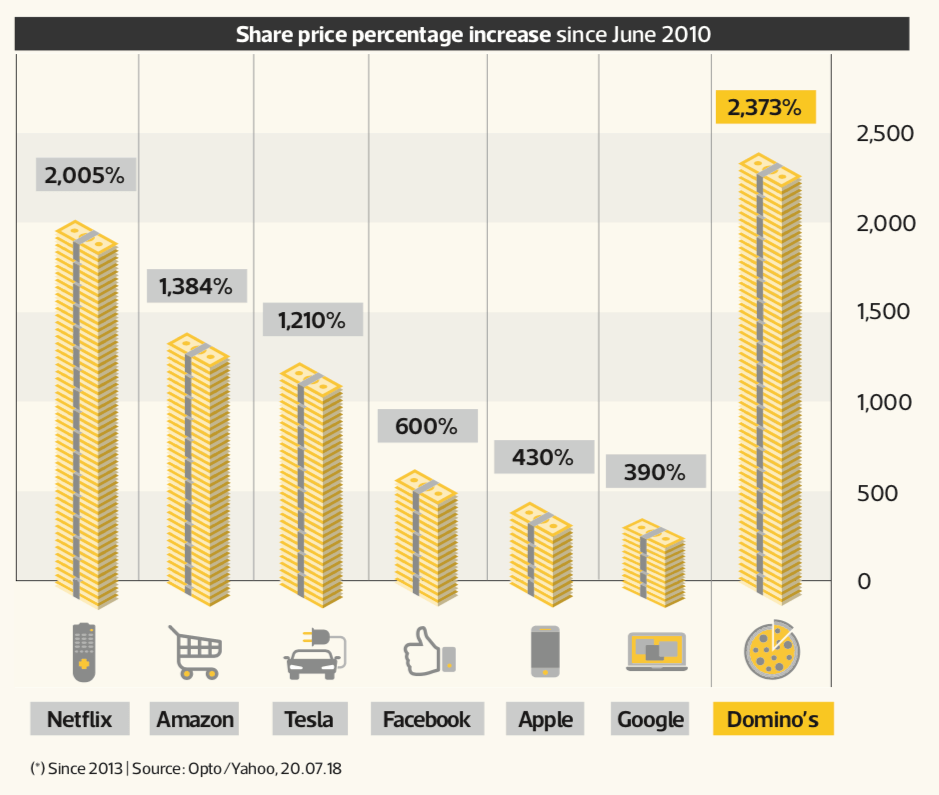 With a mammoth 2,421% increase in value since 2010, Domino's [DPZ] has provided higher percentage returns than Netflix [NFLX] (2005%), Amazon [AMZN] (1384%), Apple [AAPL] (430%), Facebook [FB] (600%) and Google [GOOG] (390%), as well as Tesla [TSLA] (1210%). 
2,421%
Increase in Domino's share price since 2010
Sophisticated tech is widely credited with turning around Domino's fortunes, from $10.6 per share in 2010 (and a momentary low of $3 in 2008) to a $293.81 high in June 2018. The US pizza company employs more people in IT than anywhere else in the company, and over half of sales come from digital platforms. 
Customers can order Domino's through most of the tech companies it's been beating – via voice control with Amazon Echo or Google Home, Apple or Android smartwatches, smartphone apps or through a smart TV. Domino's has even been testing drone and robot delivery, and has partnered with Ford to explore self-driving delivery. 
But Domino's isn't the only unexpected stock to beat tech, it's also been achieved by a dry cleaning company, a paint protection maker, a building merchants, and a Canadian pharmaceutical company, among others: BioSyent [RX] has gained 11738%; PatrickInds [PATK] 5765%; EnviroStar [EVI] 3600%; Trex [TREX]2554%; Tucows [TCX] 2054%. 
*Data collected 20.07.18