Canadian e-commerce platform Shopify's [SHOP] share price has boomed this month, gaining almost 25% to a record $337.86 as of last Thursday. The company has unveiled ambitious plans to expand its business, including building its own physical distribution network, as it seeks to become a merchant services firm capable of rivalling Amazon [AMZN].
Shopify will next announce results on 30 July. Despite reporting a year-on-year loss per share increase from $0.16 to $0.22 last quarter, it's expected the news will be much better this time around. Earnings are forecast to grow to a positive $0.04 per share for the three months to June, representing a 100% year-on-year increase, based on a Zacks consensus.
But some analysts are questioning the sustainability of Shopify's share price. With a forward P/E ratio of 555.56, compared to an average of 27.77 for the wider industry, it's certainly trading at a hefty premium. Is Shopify good value?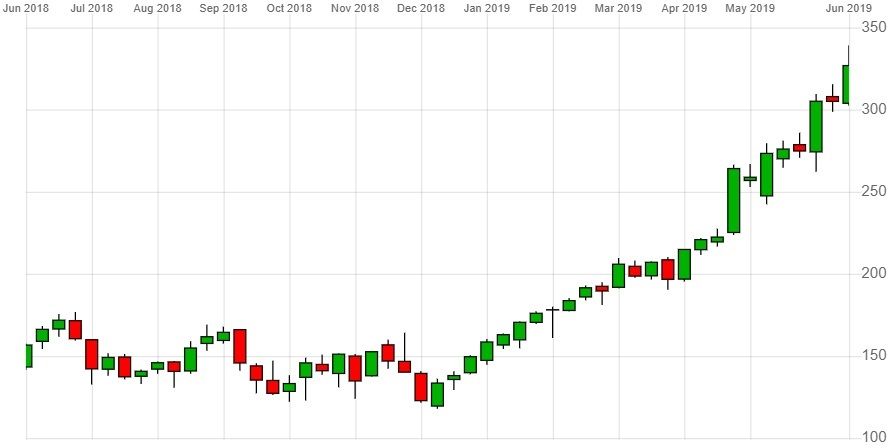 Shopify's 1-year share price performance, CMC Markets, 26 June 2019
"Coming for Amazon"
Last week, the company's executives unveiled a number of initiatives that signalled huge potential for the company's future. These included upgrades to the platform Shopify provides merchants to set up their online shopfronts, and support for cross-currency transactions.
But it was really a project to build a US-wide fulfilment centre network that stole the spotlight, spurring headlines like Adweek's "Shopify Is Coming for Amazon". The roadmap involves a $1bn, five-year investment, promising each merchant a dedicated account manager with warehouse and logistics expertise, alongside the use of machine learning to optimise deliveries.
The showcase was well-received by analysts. Oppenheimer's Koji Ikeda praised the leadership of "a visionary and respected management", while Piper Jaffray's Michael Olson said the capability to offer fulfilment services "solves a merchant pain point and provides [Shopify] another avenue" to accelerate revenue growth.
$1bn
Shopify's planned 5-year investment in a US-wide fulfilment centre network
Growth potential already priced in
But both analysts also noted that, by and large, such growth prospects have already been priced into the stock, which is up 106% in the year-to-date, compared to the 17.3% gain the S&P 500 has made in the same period. "[Shopify] is performing well fundamentally and making prudent moves for ongoing growth, but this is largely factored into shares," wrote Olson, whose new price target of $286, while significantly higher than the previous $216, implies a significant correction ahead.
Already in early June, when the stock was around the $300 mark, Goldman Sachs' Christopher Merwin called Shopify's valuation "challenging" and highlighted the danger of a flight of merchant customers from the platform in the event of an economic downturn.
Market cap
$

31.89bn

Forward P/E
305.42
EPS (TTM)
-0.68

Return on Equity

 

(TTM)

-3.85%
Shopify share price vitals, Yahoo finance, 26 June 2019
Aside from a few hopefuls like KeyBanc, with a $300 target, and Baird, which bumped its outlook from $269 to $360, analysts are now decidedly cautious on Shopify's value. CIBC analyst Todd Coupland on Thursday downgraded the stock from outperform to neutral, meaning he sees little room for more index beating gains, and a Refinitiv poll of 24 price targets gives an average price of just $261.83.
Shopify is expected to keep top-line momentum, and management has guided for revenues to jump by almost 50% year-on-year to $1.5bn by the end of 2019. Even so, CIBC's Coupland said, the multiples the stock is trading at would better fit a top cloud computing company. "We recommend looking for another opportunity," he wrote.