From syndicated cartoon shorts to prime-time reruns of theatrical classics, television has long placed Disney's [DIS] works at the heart of households worldwide. Now, armed with one of the largest IP portfolios in entertainment history, the company is looking to carry that status into the age of on-demand entertainment.
The company's stock flew 12% to an unprecedented $130 – well above its previous all-time high of $120 in 2015 – after the unveiling of the new Disney+ streaming platform on 11 April. Investors and commentators alike were enthused by its bold pricing strategy, a roadmap for swift worldwide rollout, and the opportunity to bundle offering with Disney's other on-demand platforms, entertainment service Hulu and sports network ESPN.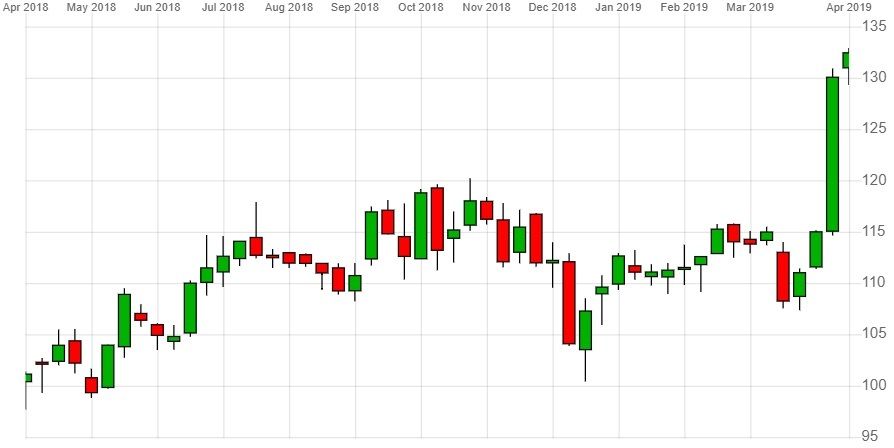 Disney 1-year share price performance, CMC Markets, 24 April 2019
However, the platform is not expected to turn a profit until 2024, and original content production is set to cost more than $1bn from cashflows. Will investors be willing to wait for the dividends? Or will Netflix's growth stock provide swifter returns?
A whole new world
At an "initial" subscription price of $6.99 per month – or $69.99 per year – Disney+ will be one of the cheapest streaming services around. Netflix's most basic package – one screen limit, SD content – comes at $8.99. Although Disney has yet to release details of what's covered by its $6.99 subscription, the low fee has excited commenters watching the market. "So cheap – I mean, who's not gonna sign up to this?" Ross Gerber, CEO at wealth manager Gerber Kawasaki, told CNBC in an interview. "Relative to HBO [Now] and Netflix, it's like a no-brainer."
Disney is eyeing 60-90 million subscribers by 2024, only a third of which will be US-based. Both Gerber and BAML analyst Jessica Ehrlich told CNBC that the target was "conservative", and Gerber expects it to be hit two years ahead of schedule.
Market cap
$

240.58bn

PE ratio (TTM)
18.33
EPS (TTM)
7.30

Quarterly Earnings Growth

 

(YoY)

-37.00%
Disney stock vitals, Yahoo finance, 24 April 2019
A transition long in the making
The platform, which will launch on 12 November, is not Disney's first foray into online streaming. Two years ago, the apps for its children's premium TV channels were consolidated into a single DisneyNOW app, which releases new animated shows as they premiere on cable television. ESPN, the US's largest sports network and part of Disney since 1996, launched a streaming service in spring 2018. And Hulu, one of the platforms that pioneered direct-to-consumer streaming, has been effectively owned by Disney since the its acquisition of Fox last year.
Thanks to the acquisition of Fox and Marvel, Disney's reach now spans all ages, meaning a future rollout of a one-stop package, bundling Hulu, ESPN and Disney+, is highly likely The question, for rival Netflix, is whether such a bundle will sit next to its own offerings or consumers will feel one bundle – which caters to the whole family – is enough. 
Netflix's stock fell as much as 6.7% in the days following Disney's announcement, and is still to fully recover. But Netflix CEO Reed Hastings downplayed the threat from Disney's cheaper package, saying the transition to on-demand is "massive" enough to accommodate all entrants. Some analysts agreed: "Content creation is not a zero-sum game, as high-quality content will always find an outlet," wrote Morningstar's Neil Macker.
"Content creation is not a zero-sum game, as high-quality content will always find an outlet" - Morningstar analyst Neil Macker
Realigning revenue streams
Creating original content has been the go-to strategy since Disney's foray in to pay TV in the 1980s, and Disney+ will be no exception. While the company specified that theatres would remain the main distribution channel for its feature-length blockbusters, it added that it would invest $1bn in original Disney+ series in the first year, rising to $2bn by next year and to $2.5bn by 2024.
$2.5bn
Planned investment in original Disney+ series by 2024
In the meantime, Disney has been pulling shows from rival platforms and cancelling Netflix-produced series based on its IP. Daredevil and Jessica Jones fans were left disappointed as Netflix recently cancelled both series, which are based on Disney's Marvel IP. For Disney, the re-appropriation of its franchise means forgoing hundreds of millions in licencing revenues before revenues from Disney+ even start to offset that loss.
For a company with $14.3bn in operating cash flow and $9.83 in free cash flow in 2018, spending over $3.5bn in the next five years on original programming is affordable. At the same time, Netflix's stock, which is up over 50% year-to-date, may provide faster returns to investors looking to capitalise on the shift to DTC entertainment. Perhaps many on the markets will behave just like America's TV consumers: hold onto both names contemporarily, and think about who to stick with in a few years.