Deutsche Bank shares reached a new all-time low on Monday following last week's news that police raided its Frankfurt headquarters looking for evidence of money laundering after suspicions were raised of its involvement by the Panama Papers in 2016.
In addition, its links to the Danske Bank money laundering investigation, which is said to be the biggest scandal of its kind, have also deepened, as the Financial Times reported on 6 December that it processed another $35bn in funds on top of the $150bn that it cleared for Danske's Estonian branch between 2007 and 2015.
Despite its recent scandals, the German bank's stock has been on a long-term downtrend, falling nearly 90% since its all-time high of €91.36 in 2007, as has its balance sheet with its 2018 third-quarter earnings indicating a disappointing net income of $262m, a 65% decrease from last year's equivalent quarter of $735m.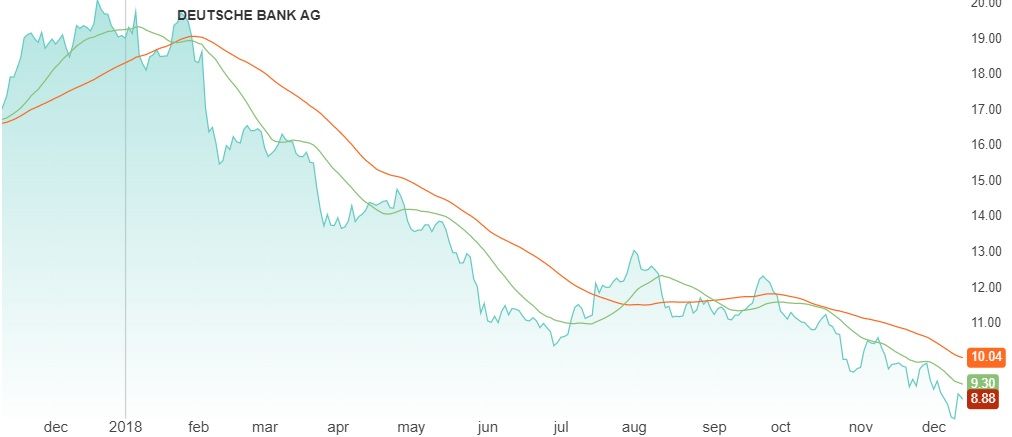 Deutsche bank share price performance, NASDAQ interactive chart, as at 13 December 2018
As it stands, Deutsche Bank is in desperate need of a bold and swift restructuring. A rumoured merger with domestic rival Commerzbank has however been debunked.   
 
The bank's CEO Christian Sewing had publicly denied those speculative reports earlier this month, saying that he had no indication of that. Instead, he emphasised a positive outlook saying that "we are on track to make our first profit for three years". "It is only a matter of time before this progress is reflected in the share price," he added. 
65%
Percentage decrease from 2017 Q3 net income, to Q3 2018
In an effort to revive the struggling bank, there was a major management reshuffle in 2017, which prompted a restructuring plan to revamp the bank's balance sheet by cutting back staff, closing parts of the business – particularly in the Corporate and Investment Bank – and focusing on driving growth and returns.
What's next for Deutsche bank shares?
However, management is still a long way from delivering, according to Rob Marstrand, founder of OfWealth. "This is a stock that's only suitable for investors with plenty of patience, and that can live with major price volatility while they wait," Marstrand wrote. "There's still major upside, but it's likely to take longer until it's realised."
"This is a stock that's only suitable for investors with plenty of patience, and that can live with major price volatility while they wait" - Rob Marstrand, founder of OfWealth
For now, Deutsche Bank's prospects look uncertain with research firm CFRA expecting its top line to be negatively impacted by revenue attrition from its cutbacks and the European Central Bank's decision to delay an interest-rate hike in 2019, which would hinder its profits by low borrowing costs. 
"If the company can't make money when there are no setbacks and financial crises, then tell me how it survives the next recession," Don Coxe, chairman of Coxe Advisors, said.
In the meantime, Sewing has pleaded for patience to fix the former German national champion's problems.