Vodafone's [VOD] share price is down 10% year-to-date and has been on a downward trend since the start of last year. However, could a deal for a fellow telecom company's European operations, breathe some life into an ailing share price? Vodafone have inked a deal to provide Telefónica's German subsidiary with wholesale access to its broadband, as the British telecoms giant seeks to allay watchdogs' concerns over its acquisition of Liberty Global's infrastructure assets in central and eastern Europe.
The takeover of Liberty's operations in Germany, Romania, Hungary and the Czech Republic for €18.4bn was agreed a year ago. But the transaction has been hotly contested by broadcasters and mobile providers in Germany, where the deal would give Vodafone-Liberty Global a combined market share of 30%. The deal has been under review by EU antitrust authorities since December.
Market cap
£

37.69bn

Profit margin

-14.70%
EPS (TTM)
-28.20

Return on equity

 

(TTM)

-1.71%
Vodafone share price vitals, Yahoo finance, 09 May 2019
By opening the combined network to Telefónica Deutschland – a relatively minor player in German broadband – and pledging to provide enough network capacity for broadcasters to distribute content over the internet, Vodafone hopes to dispel fears of a blow to competition in a country that has spent the last two decades breaking down the monopoly of market leader Deutsche Telekom, much like British regulators have been doing with BT.
What now? 
The debt-laden UK multinational has been pursuing a strategy of 'vertical integration' – whereby it owns the whole supply chain – in multiple markets, in a bid to cut operational expenses and offer packages combining broadband, TV and mobile. It has shared cell towers in the UK with Telefonica's O2 since 2012, and last month entered a similar arrangement with Orange in Spain. Both partnerships will be extended to cover 5G services, which will require denser cell networks and an extensive fibre optic backbone. 
Cutting expenditure is key to sustaining Vodafone's generous dividend policy, which has come under analysts' scrutiny due to the telecom's heavy leverage. In January, RBC Capital Markets downgraded Vodafone's stock, noting that costs would only rise as 5G is rolled out, and that the company had "little financial headroom despite synergies and cost-cutting". 
"Little financial headroom despite synergies and cost-cutting" - RBC Capital Markets
As of September 2018, its debt load stood at €32bn. Vodafone is part financing the Liberty Global deal through a £3.4bn convertible bond – the largest ever sterling – equal to round €4bn. The issue earned a 'non-prime' Ba1 rating from Moody's, which noted "a negative outlook … with no headroom for underperformance" at the telecom.
Vodafone's latest guidance reiterated its estimate of €5.4bn in cashflow for 2019. That's likely to cover a dividend which is set to surpass €4bn this year, but analysts at Hargreaves Lansdown warned in January that "the group will need to prioritise restoring order to its balance sheet over significant dividend increases".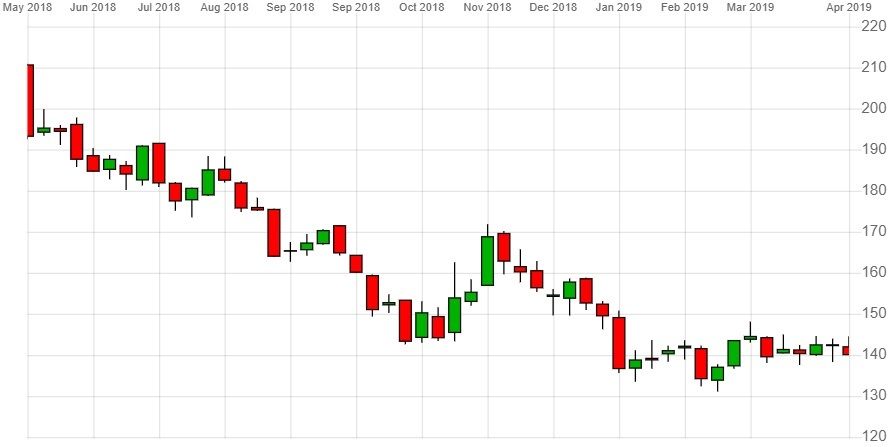 Vodafone 1-year share price performance, CMC Markets, 09 May 2019
The company's stock has plummeted around 40% since January 2018, and shareholders may now be warming to the idea of a dividend cut. According to a JPMorgan Cazenove survey earlier this month, some two thirds of institutional investors with holdings in Vodafone believe the company should cut dividends. Some 63% of those surveyed wanted it to reduce debt to 2.5 times EBITDA (the board guided for three times EBITDA 2019), while 84% were in favour of the group shedding assets to raise cash.