On 15 February, Standard Life Aberdeen's (SLA) largest shareholder Mitsubishi UFJ dumped its 5.9% stake for £349.3 million. Mitsubishi said that the move was part of a strategic investment review. Yet, there has been talk that the bank was uneasy with Standard Life's double-headed leadership.
Since merging with Aberdeen Asset Management in 2017, Standard Life has had two chief executives at the helm: Martin Gilbert and Keith Skeoch. The two are very much chalk and cheese with Gilbert considered forthright and Skeoch seen as an intellectual. The perception is that this clash of personalities has resulted in a less than unified vision.
How has Standard Life Aberdeen's share price performed?
These concerns have resulted in the share price slumping 44.4% since the merger. By the end of last year, the stock was trading near all-time lows of around 236p. Despite a brief rally in January, the stock dropped 5.5% following the Mitsubishi news. This wiped out any gains and leaves the share price languishing near December's lows. This is a far cry from the 447.9p Standard Life's shares commanded pre-merger.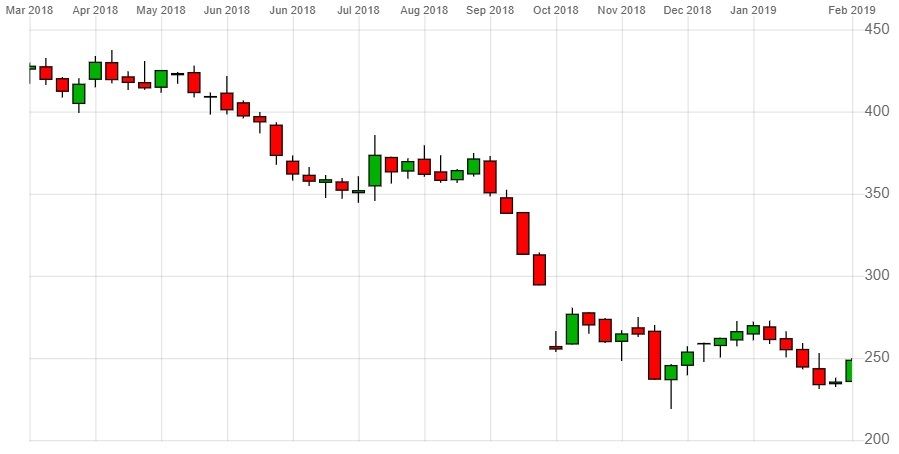 Powered by CMC Markets, as at 04 March 2019
Since 2017, the fund manager has seen £6.8 billion wiped off its value. In 2018 alone investors pulled out a staggering £17 billion in funds. The company also lost business from Lloyds Bank last year when Lloyds sold its £355 million stake.
The result has seen RBC Capital downgrade the stock, saying Standard Life had sold its life insurance operation to Phoenix for 'too cheap' a price. In another blow, Morgan Stanley also downgraded the fund manager. As investors continue to pull money out, Morgan Stanley predicts Standard Life will miss 2019 expectations by 20%.
20%
Morgan Stanley's predicted underperformance for SLA shares in 2019
Time for a change in leadership?
Concerns over leadership have stoked unease among shareholders. According to a poll of 21 heavyweight investors, more than two-thirds want Gilbert and Skeoch to step aside and let an outsider take charge of the FTSE 100 company within 12 months.
"I think both Keith [Skeoch] and I have agreed that when our time comes, we'll both leave together," Gilbert said to a City AM conference in November. "I suspect the board - because sadly it won't be my decision when I go or who replaces me - will go for a more conventional structure at that time."
Any change in leadership comes at a pivotal time for UK asset managers. A lack of clarity over the UK's departure from the EU still weighs on traders' minds.
The leadership team has tried to streamline the business model to focus on core products. This has resulted in the loss of 800 jobs throughout the company. Yet, the effects of cost-cutting have so far failed to change the direction of the share price.
Is there opportunity in Standard Life Aberdeen's share price?
Standard Life's 14.49 P/E ratio is well below the 18.62 industry average and 19.58 sector average. Yet, Prudential's 87.00 earnings per share dwarf Standard Life's 23.60.
| | |
| --- | --- |
| Market cap | £6.13bn |
| PE ratio (TTM) | 10.59 |
| EPS (TTM) | 23.60 |
| Payout ratio | 73.54% |
SLA stock vitals, Yahoo finance, as at 04 March 2019
For investors looking for income, the stock holds a huge 73.45% payout ratio with a forward annual dividend yield of 10.56. But with the stock 52% off last year's January high, investors will need to decide whether to hang on during any management restructure.
When a new regime is in place, there could well be a bump in the share price.  Any long-term gains depend on shareholders buying into a new CEO's strategy. As it stands, the share price has a mountain to climb to get back to pre-merger levels.