For ten years now, Square [SQ] has dominated the payments market alongside PayPal [PYPL], Adyen [ADYEN] and Stripe. 
Together, this payments "Big Four" have controlled 90% of the market, explains Richard Crone, CEO of Crone Consulting, but their share has slipped to 80% recently as upstarts like Bolt, Toast and Due step into the sector.
Square's achievement in making card processing more accessible to small businesses through elegant design and hardware has helped its valuation to skyrocket; its stock has grown 481% since its IPO on the NYSE in 2015. Shares are also up more than 30% since the start of 2019.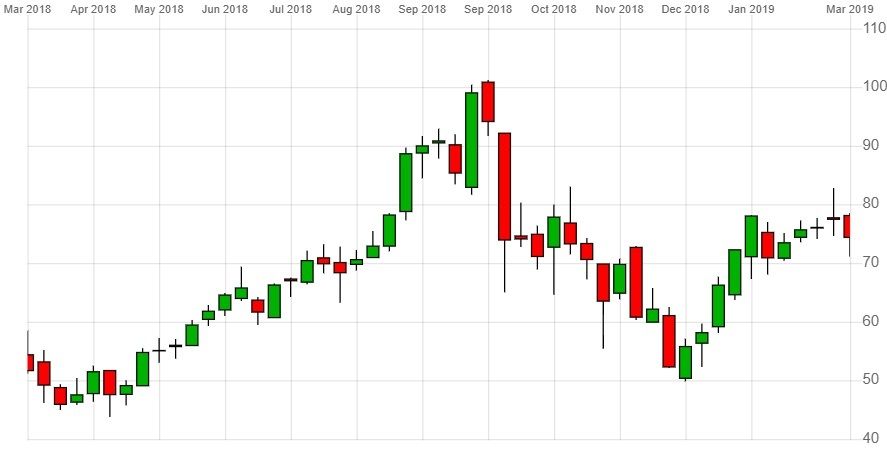 Square 1-year share price performance, CMC Markets, as at 12 March 2019
However, the fintech firm's success largely depends on the strength of the US economy – a feared downturn could crimp consumer spending, in turn hurting revenue from the fees they charge on each transaction.    
For the moment, the new players in payment services are growing faster than incumbents like Square, according to Crone; payment volumes via Due's and Blot's platforms reached as high as $2.5bn and $1bn, respectively, in 2018. "It's the fastest growing segment of the industry after person-to-person payments," Crone told Bloomberg.
Cash App: a key operating metric 
Square, meanwhile, has seen its revenue grow 51% year-over-year to $933m in the fourth quarter of 2018. Cash App, Square's mobile payment service, saw active users more than double last year, to 15 million in 2017, thanks in part to its peer-to-peer network strategy that requires other users to download it to receive money transfers.   
Cash App continues to expand its features too. It most recently added instant cash back on purchases made at specific retailers as well as bitcoin trading, as it looks to replace traditional bank accounts.   
"Anything you do today with a bank account, you should look to the Cash App to begin to emulate more and more of that," Sarah Friar, the company's then-CFO, said at Recode's Code Commerce conference in September.
"Anything you do today with a bank account, you should look to the Cash App to begin to emulate more and more of that" - Sarah Friar, Square's then-CFO
While the upstarts in the payment industry continue to prosper by targeting specific industries or offering niche services, Square has the advantage of being an early adopter of mobile point-of-sale systems – an area that's gaining traction with the growth of smaller retailers and ecommerce businesses.
Square's buying spree diversifies into the food industry  
In an effort to create "one cohesive solution" for entrepreneurs and small businesses, CEO Jack Dorsey acquired website builder Weebly for $365m in 2018, which will also help Square expand globally. 
Square has also moved into food delivery. It acquired corporate catering startup Zesty in 2018, hoping to strengthen the corporate meal arm of its business that launched when it acquired Caviar in 2014. 
Since then, Square has also acquired OrderAhead's pick-up business to launch new service, Caviar Pickup, as well as a 32-year-old restaurant delivery platform called Entrees on Trays. 
First quarter forecast miss sends shares falling
On 28 February, Square released a first quarter adjusted earnings guidance of $0.06-$0.08 – well below analysts' estimates of $0.12 a share, which sent the share price down 8% through the week. However, Wall Street is bullish on the stock.
The company continued to drive strong revenue growth in the fourth quarter of 2018, with payment volume growing 28% year-over-year to $23bn and its adjusted earnings reaching $0.14 a share, $0.01 ahead of estimates.
Market cap
£

31.69bn

Total Debt/Equity

 

(MRQ)

80.29
EPS (TTM)
-0.09

Quarterly Revenue Growth

 

(YoY)

51.40%
Square stock vitals, Yahoo finance, as at 12 March 2019
"The quarter was broadly positive, and the stock should hold its recent gains based on solid fourth-quarter results and management's in-line 2019 forecast [revenue is expected to reach $2.22-$2.25bn for 2019]," said James Schneider, analyst at Goldman Sachs, who has a buy rating on the stock with a $97 target.  
Square's growth is driven by its point-of-sale and hardware systems such as Square Register and Square Terminal (hardware made up $69m of revenue in 2018) as well as its ability to innovate. The launch of its free Mastercard debit card – Square Card – to small businesses had investors and analysts bullish on the stock, with Guggenheim's Jeff Cantwell and Deutsche Bank's Bryan Keane both holding buy ratings on the stock. 
 
A lucrative market 
Global mobile payment revenue reached $930bn in 2018 and is expected to surpass $1tn by 2019, putting Square in a comfortable position to capitalise. Tech firms and the banking industry's incumbents, meanwhile, are increasingly rolling out mobile payment platforms and real-time payments themselves in an effort to keep pace with demand. 
As Square continues to hike up the development of its Cash App, investors and traders will be smart to watch how its peer-to-peer network strategy helps it grow.