Amazon [AMZN] has long been heralded as one of the success stories of the digital era. Near unbridled revenue increases have led to overwhelming investor confidence. While the rise has been outstanding for two decades, scrutiny over its practices has been growing alongside its share price in recent years.
In particular, its "anti-competitive" practice of asking third-party suppliers to price cheaper on Amazon than competitors' websites raised eyebrows the world over. 
Germany and the UK were among the earliest to question Amazon over the policy. In response, the practice was dropped in the two nations. Last week, it was also dropped in the US market. The move to allow price-parity agreements looks altruistic on the face of things, but political pressure, notably from prominent Democrats, has been building.
Democratic presidential candidate Elizabeth Warren, an outspoken critic of big tech, has mooted the idea of breaking up the likes of Amazon, Facebook [FB] and Google [GOOG]. Meanwhile, letters from her Democrat colleagues to the Department of Justice and Federal Trade Commission had sparked calls for the US to trigger investigations akin to those in Germany and the UK.
Price volatility  
Better news for Amazon has come from its share price. Crucially, the beginning of 2019 brought resurgence for Amazon's share price. Most of the gains were however seen in the first three weeks of the year, with the stock gaining 13% through the period. The following eight weeks have seen further gains of just 1%.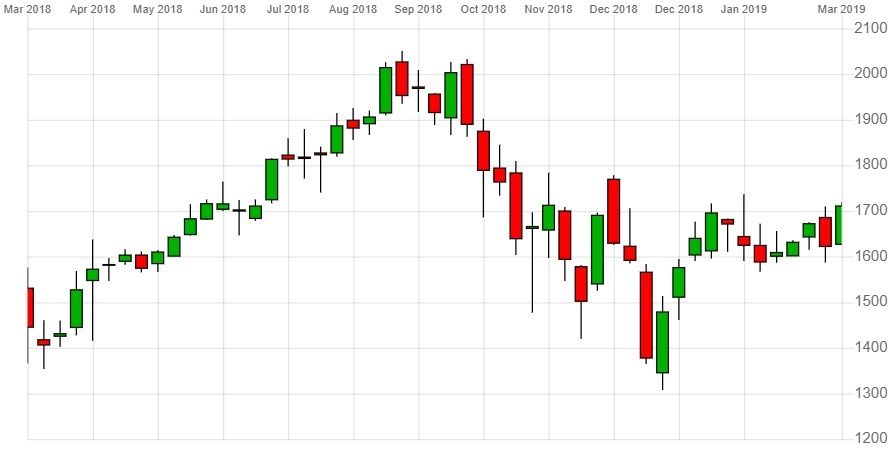 Amazon 1-year share price performance, CMC Markets, as at 20 March 2019
In all, the share price has recovered 33% (as of 18 March 2019) since its current 12 month low of $1,307 on 24 December 2018, having plunged 36% from an all-time high of $2,039.51 reached at the start of September 2018. It's currently trading 13% off the September high. 
The outlook over the longer term looks positive for Amazon and investor confidence remains strong. Rising advertising revenues, coupled with further consideration and investment in its grocery arm, Whole Foods, will likely bolster the share price further.
Looking backwards to move forwards?
The future for Amazon suggests that it is looking increasingly towards traditional, physical stores. The irony of it moving into a market it claimed was dying is self-evident, but this could be key to the future of the online retailer.
Its strategy has however altered several times in recent months, most evidently when it closed 87 of its pop-up stores. After this announcement, the share price dipped by 3%. 
87
Number of planned pop-up store closures
It is expected that Amazon will now recalibrate its strategy to continue to invest in Whole Foods and cashier-free sites, as well as a continued focus on its bookstores and 'four-star' stores, which only stock items that have an online rating with a minimum of four stars. 
The tech company plans to open the first shop from its new line of grocery stores by the end of the year and in an effort to grab a larger sector of the grocery market, the stores will offer a wider variety of more affordable items.
Market cap
$

865.43bn

PE ratio (TTM)
87.48
EPS (TTM)
20.14

Quarterly Earnings Growth

 

(YoY)

63.00%
Amazon stock vitals, Yahoo finance, as at 20 March 2019
Amazon is reportedly considering an "acquisition strategy" for purchasing smaller grocery store chains to better suit its intended layout, which – although little is known about them – it is mooted they will be half the size of typical stores, according to The Wall Street Journal.
David Bujnicki, senior vice president at Kimco Realty Corp, was "not surprised" by the news. He explained that Amazon's launch of new brick and mortar concepts have been "slow but deliberate" and that a new grocer would validate the need for more physical stores. 
The bill for increasing its physical stores could cost Amazon as much as $100m in the short-term, as it comes to grips with issues faced by traditional retailers. It is thought that as many as 3,000 Amazon Go will open by 2021.