Alphabet's [GOOGL] Google Cloud platform has come a long way since launching App Engine in April 2008: it's portfolio of cloud-based apps, known as G Suite now includes storage, analytics (Big Query), its very own programming language (Go) and a unique hybrid of infrastructure and platform services. It had four million customers as of the fourth quarter in 2018. 
Google announced a move into gaming in its first ever keynote speech on the "future of gaming" at the 2019 Game Developer Conference (GDC) on 19 March in San Francisco. The company introduced their new digital gaming platform, named Stadia, which will rival the console in allowing customers to stream games that have traditionally been downloaded or played on discs.
Market cap
$

840.60bn

PE ratio (TTM)
27.61
EPS (TTM)
43.70
Return on Equity (TTM)
18.62%
Alphabet stock vitals, Yahoo finance, as at 20 March 2019
The tech company had been gradually moving into gaming with its in-development cloud gaming platform Project Stream, which through a partnership with Ubisoft [UBI] was able to play the game Assassin's Creed Odyssey on any machine, as well through a console-like device called Project Yeti. 
Other cloud gaming services such as French startup Blade, also known as Shadow, Nvidia's [NVDA] GeForce Now and Shield, and Sony's [6758] PS4 Remote Play have made big advances in the area. Microsoft [MSFT] is also working on its own Xbox cloud gaming platform called Project xCloud.   
Google's push into cloud gaming as well as, more generally, computing looks to be accelerating with a slew of strategic hires in the last 18 months, including new cloud-computing boss Thomas Kurian, who was the former president of product development at Oracle. 
Kurian told attendants at Goldman Sachs technology and internet conference that Google would invest even more into sales and hiring to grow the organisation. "You will see us accelerate the growth even faster than we have to date," Kurian added. 
"You will see us accelerate the growth even faster than we have to date" - Cloud-computing boss Thomas Kurian
What's next?
While Google continues to expand its cloud-computing business, it's drawn criticism from US President Donald Trump for dropping out of the bidding for a $10bn Pentagon cloud-computing contract. 
Google had said in October that the reason for dropping out was because the project may have conflicted with its corporate values. 
But that didn't stop Trump tweeting: "Google is helping China and their military, but not the US", prompting the tech company's shares to fall 0.4% in early trading on 18 March.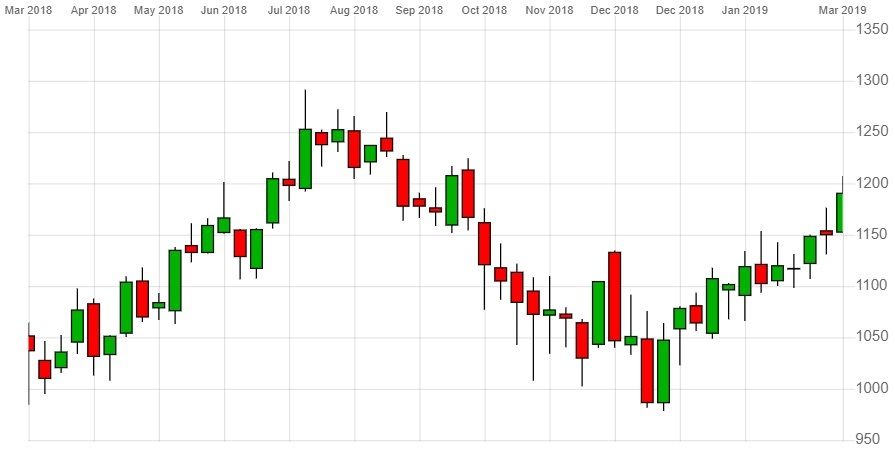 Alphabet 1-year share price performance, CMC Markets, as at 20 March 2019
The gaming industry was said to be worth an estimated $138bn in 2018, outpacing the global film industry's $136bn in value, putting Alphabet's Google Cloud businesses in a good position to benefit from the growth. 
CEO Sundar Pichai had disclosed revenues from its cloud business to investors for the first time in its February earnings update, noting that it had become a "billion dollar per quarter business". Google's cloud platform sits behind Amazon Web Services [AMZN] and Microsoft's Azure in the public cloud market.