In my screening process for attractive investments in international markets, Anta Sports [2020:HK] is one name that emerged and needed to look at more closely. The $24bn company is a leading sportswear company in China with brands such as Anta, Fila and Kingkow.
The global athletic apparel and footwear industry has long outperformed other segments of the apparel industry and giants like Nike [NKE] and Adidas [AG] have a large presence in China, as do Under Armour [UA] and Lululemon [LULU], but Anta is posting fantastic numbers and showing that there will be multiple winners from the strong growth being seen in the Chinese market.

The sports apparel global market was valued at $167.7bn in 2018 and is estimated to reach $248.1bn by 2026, registering a CAGR of 5.1% from 2019 to 2026. Asia-Pacific is the fastest-growing market with a 6.8% CAGR and China is growing the fastest with a lot of ground to make up to reach the size of the US sportswear market.
The market is expected to maintain its momentum and grow at an average annual rate of 11% in the five-year period through 2022, according to Euromonitor International data analysis. After a few years of robust growth including a record 2018, the China sportswear apparel market has seen growth contract in 2019 after the 2008 Summer Olympics in Beijing started a wave of enthusiasm for sports.
Fitness boom
Government policies are promoting national health and sport participation in China, a tailwind for the industry. With a fitness boom in China that appears to be in the early innings and with a population of 1.4 billion that dwarfs the US, there will be a long-term opportunity for rising sales of sportswear.
Chinese consumers are also seeing disposable income rise at a faster clip than Americans. Other factors such as a growing millennial population, the Chinese President's affinity for sports, anticipation for the Beijing Winter Olympics in 2022, and a better overall health and wellness awareness are all positives over the next few years.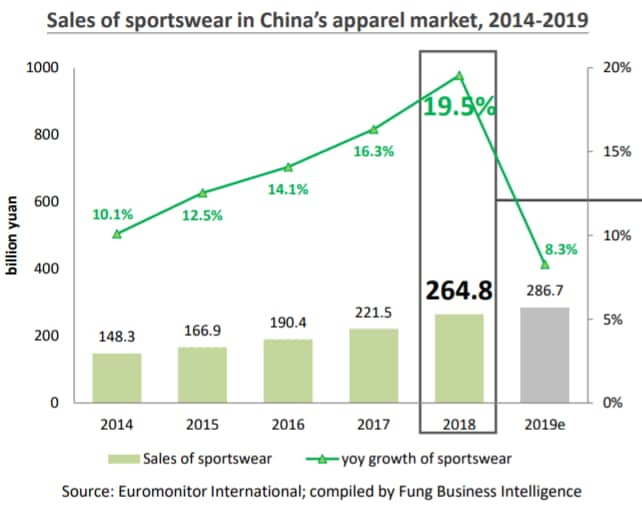 Anta Sports is screening as the best combination of growth, margins, and free cash flow though smaller Li-Ning [2331:HK] with a $7bn market cap that is also fairly attractive. Anta made a bold move in March 2019 buying Amer Sports [AMEAS], a Finnish owner of athletic brands like Wilson for $5.2bn.
Anta is said to have a 10.3% market share in China behind Nike at 22.1% and Adidas at 18.6%. China's largest sportswear retailer, Topsports [6110:HK], which is the Chinese distributor and retail partner of Nike and Adidas, launched a $1.2bn IPO in 2019.
In May 2019 China-based Xtep [1368:HK] – a smaller player in the Chinese sportswear market – announced a deal to acquire K-Swiss [KSWS]. There is a lot of activity in the Chinese sportswear market as it is being recognised as a major multi-year growth opportunity.
The sweet spot
Anta has seen sales grow from $2bn in 2016 to $4.6bn expected in 2019 while also being profitable. At 5.2 times sales, it does trade at a premium multiple to the likes of Li-Ning (3.6 times) and Nike (3.7 times) but offers a superior growth profile and at 30 times earnings is cheaper than both those names while having superior margins.
Its growth and margin profile most closely resemble Lululemon which trades 8.1 times sales. Anta checks all the boxes and is the best balance of profitability and growth at a reasonable valuation.
Anta has plenty of opportunities moving forward while taking advantage of the overall positive industry tailwinds. It is seeing rising market recognition and Anta Kids is seeing record growth while the e-commerce opportunity is in the early stages after collaborations with JD.com [JD] and others.
China's economy is likely to continue to see overall slowing growth and some further uncertainty but consumer goods have shown to be the most resilient area with a number of demographic factors playing a role. The growth cycle for sportswear in China, and for Anta, should continue through the 2022 Olympic Games, at a bare minimum.
From a technical perspective, Anta shares have pulled back over the last eight weeks after running to a new high and sit at the 21-week moving average which tends to be support for growth/momentum stocks. A move above 75.75 would trigger a pullback trend break and resumption of the stronger/longer uptrend with the first Fibonacci extension target up at 93.95.
The 161.8 extension target is at 102.65, and note shares recently peaked in 2019 at a 1.618 extension of its 2018 low to April 2019 high, as shown below (chart via TradingView).