As February comes to a close, London's FTSE 100 looks on track to deliver another solid 3% uptick similar to its performance in January. The FTSE 250, however, staged an even more impressive turnaround. After shedding 15.5% of its value in 2018, around 300 basis points more than the FTSE 100, the index is up 10% year-to-date, well above the 6.6% of its blue-chip peer.
That's not to say the FTSE group hasn't faced headwinds so far this year, as regulatory crackdowns and macroeconomic woes unsettle the mid-caps stocks. The Sainsbury's-Asda merger setback brought the FTSE 100 down 0.8%, and the FTSE 250 was impacted by a 40% fall in Metro Bank [MTRO] shares after the lender admitted to irregularities in its books.
As the Brexit deadline fast approaches and several countries face forecasts of an economic slowdown, we take a look at three FTSE 250 growth stocks, and their potential for continued momentum in 2019.
Safestore, the UK's biggest provider of self-storage spaces, reported a 10.8% year-on-year increase in revenues to £143.9m for the year ended 31 October 2018, with its businesses growing both in the UK and Paris. Demand for its spaces is increasing faster than supply, with 73.6% of its lettable area occupied, up from 68.9% a year earlier, and the average going rate for its storage in the UK has also increased to £18.08 per square foot.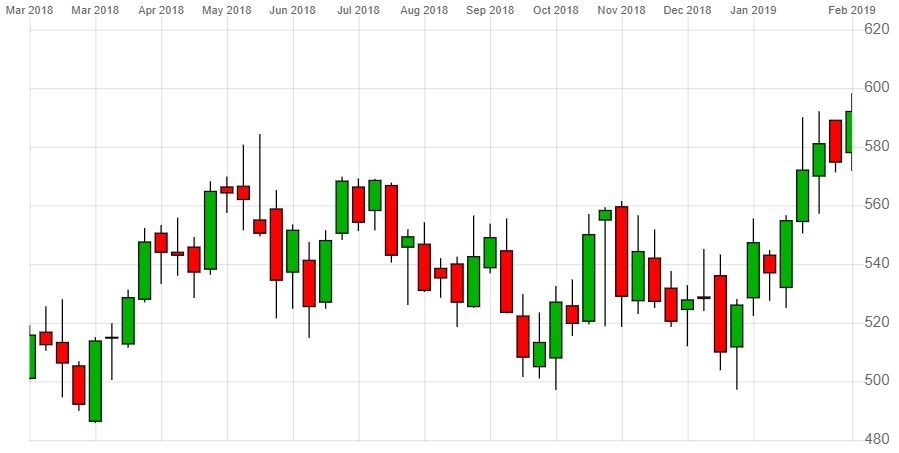 Powered by CMC Markets, as at 26 February 2019
Despite having 1.68 million square feet of yet-to-let area, the company continues to show appetite for new builds, however planning restrictions – particularly in Paris – are the main obstacle, rather than any uncertainty around revenues. Additionally, some 70% of its UK stores and 60% of its Paris ones are freeholds, meaning it's got substantial assets to draw from in case of need.
Safestore's 11.15p dividend gives its stock a yield of just under 1.8%, similar to that of its closest rival, Big Yellow Group's [BYG] 1.7%. The latter's stock is also substantially costlier; it trades at 13 times TTM earnings, almost twice the PE ratio for Safestore.
Scottish soft drink producer A.G. Barr is expecting to report a 5% increase in revenues for the twelve months ending in January when it posts its full-year results next month. The company has been riding a 3% volume expansion for the UK's soft drink market, but as the so-called "sugar tax" starts to bite, and the ongoing CO2 shortage complicates production, it intends to "return to a more value-led trading strategy" for the year ahead.
The stock is down 5% since the start of the year, and was battered by a rating downgrade to "neutral" from analysts at JPMorgan, who see risks in modifying its recipe for Irn-Bru. They see the stock as overvalued, and have a price target of 570p, against the current 752p. At 23 times EBITDA, the stock is more expensive than FTSE 250 peer Britvic [BVIC], and offers a lower yield at 2% compared to Britvic's 3%.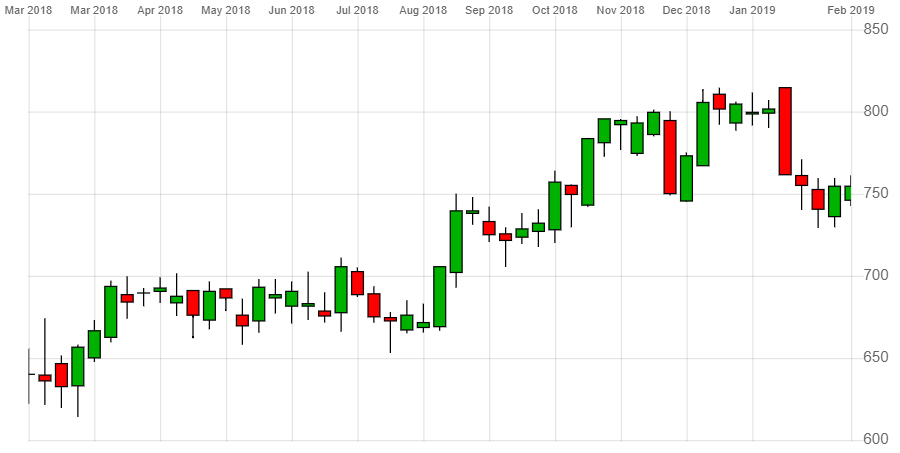 Powered by CMC Markets, as at 26 February 2019
Despite headwinds in the carbonated drinks landscape, however, the company is bullish on prospects. "Our portfolio of differentiated and growing brands and our well-invested and efficient asset base give us confidence for continued profitable growth," A.G Barr said in January's trading update.
Indeed, while the Glasgow-based soft drinks company's share price tends to sit on the expensive side at 757p, its impressive record of producing high margins and returns on capital has helped its stock reach a 15% total return from February last year to now.   
3. Redrow [RDW]
The housebuilding sector is widely seen as one of the most exposed to a Brexit-induced economic downturn, yet players like Redrow are proving attractive thanks to cheap valuations coupled with high yields.
Redrow reported a 9% year-on-year increase in revenues to £970m for the six months to December, along with a 7% rise in profits to £187m. A "subdued" market in the first few weeks of 2019 was followed by a rebound that brought reservations to levels comparable with a year earlier, which led to outgoing chairman Steve Morgan to forecast "another year of significant progress" for the company.
The stock's PE ratio of around 6.75 is cheap compared to Barratt's [BDEV] 8 and Taylor Wimpey's [TW] 8.68, it also has a forward yield of 5%. The share price has skyrocketed 20% to 589p since the start of 2019, and analysts are predicting even more of an upside, with Berenberg Bank and Peel Hunt both reiterating their "buy" ratings in February and setting price targets of 690p and 665p respectively.
20%
Share price growth since the start of 2019
Where next?
While the export-focused FTSE 100 stands to be highly influenced by the outcome of Brexit, FTSE 250 stocks may be shielded from fallouts, thanks to a UK-centric focus. Conversely, that may prove a double-edged sword if the British economy starts struggling after its departure from the EU. Notwithstanding the macroeconomic uncertainty at play in global markets, promising fundamentals do exist within companies' balance sheets, especially in those that have strong business strategies to mitigate risk during these uncertain times.