In an effort to retain customers, Tesco has been taking action to cut back prices in its store chains with the £4bn takeover of the UK's largest wholesaler Booker, in March 2018, helping it deliver a £140m savings target this year.
Despite promoting cheaper prices through its 'exclusively at Tesco' range and launching its own discount store chain – Jack's – in 2018, out of the big four supermarkets, Tesco ranks fourth when comparing grocery prices with an average basket cost of £149.73, according to Which?.
The stock is down around 20% over the last five years and while it fell 8.5% alone in 2018, the share price has recovered most of its losses and some, rising 22% to around 232p so far this year.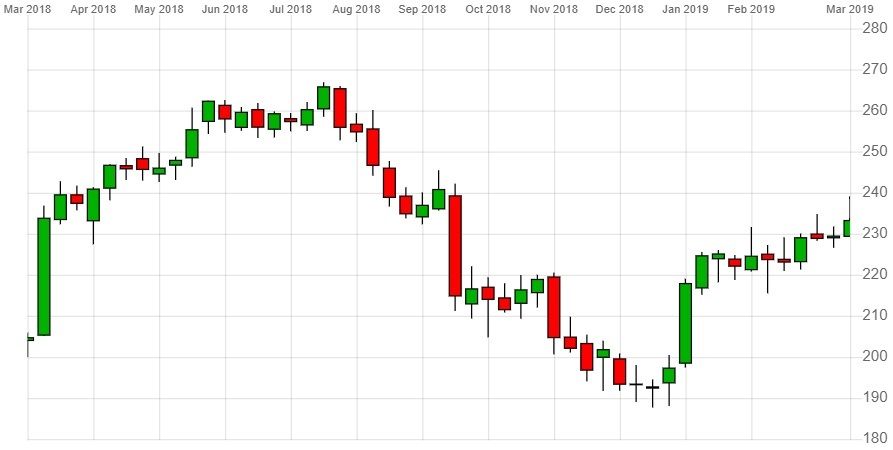 Tesco 1-year share price performance, CMC Markets, as at 25 March 2019
The company also outperformed the industry's average annual return of 0.9%, as total shareholder returns including dividends reached 8.7% in 2018.
Compared to industry rivals Sainsbury's and Morrison's, which have operating margins of 1.7% and 2.65% respectively, Tesco's own 2.93% reveals the company's disciplined approach with capital expenditure decreasing by £100m in 2018. 
Supply deal strengthens competitiveness  
In addition, Tesco and
Carrefour [CA]
– two of Europe's largest supermarket groups – have forged joint partnerships with suppliers to cut down costs since July 2018 as they amp up efforts to tackle the German-owned discount stores.
The British and French grocery chains said the alliance would lead to cheaper prices and improved quality and choice for customers as they jointly purchase own-brand products as part of a long-term tie-up, which will initially run for three years. 
Bruno Monteyne, analyst at Sanford Bernstein, said: "Buying alliances are clearly in vogue as scale is more and more important in food retail. The tie-up between Carrefour and Tesco is a step in the right direction but is unlikely to materially change the numbers."
"Buying alliances are clearly in vogue... The tie-up between Carrefour and Tesco is a step in the right direction but is unlikely to materially change the numbers." - Bruno Monteyne, analyst at Sanford Bernstein
Similar alliances have become increasingly common across Europe's retail sector as supermarkets fight to keep prices competitively low with France's Casino and Auchan, Germany's Metro and Spain's Dia also launching supply partnerships.    
While Lidl owns 6% of western Europe's grocery market, Aldi owns 5%, and Carrefour and Tesco have a combined 8% share, according to Euromonitor International. 
The German discounters, meanwhile, have developed powerful global supply chains that extends their market reach to more than 27 countries.  
+27
The number of countries that Lidl and Aldi oeprate in
Efforts by traditional retailers to shore up market share have led to damaging price wars in the past, with a prospective Sainsbury's and Asda merger being scrutinised by the competitions regulator.
The Tesco-Carrefour deal is unlikely however to face scrutiny given the lack of material overlap in European markets. 
With the European grocery market projected to reach €377.6bn in sales by 2022, valuing the industry at €2,289bn according to international grocery research organisation IGD, pressure to grow market share is high.  
Scaling back 
Tesco has grown substantially since its founding in 1919 to become the biggest private sector employer and retailer in the UK with more than 400,000 staff.
While total sales for the group have been known to reach as high as £72.4bn in 2013, the market's challenges saw sales fall to £51bn in 2018, forcing the UK supermarket to "simplify" its business to remain competitive. 
Market cap
£

22.66bn

PE ratio (TTM)
20.79
EPS (TTM)
11.20

Total debt/equity

 

(MRQ)

55.22
Tesco stock vitals, Yahoo finance, as at 25 March 2019
A part of its efforts to simplify the company's operating model culminated in several changes announced on 28 January that included the closure of counters in 90 stores, a new stock control and merchandising routine as well as changes to its head office that put 9,000 jobs at risk. 
For Aldi, the most important performance measure is revenue divided by employee hours, as this is key to the discount supermarket's competitive advantage: an important aspect of its business model is stocking a small range of products so that it can operate with fewer staff.
But as Tesco continues to cut costs, post improving financials and work on customer service, it could remain in a good position to fend off the discount stores.