Technology firm Oracle [ORCL] has been on a run in 2019, its share price has grown around 25% from its 52-week low of $42.69 in December 2018. Going into the holiday weekend, shares were priced at $52.77 at Friday's close. 
 
The share price success suggests that Oracle's cloud computing business is performing well. The California-based company, which historically dealt in software and data servers, has been undergoing a transformation for the past several years to catch up with the tech players that have disrupted its sector.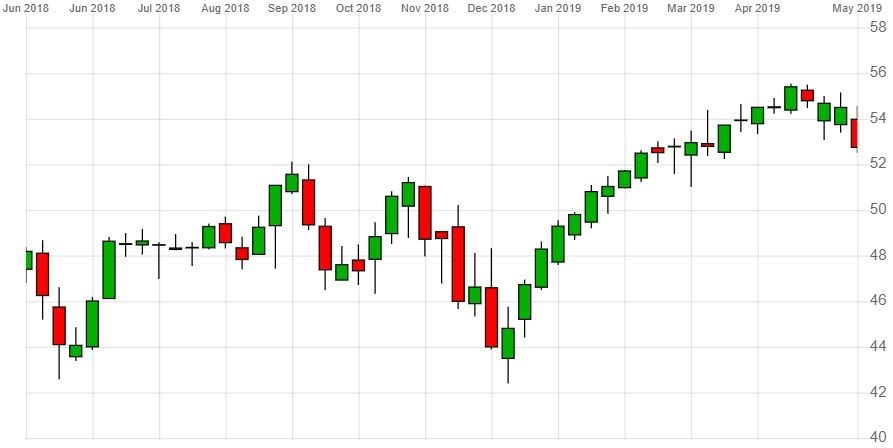 Oracle 1-year share price performance, CMC Markets, 30 May 2019
Oracle's first sign of interest in cloud computing came in July 2016 when it brought NetSuite, the very first cloud computing company, for about $9.3bn. But it appears the company is now pursuing more advanced technologies to drive its cloud businesses success. 
 
In May 2018, Oracle brought DataScience.com, a platform that centralizes data science tools, projects and infrastructure, to provide its customers with a single data science platform that leverages its cloud infrastructure for the use of machine learning.     
 
Fast forward to April this year and its shares hit an all-time high of $55.41 – an impressive achievement for an incumbent player in a market that's facing competition from the likes of Amazon [AMZN] and Microsoft [MSFT]. 
 
Zacks noted that Oracle's 12% share price climb over the last 12 months outweighs that of the industry's 1.9% average rise and off the back of better-than-expected earnings in its most recent quarter, boasts the stock 'B' grade for value.
 
However, since April the share price has been falling and as of the 30 May trades around the $51 mark. The consensus price target on Wall Street for ORCL shares is currently $53.93 – the level it was roughly trading at last Thursday – suggesting analysts believe the stock has peaked in the short term. Similarly, it is trading at around 15.7x forward EPS estimate, according to Zacks, well below the industry average 26.5x forward 12-month EPS estimate.
Market cap
$

176.65bn

P/E ratio (TTM)
18.52
EPS (TTM)
2.79

Profit Margin

27.26%
Oracle share price vitals, Yahoo finance, 30 May 2019
Innovation hubs show Oracle's real-world cloud applications
Oracle's shift to the cloud has been more complex than launching a new suite of products – its leaders have understood that a change in culture was needed, too.
Chairman and company founder Larry Ellison reportedly told staff that becoming a cloud services provider meant "selling small bites of the apple", and that "the relationship between the vendor and the buyer is more like a consumer model".
As part of its commitment to transform the company's culture and model, Oracle has launched five "innovation hubs" – four in the US and another in India – which are staffed by fresh-faced engineers with new ideas, tasked with rethinking the company's cloud products and coming up with use-cases that solve specific business problems.
"The relationship between the vendor and the buyer is more like a consumer model" - Chairman and company founder Larry Ellison
Projects have included using Oracle software to help patients track their health; another worked with farmers and distributors to help stores stay stocked with avocados. A partnership with Waypoint Robotics saw a robot work alongside humans in a quality control capacity, and report its finding to the worker and to the Oracle cloud. 
 
The hubs have helped to persuade customers skeptical about Oracle's cloud claims, Hamza Jahangir, group vice president for the cloud solution hubs, told Tech Crunch recently. "Don't bother watching a PowerPoint presentation," Jahangir said. "Ask us to show you real solutions and use cases where we have solved real material problems – and then we can have a discussion."
Still a small cloud player
While Amazon commands around a third of the cloud infrastructure services market with AWS, and Microsoft holds around 12.5%, Oracle has just 2%, according to data from cloud research firm Synergy. Its chief analyst and managing director, John Dinsdale, told Tech Crunch: "[Orcale] is a top-10 player, but it is nowhere near the scale of the leading cloud providers; and its market share has been steadily eroding."
 
In terms of its software-as-a-service (SaaS) division, a software distribution model in which a third-party provider hosts applications and makes them available to customers over the internet, Oracle is the fourth-ranked provider of enterprise SaaS behind Microsoft, Salesforce and Adobe.
"[Orcale] is a top-10 player, but it is nowhere near the scale of the leading cloud providers; and its market share has been steadily eroding." - Synergy chief analyst and managing director, John Dinsdale
Despite the company's shrinking market share, it is still a top player in the space and will ultimately benefit from this year's 17.5% predicted growth in the worldwide public cloud services market, whichGartner expects to total $214.3bn by the end of the year.  
 
By Ellison's own admission, the future of Oracle's cloud infrastructure business rests on its "highly secure Gen2 cloud infrastructure, featuring the world's first and only autonomous database…" According to its most recent earnings report, released in March, the company had 1,000 paying customers for the database by the end of Q3, plus a further 4,000 users trialing the service – making it "the most successful introduction of a new product in Oracle's forty-year history".