Ocado's share price has surged since the start of 2019. But will the cost of its tech ambitions see the stock falter?
Ocado [OCDO] might have started out as a UK-based online delivery company, but in recent years it has branched out to sell its tech to other retailers across the globe.
This dual business model has seen its stock climb a huge 70% since the start of the year to trade just under its 52-week high.
Yet the share price dropped 4% in intraday trading at the start of May when investigators pinpointed the cause of a fire at its main distribution centre to its robotics operation. Embarrassing for a company whose business is to sell this type of kit internationally. The blaze had already knocked sales by 1.2%.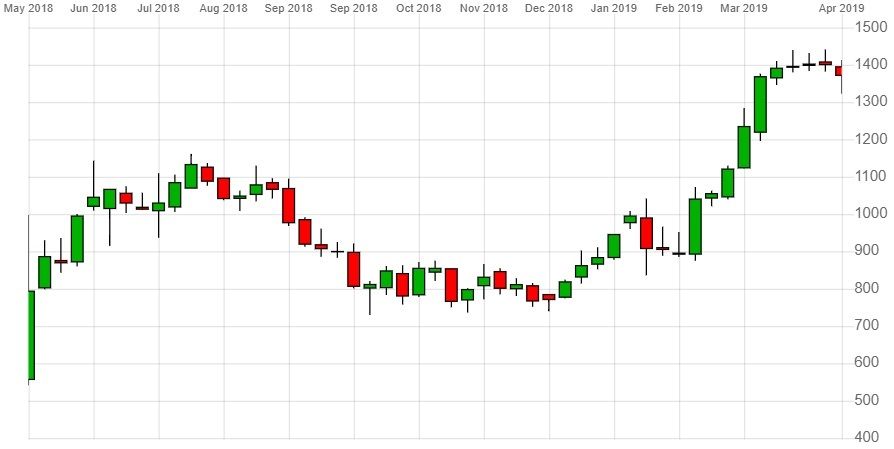 Ocado 1-year share price performance, CMC Markets, 07 May 2019
The Microsoft of retail?
Ocado's 2018 full-year earnings results showed that its quest to be the world's top 'e-commerce delivery solution' continued to eat at profits.
Earnings fell 21% to £59.5 million, despite revenue gaining 12.3% to come in at £1.6 billion. Overall, the company lost £44 million, up £8.3 million on the previous year.
Over the course of 2018, Ocado upped its IT headcount by 76%, including taking on board 300 programmers. Patent applications went from 73 to 395 across robotics, AI and machine learning. The inward investment has been necessary to cater for new customers forking out for Ocado's high-tech distribution centres.
| | |
| --- | --- |
| Market cap | £9.62bn |
| 1-year sales growth | 9.92% |
| EPS (TTM) | -0.07 |
| ROE | -11.17 |
Ocado stock vitals, Reuters, 07 May 2019
By far the biggest agreement was with US retailer Kroger, for 20 centres. The announcement shot Ocado into the FTSE 100 and got it nicknamed the 'Microsoft of retail'. Closer to home it has been fulfilling orders for Morrisons from its Erith centre.
But it's an expensive operation. Losses from this side of the business increased £6.6 million to £17.9 million last year, despite the Morrisons partnership pulling £123 on the books.  In the UK business, costs rose 15% last year, outweighing the 12% growth in sales.
Will the M&S partnership pay off?
For many people, Waitrose and Ocado were synonymous. That was until earlier this year, when Ocado dumped Waitrose and partnered with M&S [MKS] to create Ocado.com in a deal worth £1.5 billion.
How successful Ocado.com is could come down to the products on offer. M&S sells 7000 products compared to the 40,000 lines offered by the likes of Tesco. Anyone who's been into their local M&S will know these are usually own-brand with a limited number of household names on offer.
This lack of choice could see Ocado.com have a hard time of it when it comes to gaining market share. Analysts expect the online grocery market to be worth £17.3 billion by 2023, growing 52% from the £11.4 billion it was worth in 2018. With such a lucrative market, competition from both traditional rivals and new entrants will be fierce.
£17.3bn
Ocado's predicted value by 2023
These include Amazon, which has started to make inroads into delivering groceries online. But the real competition is from the supermarkets. Something that CEO Tim Steiner acknowledged during the earnings announcement:
"We're always aware of [Amazon] considering global scale, reach and size, but it's not a big factor today in the UK grocery market – the competition market is really between ourselves and the big bricks and mortar retail operations. Amazon haven't made a big impact in the UK grocery space."
What next?
HSBC cut its rating for the stock to "Reduce" even as it raised its target price from 700p to 900p in April. Still, even with the rise in target, this would be a hefty 34% drop from the current share price.  With the average price target at 985.69p on Yahoo! Finance, it looks like analysts are expecting a fall. Currently the stock trades around the 1371p level.
34%
HSBC's predicted drop in OCDO shares, based on current target
The question is, can Ocado scale up like a conventional tech firm? Ocado's business model means it has to build a hi-tech centre for each customer it brings on board. Unlike other tech firms, this limits how quickly it can generate revenue due to the time taken to build a new centre. Something of a problem if it wants to justify its high valuation.
With mounting costs and the share price possibly overbought, investors might be thinking about taking profits.