In the last six months alone, ITV's [ITV.L] share price has fallen by over 25% since reaching a 2018 high of 180.40p in July 2018.
But in the second week of 2019 the stock has experienced an uptick, gaining more than 5% on January 7 and 8.  
The downward trend has also helped lift its forward dividend yield to 6.3%, making it one of the highest yielding shares in the FTSE 100 with a return that is 200 basis points higher than the index. 
And despite ITV's recent falters, the company does have some solid long-term investment prospects that could be signalling a 'buy' opportunity. But uncertainty around Brexit does remain a challenge.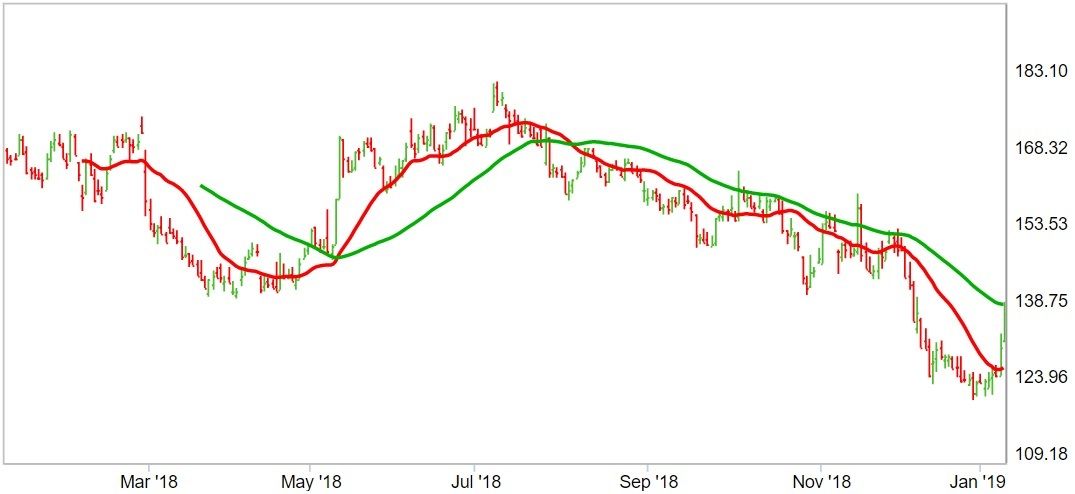 ITV share price performance, London Stock Exchange interactive chart, as at 10 January 2019
Turnaround on the cards 
The recent performance of the ITV share price has been on the most part disappointing, mainly due to reduced confidence among businesses and consumers. 
With the process of leaving the EU likely to continue to be major news over the next few months, the company's shares could come under more pressure as investors and traders factor in the potential obstacles.
One particular area that analysts believe will be majorly impacted is ITV's financial performance, which is expected to post modest growth in earnings-per-share for the full financial year of 2018. With a dragging share price, the stock has a P/E ratio of 12.88 based on the last 12 months.
Total external revenue HY 2018, 

% change YoY

+8%
Market cap
£5.45bn
PE Ratio (TTM)
13.12
EPS Ratio (TTM)
10.40
ITV stock vitals, Yahoo finance, as at 10 January 2019
ITV's growth plans 
At the start of 2018, CEO Carolyn McCall set out a strategy for the British media company that was aptly named 'More Than TV' aimed at growing its studio segment (which produced content for channels outside of ITV) as well as in digital – with a planned push to more paid for content – and print; it even launched a consumer magazine. 
As part of the strategy, ITV also plans to have a more global outlook, increase advertising and expand its original production projects, to make it more of a creative entertainment company.
"There's never been a better time to be a creative entertainment company with viewers' appetite higher than ever for quality content and this is set to grow by around 5% globally over the medium term," said CEO Carolyn McCall.
"ITV is well placed to take advantage of this opportunity and our strategy refresh which will enable us to drive profit from three separate sources – advertisers, broadcasters/platforms, and consumers.
"There's never been a better time to be a creative entertainment company with viewers' appetite higher than ever for quality content and this is set to grow by around 5% globally over the medium term" - ITV CEO, Carolyn McCall
"ITV will be more than TV – it will be a structurally sound integrated producer broadcaster where we aim to maintain total viewing and increase total advertising revenue; it will be a growing and profitable content business, which drives returns; and it will create value by developing and nurturing strong direct consumer relationships, where people want to spend money on a range of content and experiences with a really trusted brand."
The company has begun to deliver, with external revenue increasing by 6% for the nine months to 30 September 2018, driven by a 43% growth in online revenues, and 10% growth in total ITV Studios revenues year-on-year. 
Advertising problems
However, despite ITV's earnings results in the third quarter of 2018 being in line with management expectations, its numbers "still leave a bit of a bad taste in the mouth", according to Nicholas Hyett, equity analyst at Hargreaves Lansdown.
"Studio revenue growth is slowing, that's partly explained by the fact it's a lumpy business but it's still not ideal. The bigger issue is a slowdown in advertising in the broadcast business, which still accounts for 57% of revenue," Hyett said. 
57%
Percentage of total revenue made up by advertising
"While ITV's content is still getting bums on sofas, with viewing numbers up nicely, a gloomy economic outlook means the attention of the viewing public isn't as attractive to advertisers as it once was."
As ITV's bread and butter, the demand for TV advertising overall seems to be dampening as online advertising increases in popularity.  
A mixed bag 
However ITV, at least for now, seems to be ticking along, with advertising revenue increasing by 2% for the nine months ending on 30 September 2018. The company must now build on these gains, and prevent further slippage in some ad categories it is struggling in – in the first six months of 2018 revenue from retail advertisers was down 7.4%.
"With ITV's management team set to revise its strategy over the near term, I feel that it could deliver a successful recovery in the long run. Between now and then, though, there may be further volatility and even additional share price falls," said Robert Stephens, equity analyst and regular contributor to Master Investor. 
Since the outlook for the UK economy remains relatively uncertain, it's hard to place how UK companies will fair, but looking at ITV's financial performance and business model for the year ahead, a strong case could be made for the company's long-term growth.