T
ech has been the place to be for investors this year. The Nasdaq Composite has surged more than 22% YTD and was trading 1.25% off this year's peak of $8048 as of 15 October. 
However, as companies like
Intel [INTC]
,
Micron [MU]
and
Qualcomm [QCOM]
 head into Q4, investors are concerned over the current state of the macro environment, as the US-China trade negotiations and signs of a cooling economy in the US drag down sentiment, and potential share price growth.
"The biggest worry from investors continues to be the China black cloud, which is casting a long shadow over semiconductor and tech names, including Apple, across the board," Wedbush Securities analyst Dan Ives told the Financial Times. 
"The biggest worry from investors continues to be the China black cloud, which is casting a long shadow over semiconductor and tech names, including Apple, across the board" - Wedbush Securities analyst Dan Ives
Indeed, research conducted by FactSet indicates that the tech sector is weighing down the whole S&P 500 with its negative EPS guidance. Senior earnings analyst John Butters found that, across all sectors, a record 83 out of 113 S&P 500 companies issued negative EPS guidance for the upcoming quarter – 3% above the five-year average of 70%. 
The report pointed to the tech sector as being the largest contributor to the slow generation of profits for shareholders, with 29 companies in the sector forecasting a drop in EPS for the quarter – above the 20.1% five-year sector average. 
"If 29 is the final number for the quarter, it will mark the highest number of companies issuing negative EPS guidance in this sector since FactSet began tracking this data in 2006," Butters said. 
| | | | |
| --- | --- | --- | --- |
|   | Intel | Micron | Qualcomm |
| Market cap | $232.531bn | $51.045bn | $94.87bn |
| PE ratio (TTM) | 12.19 | 8.39 | 28.59 |
| EPS (TTM) | 4.30 | 5.51 | 2.73 |
| Quarterly Revenue Growth (YoY) | -2.70% | -42.30% | 72.80% |
Intel, Micron & Qualcomm share price vitals, Yahoo Finance, 16 October 2019
Semiconductors: a top-performing sector 
Surprisingly, it appears that this year's top-performing semiconductor stocks are the ones that are expected to lead the largest decline in year-over-year earnings expectations within the tech sector, according to FactSet.  
Despite the negative earnings sentiment, semiconductor stocks outperformed the wider industry in Q3 with a 6.74% rise, while technology hardware was up 5.26%, IT services was down 3.19% and software was leading the bottom of the pack down 16.3% in the same period, Benzinga reports.
However, it has been a volatile year for the sector. While the Philadelphia semiconductor index's performance during the last quarter revealed that it also outperformed tech and the broader S&P 500, it proved that the ebb and flow of trade policy negotiations did take its toll (see chart below).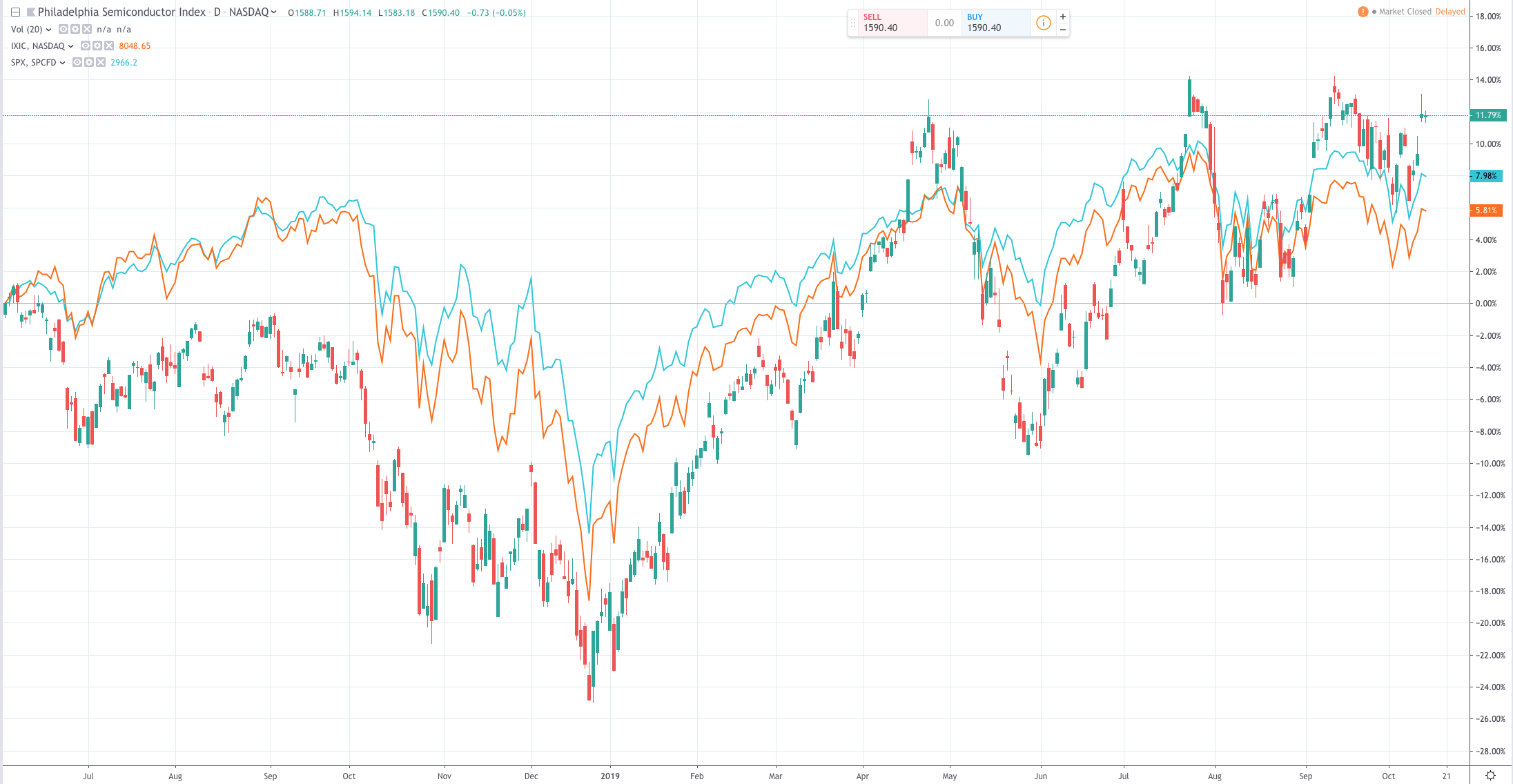 Looking at the chips specifically, VanEck Vectors Semiconductor ETF [SMH] performance YTD reveals a massive 43% rise (to 15 October) with the likes of Intel [INTC], Qualcomm [QCOM] and
Nvidia [NVDA]
among its top 10 holdings.
Despite the economic uncertainty relating to exports and manufacturing over recent months, the fund topped its all-time-high of $123.31 when it closed at $125.05 on 15 October, making it a bright spot in the current market. 
Micron expected to lead the fall in disappointing EPS
While semiconductor stocks will no doubt remain sensitive to the US-China trade negotiation, each company is different – take Micron [MU] for instance. Analysts expect the company's adjusted earnings to fall 60% in fiscal 2020, according to Market Realist, and a PE (TTM) of 8.41 suggests that investors aren't sure either. 
Shares in Micron are 8.6% off their year-to-date peak, and a 42% drop in sales and an 86% fall in profits, according to the Motley Fool, make for a bearish outlook. 
"China is an important market for these companies and a vital linchpin in their supply chains," CNBC's Josh Lipton said in a recent report, citing that Qualcomm, Micron,
Qorvo [QRVO]
,
Broadcom [AVGO]
and Texas Instruments all get roughly 40-60% of their revenues in China. 
Another tech company sensitive to trade headlines is
Apple [AAPL]
, hitting a new all-time-high of $236.21 on 11 October and now up over 49% this year. In July the Wall Street Journal reported that China accounts for about a fifth of Apple's revenue and it is a critical part of the company's supply chain as a lot of its products are manufactured and assembled in the region. 
So, with earnings season fast approaching, negative EPS guidance amid insistent headwinds suggests that there may be some volatility ahead.