GSK's [GSK] share price has traded sideways since the beginning of the year, trapped between 1601p and 1436p. For every rally comes the inevitable knock back. It's the same story over the 12 month period, with the share price oscillating between 1621p and 1418p.
This trading behaviour could be due to GSK's decision to focus on its biopharmaceutical pipeline. On one hand, this has seen sales of high-margin drugs shoot up. On the other hand, it has meant a substantial investment that could come at the expense of shareholder rewards.
Why the share price could break out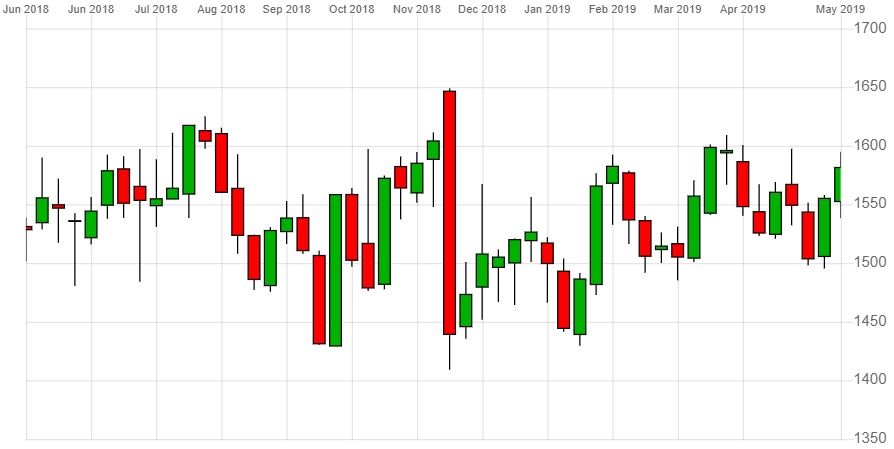 GSK 1-year share price performance, CMC Markets, 28 May 2019
Shingrix, GSK's shingles vaccine, has seen explosive growth since the FDA green light in 2017. Sales reached £357m in Q1 2019 – a massive 43% ahead of analysts' expectations and more than 60% above its haul in the previous year.
The next big market for Shingrix is China. The country has around 3 million shingles sufferers, making the addressable market 3x bigger than the US. But with demand for Shingrix already outstripping supply in both the US and the EU, GSK will adopt a phased approach starting in 2020.
Market cap
£

77.17bn

PE ratio (TTM)
19.87
EPS (TTM)
78.50

Operating margin

 

(TTM)

25.02%
GSK share price vitals, Yahoo finance, 28 May 2019
HIV treatments have also been a growth area for GSK. The drugmaker has invested heavily in this area and saw total HIV drug sales up 4 per cent to 1.1 billion in Q1. Juluca, GSK's two-drug HIV treatment, brought in £70 million alone in the quarter. 
If GSK delivers more stellar results for Shingrix and HIV treatments when Q2 numbers are released at the end of July, investors might pile back into the stock for a sustained rally above 1436p.
What's holding the share price back?
Despite the impressive sales numbers, GSK expects earnings per share to fall 5% to -9% this year.
One reason is the investment needed to get into the lucrative oncology market. GSK picked up oncology specialists Tesaro for a hefty $5 billion last year. While the acquisition gives GSK an instant presence in the market, it's a substantial drag on capital.
An additional challenge will be recruiting sales reps with specialist scientific knowledge in oncology. To do this, GSK has changed its pay structure to lure top talent, including incentivising sales of prescription medicines. This brings it in line with the competition as it attempts to break into the cancer medicine market, but clearly this won't bring an overnight flood of new recruits.
Despite the additional cost, the Tesaro purchase forms part of GSK's longer term strategy. In the Q1 results announcement, Chief Executive Emma Walmsley said:
'Strengthening our pipeline remains our number one priority and we reported positive data for several potential new medicines in HIV and oncology during the quarter.'
"Strengthening our pipeline remains our number one priority and we reported positive data for several potential new medicines in HIV and oncology during the quarter." - Chief Executive Emma Walmsley
Another hurdle is the loss of exclusivity for best-selling asthma drug Advair. In Q1 GSK saw total sales tumble £536 million quarter-on-quarter as Mylan's new Advair equivalent, Wixela Inhub, took a 28% market share.
Can GSK's stock break out?
Walmsley's decision to focus on high profit biopharmaceuticals is not without risk. GSK has a lot of catching up to do if it wants to succeed in the oncology market. This will need heavy investment and could come at the cost of rewarding shareholders.
GSK has one of the pharmaceutical industry's highest dividend yields at 5.81%. And over the last year the drugmaker's payout ratio has come in at an impressive 110.6%. But while increased sales will add to the top line, they are unlikely to add to cash flow in the short-term.
110.6%
GSK stock's payout ratio
This leaves the company with a difficult choice. To continue expanding into biopharmaceuticals it may have to cut the dividend to free up cash. Ultimately, this may well determine the direction in which GSK's stock trades this year.
Right now, it seems that the market is in 'wait and see' mode. Among the 20 analysts that follow the stock, the average price target is 1644p. This would represent a mere 3% upside on the current price. Over on Reuters, the consensus rating for the stock is "Hold".