Few on Wall Street have had it as good this past quarter as Disney [DIS] shareholders: the share price briefly hit a record $143.33 mid-trading on Tuesday last week, and is up some 19% from 11 April, when the company excited analysts and investors by showcasing their bold plans for the streaming market.
Amid a flurry of upgrades and target price hikes, a note from Imperial Capital last week stood out for being the first to call time on Disney's bull run. Analyst David Miller downgraded the stock from outperform to in line, saying that the catalysts that had prompted an upgrade in November were by now "pretty much built into the stock".
While he retained a price target of $147, Miller seemed to question the short-term sustainability of a valuation equal to 21.7 times Imperial's estimate for 2020 earnings and 19.2 times their 2021 prediction. The stock, he noted, has historically never traded over 18 times forward earnings and is "now trading at record multiples".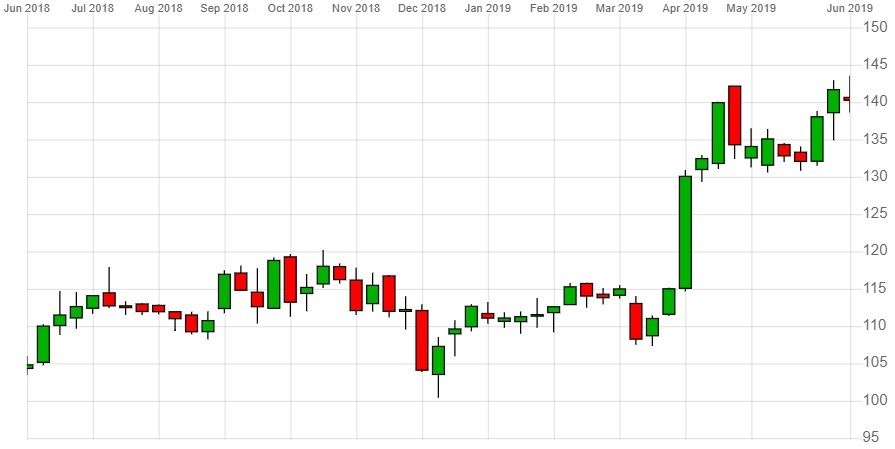 Disney's 1-year share price performance, CMC Markets, 25 June 2019
More bulls to come?
Disney's share price fell 1% to $139.24 over the course of the day following Miller's 17 June note – suggesting it had convinced some investors the time was right to cash in. However, there are still positive signs for the stock. On 14 June, an Investor's Business Daily analysis identified a flat base – a sideways pattern that can singal a new breakout – with a buy point of $142.47. It also noted that the relative strength line, which plots a stock's performance against that of the overall market, was edging higher.
Meanwhile, some analysts are suggesting Disney shares still have the potential to grow. On 13 June, just a few days before Imperial's note, Morgan Stanley's Ben Swinburne hiked a long-standing $135 target to $160, largely on the back of Disney's plans for the streaming space. The share price closed the day up 4%. "We think their streaming guidance is credible – ambitious, but credible," and is not yet priced in the stock, he told CNBC.
Market cap
$

251.09bn

PE ratio (TTM)
15.61
EPS (TTM)
8.94

Quarterly Earnings Growth

 

(YoY)

85.60%
Disney share price vitals, Yahoo Finance, 25 June 2019
No streaming profits until 2024
While the reveal of the Disney+ platform in April has been the main driver for the stock's breakout, some analysts have put the emphasis on other recent profit drivers, from IPs like Star Wars and Marvel, to the parks business. "[Disney+ is] definitely an addition. But remember that the properties that they already own are incredibly valuable," Gina Sanchez of Cantico Global Advisers told CNBC.
Imperial's Miller had a more cautious view of the impact of streaming on Disney's stock, noting that Disney+ and Hulu – the company's other majority-owned streaming platform – won't break even until 2024. He also labelled the other legacy media businesses, including ABC, ESPN and Disney Channel, a "melting ice cube".
And it is true that adjusted EPS shrunk 13% year-on-year for the three months to 30 March, to $1.61, while free cash flow fell 21% to $2.72bn. But for Morgan Stanley's Swinburne, "Disney already incurs significant marketing costs supporting its brands", so diminishing returns in the short-term would come as nothing new to shareholders. "We believe the market has often overstated the risk and underappreciated the reward of the transition to streaming," he wrote.
"We believe the market has often overstated the risk and underappreciated the reward of the transition to streaming" - Morgan Stanley's Benjamin Swinburne
Threat to Netflix
There are already signs that Netflix [NFLX] is no longer the only sure-fire investment in the space. A poll by UBS has indicated as many as 43% of consumers would be interested in subscribing to Disney+, while a PwC study earlier in the month found that "Netflix appears to be nearing its peak [US] subscriber point."
From a technical perspective, a switch from Netflix to Disney stock may already be justified, Miller Tabak's Matt Maley told CNBC; last week, the former's stock was pushing to the downside of its 200-day moving average. "If people are looking to lighten up a little bit on their FANG stocks, selling Netflix and going into Disney should be a good play," he said.