Boeing [BA] investors have filed a class action against the aircraft manufacturer, accusing it of "put[ting] profitability and growth ahead of airplane safety and honesty" by concealing safety deficiencies in 737 Max jumbo, which was involved in two fatal crashes over the last six months. Shareholders accuse the manufacturer of cutting corners around safety testing in order to quickly roll out the 737 Max to compete with France's Airbus.
News of the lawsuit comes as Boeing's quarterly order report showed orders for the 737 Max plummet to zero in March, along with a 32% year-on-year decline in quarterly deliveries for the wider 737 series, as airlines and lessors fret over safety.
32%
Year-on-year decline in quarterly deliveries for the 737 series
Shares in Boeing were down 1.4% in early trading on Wednesday, the day after the release of orders and deliveries figures. The stock fell 14% in the week following the 10 March disaster, and is down another 8% to around 365p since the company admitted, late on 4 April, that faulty activation of the MCAS system – intended to keep the aircraft level during flight – played a part in both the Ethiopian accident and the Lion Air disaster in Indonesia five months earlier.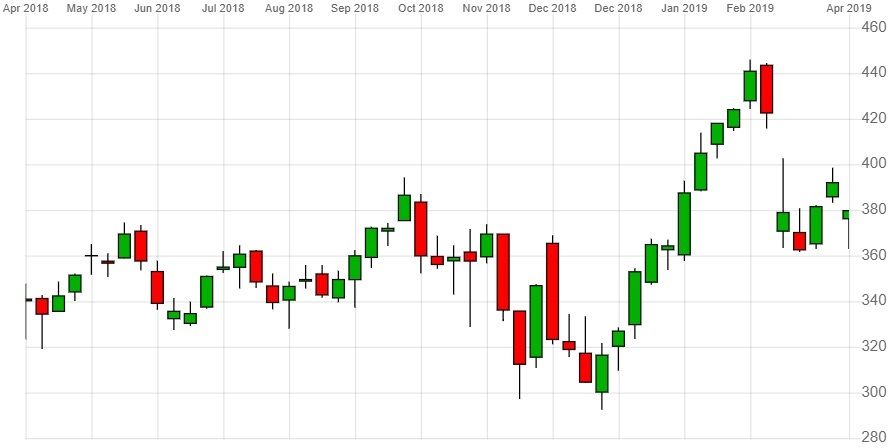 Boeing 1-year share price performance, CMC Markets, as at 15 April 2019
What's next?
Boeing is already rolling out a software update intended to fix faults in MCAS sensors, as well as supplying extra training and guides to Max pilots. 737 Max aircrafts worldwide, however, remain grounded, either by aviation authorities' instruction – like in Europe and the US – or by airlines' own initiative.
The impact on orders is trickling down to production lines: Boeing said it is temporarily scaling down its 737 production rates from 52 to 42 a month. The manufacturer may also be called upon, at a later time, to compensate airlines for business lost, as Rolls Royce was when aircrafts powered by its faulty Trent 1000 engine series had to grounded.
Market cap
$

212.77bn

PE ratio (TTM)
21.12
EPS (TTM)
17.85

Quarterly Earnings Growth

 

(YoY)

3.10%
Boeing stock vitals, Yahoo finance, as at 15 April 2019
Morningstar analyst Chris Higgins said in a note on Monday that a pushback in Max deliveries to next year would knock $1.11 off 2019 EPS estimates for Boeing, and reduce cashflow estimates by $1bn. His model included a $2bn "contingency" relating to "airline compensation and litigation". Investors will have an initial idea of the impact on financials when Boeing reports first-quarter results on 24 April. 
Boeing's case may have implications beyond the individual company into certification practices at the US Federal Aviation Administration, the de facto global standard-setter when it comes to assessing aircraft's safety. Media reports in the wake of the Ethiopian disaster put a spotlight on the FAA's practice of allowing manufacturers to conduct part of the testing process in-house.
"I think there will, no question, be lessons learned from [the 737 Max case]," Delta Airlines chief executive Ed Bastian told a conference in Atlanta this week. "I hope it doesn't set us back as an industry."