BP's [BP] sale of US shale assets, worth a combined $7bn, is progressing as management signals a willingness to reduce the company's heavy debt load while at the same time enhancing its portfolio.   
Hilcorp Energy, Enduring Resources as well as private equity firms KKR and Warburg Pincus are among the bidders for the various assets Bloomberg reported on Sunday, citing unnamed sources.
Cash from the sale will go towards reducing the company's debt, which totalled $65bn in the fourth quarter for penalties and cleanup costs from the Deepwater Horizon spill in 2010. Reducing the oil incumbent's debt to a more sustainable level has been a priority for the company, especially after the price of oil, which often acts as a collateral for loans in the industry, crashed in the mid-2010s and again in the last quarter of 2018.
Market cap
£

108.97bn

PE ratio (TTM)
11.53
EPS (TTM)
46.70

Total debt/equity

 

(MRQ)

64.80
BP stock vitals, Yahoo finance, as at 6 March 2019
The company's investment strategy temporarily gave way to a bolder approach in June last year when BP doubled down on shale production, buying $10.5bn in onshore assets from BHP Billiton. The investment – BP's biggest in 20 years – contributed to boosting oil and gas output in the final months of 2018, allowing BP to post estimate-beating profits for the full year.
What now?
The pending sale of US shale assets will be far from BP's last, as the company plans to sell $10bn worth of assets over the next two years, which is significantly higher than 2018's $3.5bn sell-off. Cash flow will continue to be impacted by payouts for the 2010 Gulf of Mexico spill, which reached $3.2bn in 2018, but are likely to fall to around $2bn this year. 
$3.2bn
BP Gulf of Mexico payout amount, reached in 2018
The acquisition of BHP Billiton's assets also forced BP to temporarily divert cash intended for share buybacks to containing its debt, which ended up rising by a third in 2018. The company's debt-equity ratio stood at a massive 66 as of last quarter, compared to an average of around 46 for the industry, according to Reuters' data.
Nevertheless, investors were kept happy as BP increased its dividend to $0.1025 in the fourth quarter of 2018, up 2.5% from a year earlier. The BHP Billiton investment was far from an isolated case, with M&A activity expected to increase in the US energy market, involving Royal Dutch Shell and QEP Resources among others.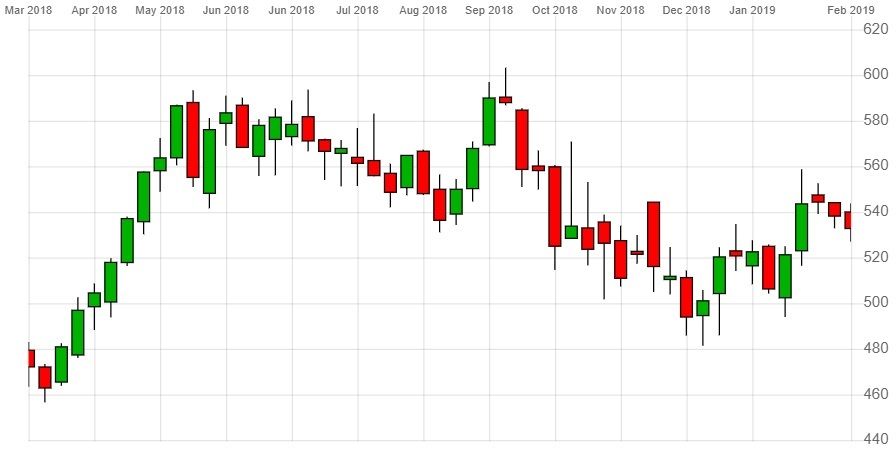 BP 1-year share price performance, CMC Markets, as at 6 March 2019
BP's stock has stagnated somewhat since jumping 6.5% to 554p in the first week of February, and opened March slightly down at 533p. But analysts have held onto target prices of 600p and above, with Goldman Sachs' very bullish forecast going as high as 780p.
"Given the complexity of the operation, BP has the ongoing challenge of keeping the overall engine purring," said Richard Hunter, head of Markets at Interactive Investor. "This has been done with some aplomb, and any number of the metrics have benefited not only from a generally higher oil price over the year, but also a streamlining of operations which has resulted in higher efficiency."