BP's [BP] fourth-quarter results, released on Monday, were testament to newfound momentum for a company that in the first half of the decade was almost fatally crippled by an environmental disaster first, and a slump in commodities prices shortly thereafter.
Shares were up 4.5% in early trading on Tuesday, after the company posted estimate-beating underlying replacement cost profits (an in-house metric roughly equivalent to operating income) of $13.58bn for 2018, double the previous year.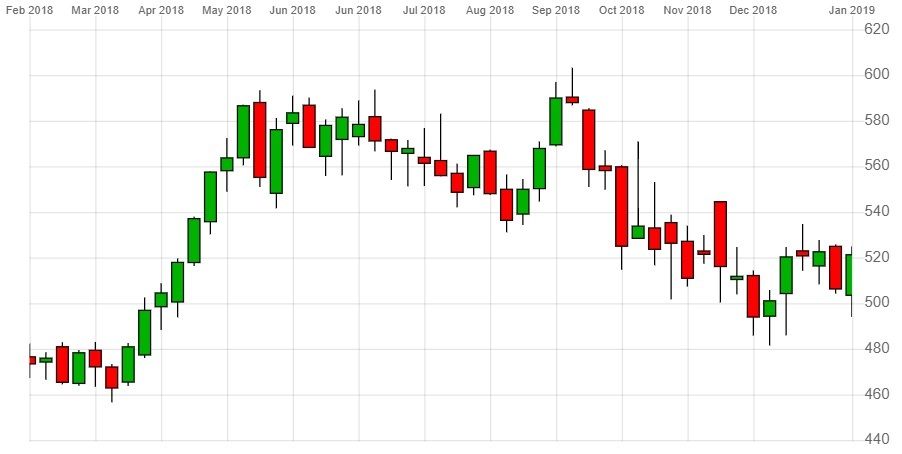 Powered by CMC Markets, as at 6 February 2019
The company's share price, while still down from October's eight-year high of 598.30p, is quickly recovering, and is still at one the highest levels since the big oil slump of 2014-15.
Among a basket of analysts tracked by Hargreaves Lansdown, the lowest target price is JP Morgan's, at 560p. Many others have set targets of above 600p - with Goldman Sachs going as high as 760p.
Divestments…
From a portfolio point of view, the last quarter saw the company make the bulk - $2.4 out of $3.5bn - of the divestments it had planned for 2018. BP wants to divest over $10bn in assets over the next two years.
$10bn
Total value of assets BP plans to divest over the next two years
Cash from the sell-off was originally intended to support share buybacks, but was last year earmarked to speed up the company's payment of its liabilities. Debt is a particularly sensitive issue to investors, seeing as it actually climbed from $37.8bn to $44.1bn, despite cashflows rising 33%.
Still, the increase perhaps should have been expected given that last October, BP took over BHP Billton's US shale assets for $10.5bn, its biggest acquisition in 20 years. The acquisition capitalises on a technology-enabled shale boom that has already boosted production for the firm's US-based competitors.
…And investments
BP is not shying away from new investments, despite still feeling the consequences of events from a decade ago. BP is still paying off the gigantic $63bn fine levied by the US for 2010's disastrous Gulf of Mexico spill: payments totalled $3.2bn in 2018, and are expected to fall to $2bn this year.
But in a sign of newfound confidence, BP said this January it intends to boost production in that very region, after it discovered it holds around one million barrels more than previously estimated.
"[The] Gulf of Mexico business is key to our strategy of growing production of advantaged high-margin oil," head of upstream Bernard Looney said at the time.
"And these fields are still young – only 12 percent of the hydrocarbons in place across our Gulf portfolio have been produced so far. We can see many opportunities for further development," he added.
"And these fields are still young – only 12 percent of the hydrocarbons in place across our Gulf portfolio have been produced so far. We can see many opportunities for further development" - Chief executive of BP segment, Upstream
A greener image
While BP is as vertically-integrated as an oil and gas company can be, the same is not yet true of its renewables business. The company still seems to be finding its footing in the field, and divested three wind turbines facilities in Texas last year, which cut its wind generation capacity by 30%.
Still, the company has been making investments in the area. It holds 43% of a solar generation joint-venture with Lightsource, which is set to enter Brazil as its eleventh country of operation this year, leveraging BP's presence in the country.
Additionally, the oil giant is keen to avoid being left behind as the electric vehicle revolution gains pace. Responding to IONITY, the charging point consortium, which includes Shell, Eni, Q8 and other rivals, it bought up Chargemaster, the UK's largest charging network operator, for £130m in June 2018.
A dividend that keeps coming
Investors were rewarded with a 10.25c dividend in the fourth quarter, up 2.5% from a year earlier. That kept yield around the 6% mark, in line with the average from past quarters and comparable with rival Shell, though higher than Exxon's 4.3% TTM, according to Morningstar.
| | |
| --- | --- |
| Market cap | £111.79bn |
| PE ratio (TTM) | 12.81 |
| EPS (TTM) | 43.10 |
BP stock vitals, Yahoo finance, as at 6 February 2019
The company is forecasting growth to pick up after the coming quarter, with full-year results beating 2018's bottom line, which would cement oil majors' comeback as the FTSE 100's powerhouse.
"We now have a powerful track record of safe and reliable performance, efficient execution and capital discipline," chief executive Bob Dudley said in a statement on Monday.
"And we're doing this while growing the business - bringing more high-quality projects online, expanding marketing in the Downstream and doing transformative deals such as BHP. Our strategy is clearly working and will serve the company and our shareholders well through the energy transition."