Boohoo Group [BOO] has become a dominant force in the fast-fashion market, with over 11.7 million Gen Z and millennial customers across several brands around the world. The ecommerce firm pegs its success to its "ultra-fast-fashion" strategy, which sees it take new items from design table to sale in just a few weeks. 
On 25 March, the company acquired fashion brand MissPap, in an effort to strengthen its multi-brand approach. MissPap is the third acquisition Boohoo has made in little over two years, joining PrettyLittleThing and NastyGal, which it took over in 2017. The company also launched Boohoo Man and Boohoo Kids in 2016. 
John Lyttle, the former COO of Primark who became Boohoo's new CEO on 15 March, believes the tie-up with MissPap is an "exciting opportunity to accelerate our [Boohoo] offerings". 
"Exciting opportunity to accelerate our [Boohoo] offerings" - John Lyttle, Boohoo CEO
For GlobalData's senior retail analyst, Sofie Willmott, MissPap will give the retailer another vehicle to drive growth. "Both boohoo.com and PrettyLittleThing have carved out a strong reputation for striking, going-out clothing so there is an opportunity for MissPap to become the group's destination for casualwear, stealing share from young fashion specialists that are failing to entice shoppers," she told fashion industry title, Drapers.
Bucking the retail trend 
Since listing its shares in 2014, Boohoo's stock has grown 172%. But since reaching an all-time high of 266p in April 2017, the stock is down 28% to 191p, although it remains a strong performer compared to others in the UK retail market. 
Shareholders have received an annual return of 35.3% in the last year compared to the online retail industry's 14%, raising its market value to £2.22bn, and with a massive P/E ratio of 65.86, investors are clearly anticipating further growth.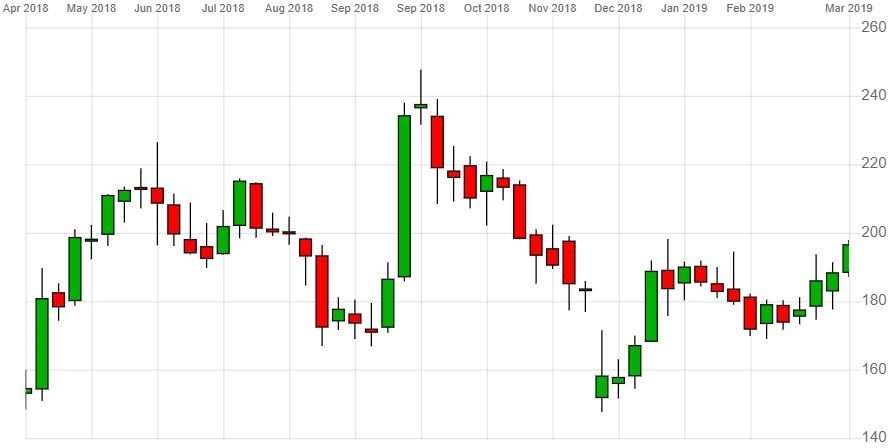 Boohoo 1-year share price performance, CMC Markets, as at 9 April 2019
In the last four months of 2018, the group posted a 44% rise to £328.2m, prompting it to update guidance for full-year sales growth to 43-45%. Growth has been largely driven by the PrettyLittleThing brand, which saw a 95% increase in revenue in its most recent trading update, compared to 15% growth from the flagship Boohoo brand. 
PrettyLittleThing was set up by the sons of Boohoo co-founder Mahmud Kamani in 2012, and has doubled its product range year-over-year since its inception.
Opening countries instead of stores  
Co-founder and executive director Carol Kane told Internet Retailing that there are "new territories on the roadmap" too, which she believes have the capacity for "loads of growth". As it stands, 40% of sales are from international markets. 
Likewise, when asked whether opening physical stores was on the horizon, chief executive of Boohoo Man, Samir Kamani, replied to Retail Week: "we'd rather open countries". 
40%
Percentage of sales from international markets
Another area that's driving growth is creative collaborations with various brands and designers. For example, a partnership between Boohoo Man and US rapper, Quavo, is set to strengthen its appeal to its target audience and help drive sales. The exclusive collection will go live on 11 April. 
While taking Boohoo from a single business to four brands over the past two years has pushed up overheads, its sales have grown exponentially, increasing by over 50% between 2016 to 2017 and a further 92% from 2017 to 2018.  
Kane believes the business has "become more flexible with scale because we've had to. The marketplace demands a certain level of flexibility to keep up and to grow, and to become important you have to be ready to flick the switch and change something very quickly". 
To scale operations in line with sales, the company has a new warehouse in Burnley, expected to go live next year, which will have automated fulfilment technology capable of processing £3bn in annual sales globally while also allowing the company to push through orders faster and extend the time that customers are able to make orders with next day delivery. 
"With expanded distribution capacity, successful marketing campaigns, 41% of the business now outside the UK, and a rising cash balance on the balance sheet, Boohoo seems very well positioned to continue its impressive growth trajectory," said analysts at Jefferies, who have a "buy" rating on the stock.
Market cap
£

2.24bn

PE ratio (TTM)
66.62
EPS (TTM)
2.90

Quarterly earnings growth

 

(YoY)

15.30%
Boohoo stock vitals, Yahoo finance, as at 9 April 2019
Is fast fashion on the way out? 
The rise of online shopping and broader consumer choice has generally helped to buck the slowing retail trend that's burdening the high street. However, according to Merrill Lynch, it failed to boost industry revenue, with fast fashion growing at its slowest pace since the credit crunch.  
Merrill downgraded Boohoo's stock to a "neutral" rating with a price target of 200p, after it identified 11 small brands in the UK that were taking on the clothes retailer directly. The new wave of disruptors comes at a time when international competition is strengthening as well.   
However it remains that in the world of fast-fashion, Boohoo is competitively placed, as the group continues to benefit from its broad range of products that respond to a fast-changing consumer environment.