Barclays' [BARC] strategy is under increasing scrutiny from shareholders, following the announcement of largely unchanged annual profits for 2018 and amid pressure from activist investor Edward Bramson. 
Barclays' 2018 profits of £3.5bn were roughly flat on 2017's, and came in below analysts' expectations. Bramson believes the bank should ditch plans to grow its investment bank and has vocalised concerns it may need to raise fresh capital. He's been in a high-profile tussle with chief executive Jes Staley since the start of the year as he looks to secure a board seat.  
"Continuation on the existing course represents a real threat that more new capital will need to be raised to underpin the activities of the corporate and investment bank (CIB)," Bramson wrote in a letter from his Sherborne Investors firm. "A judicious rebalancing of the CIB strategy, especially in its markets trading activities, could reduce the need for new external capital and result in a sustainable, competitive, global business."
"Continuation on the existing course represents a real threat that more new capital will need to be raised to underpin the activities of the corporate and investment bank (CIB)" - Activist investor Edward Bramson
Staley, meanwhile, pointed to the investment bank's improving return on tangible equity, which rose from 2% to 7% in 2018, bringing it closer to the overall target of 9% for 2019. In an effort to take back control of the division, the chief executive ousted the investment bank's head, Tim Throsby in March.   
However, the bank as a whole saw corporate lending income fall 20% due to resources being deployed to higher-returning businesses elsewhere, offering ammunition to critics of the investment banking-led strategy.
Market cap
£

27.86bn

PE ratio (TTM)
17.68
EPS (TTM)
9.20

Forward annual dividend yield

4.06%
Barclays stock vitals, Yahoo finance, as at 10 April 2019
The increasing pressure from Bramson comes after the bank lost one of its single largest shareholders, hedge fund Tiger Global, which finalised the off-loading of its entire 2.5% holding in February. Bramson's share, held via Sherborne Investors, totals 5.5%, making him Barclays' fourth largest shareholder. 
While investors believe he is unlikely to succeed in his bid for a board seat – one top investor told the Financial Times that the letter was "merely an exaggerated exposition of what we already know" – the debate has raised concerns over Barclays trading operations. 
However, shareholders have been keen to point out that opposition to Bramson's case is not the same as support for Barclays' strategy. "We must remember that Bramson is not without a point. It has been a terrible stock," the investor told the Financial Times. 
Barclays buoyed in activist battle by Brexit provisions 
The bank's share price has climbed about 12% to 162p since the end of 2008 and trades roughly 0.3% and 0.2% above the 50-day and 200-day moving averages respectively. However, the stock has been underperforming the FTSE100 by 3.8% so far this year amid the economic and political landscape in the UK.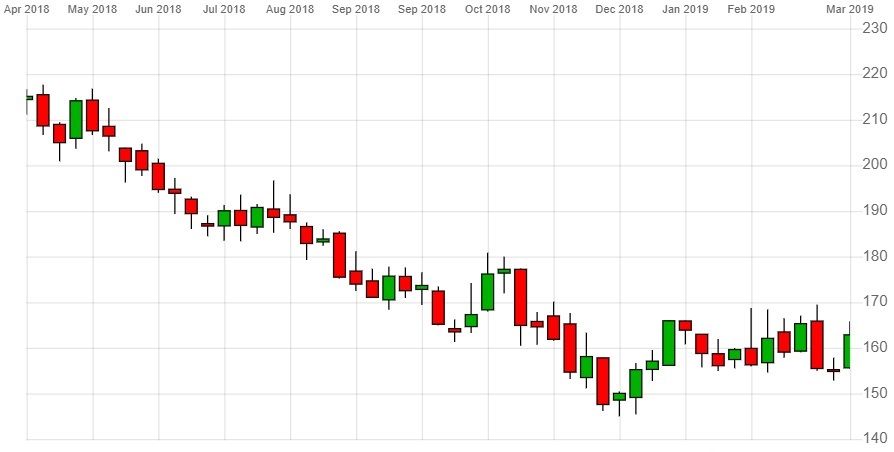 Barclays 1-year share price performance, CMC Markets, as at 10 April 2019
Neuberger Berman's Steve Eisman, who was the inspiration for Steve Carell's character in The Big Short film, went as far to close a short position against the stock worth £348m in January. Eisman described the position against the UK bank as a "thematic bet" on disruption from Brexit, further squeezing its £27.9bn in market value. 
Barclays also faces an on-going challenge to its personal banking services from digital startup banks, and is still adding to its PPI mis-selling bill ahead of the 29 August cut off. These, along with the prospects of an unorderly Brexit, casts doubt on its ability to continue paying out big dividends like the 6.5p per share announced for 2018, which brought the dividend yield to 4.2%. 
While the UK bank has spent up to £100-200m on moving operations and staff out of the UK to prepare for Brexit, the European Banking Authority estimates it would lose roughly £14bn in CET1 capital, based on its stress tests for an adverse Brexit scenario. 
£100-£200m
Barclays' spend on moving operations and staff out of the UK
Additionally, its total level of risk weighted assets would increase by £71bn, pushing the CET1 ratio down to 7.28%, almost half the current 13.2%. 
Barclays has said it remains comfortable with its hybrid structure in domestic and capital markets banking, despite being one of the three worst performers in the test. It also announced a £150m provision against possible Brexit-related losses.