BAE System's [BA] winter of discontent came a quarter early for the defence business. Between September and December 2018, its share price plummeted from 636.2p to 449.6p. That marked the business's lowest point in more than three years since its November 2015 nadir of 437.9p.
Mid-December 2018 saw the share price pivot and the last two months have seen much healthier growth for the contractor. At close of business on Tuesday, the price was sitting at 515.0p.
The stock's resurgence has masked some of BAE's problems though, with more substantial and fundamental issues likely on investors' minds.
A five-year average dividend yield of 4.00 is underwhelming and a predicted annual forward yield of just 3.49% will not incite confidence in those looking to invest.
Market cap
£

16.53bn

PE ratio (TTM)
21.92
EPS (TTM)
23.60
BAE systems stock vitals, Yahoo finance, as at 13 February 2019
And while BAE's price-to-earnings ratio is at a fairly reasonable 22, BAE sector and industry averages stand at 19.66 and 11.86 respectively, according to Thomson Reuters.
Looking at both of these factors, investors must be worried by what looks to be a highly volatile and comparatively low-yielding share. On this evidence, it is unclear whether the boardroom, buoyed by the arrival of former 25-year Boeing executive Nicole Piasecki as a non-executive director, is capable of instilling confidence for a smooth and sustained rise in share price.
Investors will hope that it can mount a comeback to smash past the five-year high of 677p, but will rightly be skeptical at this point in time.
Can contract wins lift shares?
Though recent contract wins for BAE would normally boost the company's stock, its wins last year failed to trigger a price surge. The business won a £5bn contract to provide 24 Typhoon fighter jets to the Qatari government in September. It was shortly after this was announced that the price started going into free-fall despite BAE announcing that the first scheduled payment had already been received.
Things seem to be turning around this year however, with the share price gaining near 14% in 2019, with a series of big contract wins.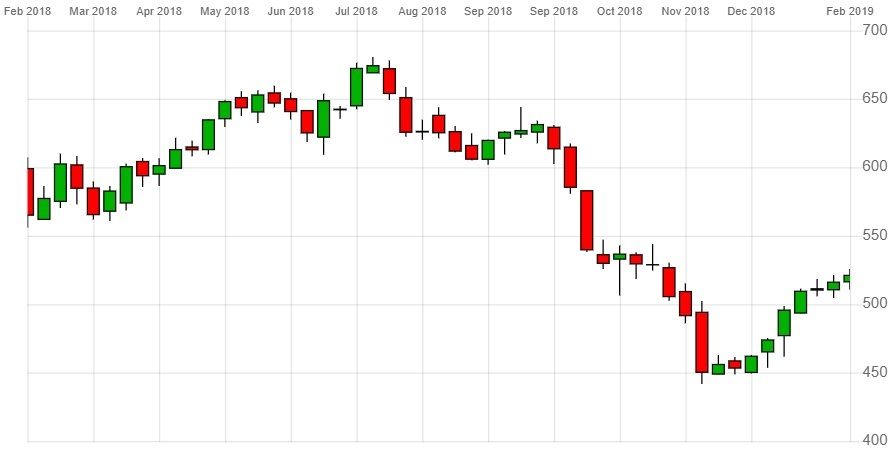 Powered by CMC Markets, as at 13 February 2019
The first came from the US Government when it was awarded a $474m contract. The Pentagon confirmed that the Farnborough-based contractor will now provide support and maintenance to its M109 support vehicle range. This was followed up on 7 February with a second $225m-contract to develop an "advanced precision kill weapon system," which has led to BAE announcing that it will open a plant in New Hampshire to fill the demand.
For the UK market, the biggest development came in the form of its joint venture with German defence contractor Rheinmetall AG [RAG]. The deal saw RAG buy a 55% majority stake in BAE's combat vehicles business, which will now be renamed Rheinmetall BAE Systems Land and is expected to boast as many as 400 employees.
55%
Rheinmetall AG's majority stake in BAE's combat vehicles business
Where does BAE go from here?
The start of 2019 will have helped to settle the market's nerves over BAE's volatility. Contracts with key clients continue to be won, however these alone have not helped create a smooth ascendance in price.
It is difficult to make a case for CEO Charles Woodburn's 18-month tenure at the top as being a success story thus far. When he took over from Ian King in July 2017, he would have been hoping for a more stable performance than he has seen.
Despite two dips in performance on 17 and 28 January, the last 30 days have shown much more encouraging signs for Woodburn and the board. It's hoped that adding Piasecki into the mix will create a more gentle trajectory in the business, and its stock. Her career in the aerospace industry will certainly carry weight with the market.
Everything would ordinarily suggest that Woodburn will be celebrating a successful second full-year in charge. If history is anything to go by, however, 'ordinary' for this business carries a very different definition than for most.