Aviva's [AV] hunt for a new CEO ended last week when Maurice Tulloch, who heads up the insurer's international business, took the top job. Since giving Mark Wilson the boot back in October, the FTSE 100 insurer has been on the lookout for a new CEO in what has been a protracted process. 
Tulloch has a tough job ahead of him. Aviva's share price has plummeted over 20% since this time last year as debt, slow sales and Brexit have taken hold. Shareholders will be looking to see if Tulloch has the vision to turn things around.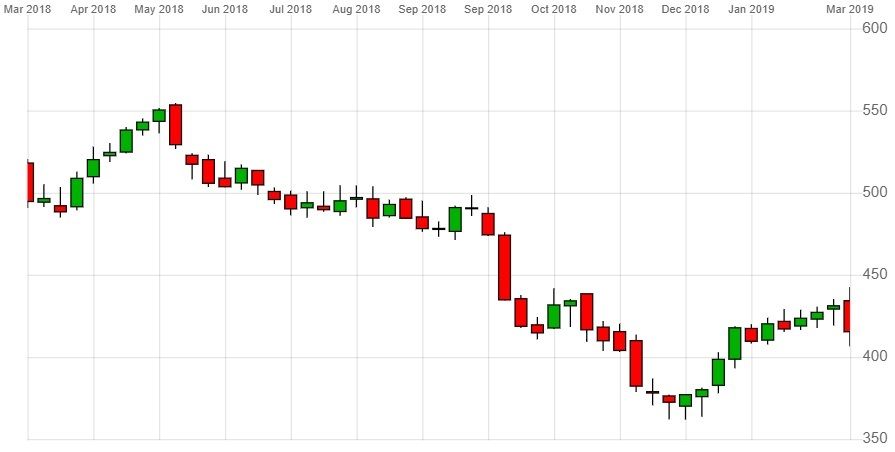 Aviva 1-year share price performance, CMC Markets, as at 12 March 2019
Were Aviva right to choose an insider?
Tulloch is an Aviva veteran. First joining the company in 1992, he has risen through the ranks to head up the group's international insurance arm and occupy a spot on the board.
"He knows the business inside out," non-executive chairman Adrian Montague commented. "He has led our businesses in the UK and internationally and built strong teams across life insurance and general insurance."
Investment group ShoreCap have suggested that "wholesale changes to the strategy at this stage" are unlikely. The group also points out that Tulloch is an insider who was on the board making the decisions that have led to the company's current predicament.
'Muted' outlook for 2019
Whatever the perception, Tulloch hasn't had much of a honeymoon period. Just four days into the new job 2018's decidedly mixed full-year results came out. Overall group profits were marginally up on 2017, coming in at £3.1 billion. Worryingly, operating expense rose to £4.02 billion, up from £3.77 billion, as Aviva streamlined internal processes.
In one of his first acts as CEO, Tulloch gave a muted near-term outlook for 2019. He cited economic uncertainty and stated that the recent 7% EPS growth will be hard to maintain. Despite the results, there was good news for investors as the board increased the dividend payout to 9%, or 30.0p.
Market cap
£

16.55bn

PE ratio (TTM)
11.22
EPS (TTM)
37.80

Forward annual dividend yield

6.44%
Aviva stock vitals, Yahoo finance, as at 12 March 2019
Unsurprisingly Tulloch also talked up the need to re-energise the insurer:
"There's a huge opportunity here. At the heart of it, it's all about insurance fundamentals, delivering excellent customer experience, tackling complexity and injecting a different pace of change into Aviva. And that will be just the start. I am determined to re-energise Aviva and deliver long-term growth for our shareholders."
"I am determined to re-energise Aviva and deliver long-term growth for our shareholders." - Aviva CEO Maurice Tulloch
Where will the new CEO take the company?
Where Tulloch takes Aviva is now the big question. His international experience points to a CEO that will look beyond the UK to drive up profits. Whatever happens, Tulloch will need to trim Aviva's eye-watering £9.9 billion debt pile. 
One major hurdle to this is a debt to equity ratio that stood at over 53.36 in the most recent quarter. This has translated to an EBITA in negative territory with sales down a dismal 10.46% on last year. Aviva has a £1.2 billion target for debt reduction by 2022. Whatever Tulloch can do to get near this will be warmly welcomed by the shareholders. 
£1.2bn
Aviva's debt reduction target by 2022
Is there opportunity in Aviva's share price?
Aviva's share price kicked off the year at 396.40, touching a 442.30 high the day after Tulloch's appointment. However, the pessimistic interim results saw the share price dip 3% at the tail end of last week. 
Whether this is the start of a longer-term downward trend or just a knee jerk reaction is too early to tell. Last year the share price was in freefall, as predecessor Wilson got the boot in October. It was hit again in December as Brexit fears took hold of the markets. Shareholders will hope that having a CEO in place should at least give the stock some resilience.
Any long-term gains in the share price will depend on shareholders buying into Tulloch's strategy. For all the talk of re-energising there is a risk that he is too much of an inside man to make meaningful changes. Then again, knowing the business inside out might give him the insight needed to turn things around.