Asos [ASC] might be undervalued following the big sell-off of its stock in December, according to Proactive Investors, which suggests now is the time to be looking closely at shares in the fashion e-commerce company, which despite making gains in 2019 after losing 58% through December 2018 is still 40% off its 30 November price and a huge 62% off its all-time high reached in March last year.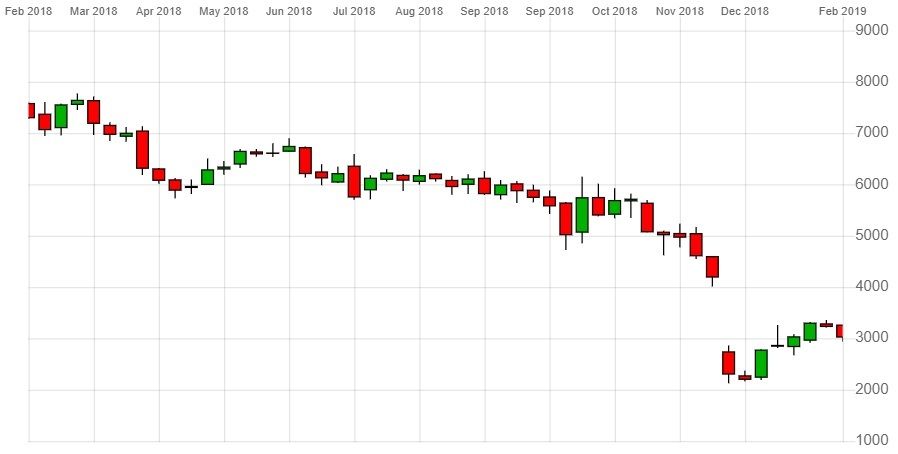 Powered by CMC Markets, as at 13 February 2019
The company put its difficult winter, which was in line with a relatively dour spell for retailers generally, down to a decrease in consumer spending confidence, price-cutting and unseasonably warm weather, hurting the sales of its winter line. The latest earnings update revealed: "The current backdrop of economic uncertainty across many of our major markets together with a weakening in consumer confidence has led to the weakest growth in online clothing sales in recent years."
Asos were subsequently forced to issue a profit warning and slashed its full-year sales growth forecasts from 20-25%, to 15%. The company went on to warn shareholders that it had seen an "indicant deterioration" in sales in November, which prompted a swift sell-off in ASC shares, cutting £1bn from Asos's market value.
Profit warning sends shares tumbling
At the time CMC Markets analyst David Madden told The Guardian: "Profit margins have been revised down to 2% from 4%. Nick Beighton, the CEO, warned that the sector is experiencing 'unprecedented levels of discounting'. Online companies have a major cost advantage over high-street retailers, and it is worrying when they are concerned about consumer spending."
However, the London-based online retailer has rebounded somewhat after that December slump, gaining 30% in 2019. According to analysts at RBC Capital, the December sell-off was indeed overdone. Proactive Investors meanwhile argue the stock looks like a buying opportunity at its current price.
RBC lifted it price target for the stock on Friday, as well as reaffirming its "overweight" rating. The price target hike was from 3,200p to 3,600p. "We continue to believe that its industry-leading proposition and pace of innovation will enable ASOS to continue taking share in its large addressable market," RBC said in a note to investors.
"We continue to believe that its industry-leading proposition and pace of innovation will enable ASOS to continue taking share in its large addressable market" - A note from RBC to their investors
"The industry backdrop significantly deteriorated in 2018, and despite its structural tailwinds, Asos is evidently not immune.
"[The downgrade was] mainly because of the macro uncertainty that has increased, rather than a change in our view on the company's relative positioning and ability to take market share.
"We are still compelled by the opportunity the current share price creates."
Asos beats retail sales slump
Asos' earnings per share (EPS) is 98.90p, while its price-to-earnings ratio (P/E Ratio) is now at a reasonable 30.07. A reason for caution remains a wider drop in consumer spending across retail. Next [NXT] was down 6.5% on 17 December, Marks & Spencer [MKS] lost 5%, Dunelm [DNLM] slumped by 10%, and Games Workshop [GAW] was down 5.7%.
Market cap
£

2.44bn

PE ratio (TTM)
29.72
EPS (TTM)
98.00
Asos stock vitals, Yahoo finance, as at 13 February 2019
The online fashion retailer made a pre-tax profit of £102.0m for its year ended 31 August, up 28% year-on-year. Revenue grew 26% to £2.42bn, up 24%.
With the release of its full-year report for 2018, Asos CEO Nick Beighton said: "This has been another year of substantial progress for Asos. We delivered 26% sales growth and 28% profit growth while investing heavily in the long-term potential of the business. Our reported profit increase was achieved despite bearing material transition costs due to our investment programme. All our financial and customer key metrics have shown positive growth."
But in light of the November slump he added: "We achieved 14% sales growth in a difficult market, but in the light of a significant downturn in November, we think it's prudent to recalibrate our expectations for the full year. We are taking all appropriate actions and our ambitions for Asos have not changed."
As of late 2018, Asos's net operating cash flow is £94m, its net investing cash flow is £213m and its free cash flow is £11.6m, a significant drop-off on previous years, though these numbers do account for a dramatic increase in investment, which rose by more than 30% year-on-year.
30%
Increase in investment reported by Asos in their MRQ
In the wake of the December share price decline, Barclays cut its price target from 7,500p to 4,000p, Credit Suisse reduced its from 6,000p to 3,500p, and Berenberg decreased its from 8,300p to 4,000p.
Yet Beighton and Chairman Adam Crozier bought shares in the company back in December, spending about £100,000 each, a possible sign of confidence inside the company for brighter days ahead. Asos will next provide a trading update for the market on 15 February 2019.