Drinks manufacturer Diageo's [DGE] share price has been on a tremendous run this year. Putting the fizz back in the stock has been international expansion and a focus on its premium brands. But recent investor payouts have some thinking that Diageo's share price could be overvalued.
How has Diageo's share price performed in 2019?
Diageo's share price is up 21% this year, far outpacing the FTSE's 5% gains. Q1 results saw the share price spike 6% in February and the stock has been on a run ever since.
Earnings per share gained 13.6% year on year. Operating profits were up 11%, while organic sales grew 7.5%.
At the time of writing, the share price stands at 3348p, just 0.4% away from the stock's all-time high price.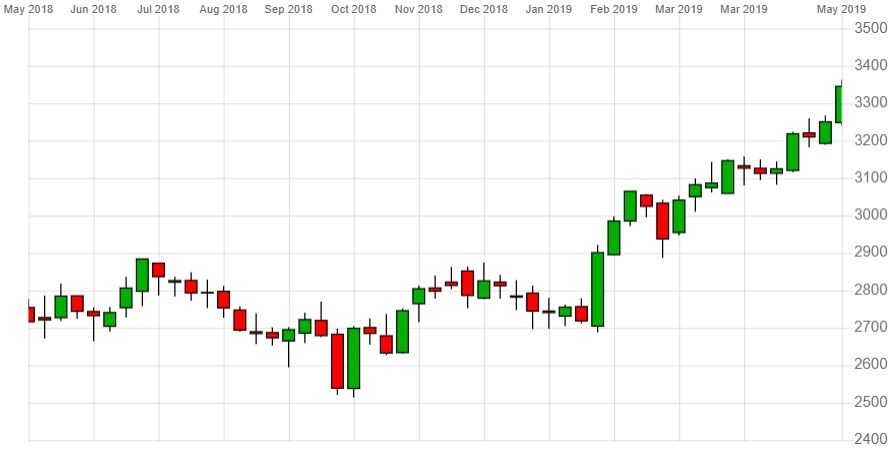 Diageo 1-year share price performance, CMC Markets, 20 May 2019
What's driving growth?
One area driving growth has been Diageo's expansion into India and China. 
India has seen alcohol consumption grow 140% between 2005 and 2016. By 2026, the Indian alcoholic drinks market is set to be reach INR 5.3 trillion. 
Diageo has focused on marketing its prestige brands to India's growing middle class, who have seen their wages rise and now have more disposable income. The strategy has seen India become Diageo's second biggest market by value and volume.
Last year, the company strengthened its presence in the country by taking a 54% stake in United Spirits, India's leading alcoholic beverage company
A similar story is happening in China where alcohol consumption grew by 70% between 2017 and 1990. By 2030 China is likely to surpass the US for total amount of alcohol consumed.
70%
Growth in Chinese alcohol consumption between 1990 and 2017
But unlike India, Diageo is targeting China's growing demand for locally produced 'national drinks'. With consumption of these 'national drinks' set to grow 2.1% to a staggering 1.48 billion nine-litre cases by 2021, there's plenty of opportunity for the drinks manufacturer to profit. Diageo already owns a controlling stake in China's Sichuan Chengdu Shuijingfang Group Company, a major manufacturer of top-selling Chinese spirit Baijiu.
Overall, the Chinese drinks market is worth $178 billion per annum, so it's small wonder Diageo wants to increase its presence in the Middle Kingdom.
How Diageo responded to changing customer tastes
Back in the UK, Diageo is targeting changing drinking habits to boost sales. Take its Gordon's Premier Pink Distilled Gin. This uses natural sweeteners to entice consumers on the lookout for cleaner taste. It also taps into the recent rise in boutique gins that have gained in popularity in the UK. A shrewd move. Over the past two years, gin sales in the UK have doubled to a record breaking 73 million bottles per annum.
Diego has also dumped underperforming brands to both focus on selling premium drinks, and to hit a £700 million cost cutting target. Last November, the company sold 19 brands to Sazerac in a deal worth $340 million after tax.
$700million
Diageo's cost cutting target
At the time Ivan Menezes, Chief Executive of Diageo, said:
"The disposal of these brands enables us to have even greater focus on the faster growing premium and above brands in the US spirits portfolio."
How has Diageo rewarded shareholders?
For investors looking for an income generating stock, Diageo offers a forward annual dividend yield of 2.06%. But for a stock performing so well, investors might have been expecting a better payout.
Market cap
£

79.50bn

PE ratio (TTM)
28.08
EPS (TTM)
119.30

Quarterly revenue growth

 

(YoY)

5.80%
Diageo share price vitals, Yahoo finance, 20 May 2019
Over the past 12 months, Diageo has paid out 55% of its profits in dividends. Looking back over a five year period, earnings per share have grown by 4.1%. A fairly lacklustre rate of growth which could indicate that the company is struggling to grow, electing to pay over half of their earnings to shareholders.
What's the outlook for 2019?
Diageo's stingy payouts could point to an overvalued share price. The consensus price target among analysts is 2916p, well below the current 3348p. If the stock drops to this level, this would represent a 14% fall in value.
Shareholders optimistic that the share price could go higher will be hoping that Diageo can overperform overseas. With medical journal The Lancet expecting global alcohol consumption per capita to grow 17% over the next decade, Diageo could be well placed to benefit.