It's been a mixed bag for Apple's [AAPL] share price, recently. Despite a Q2 earnings update on 30 April that reported a 17% year-on-year dip in sales of its flagship product, the iPhone, and a dip in profit of 13%, Apple's share price remained stable, even climbing to a year-to-date high of $211 per share on 3 May. 
Revenue for the quarter was $58bn, beating analysts' forecasts of $57.5 billion, and earnings stood at $2.46 per share, $0.09 on from consensus forecasts. 
However, increasing trade hostilities between the US and China since the beginning of last week have not been kind to Apple, sending its share price tumbling 12% by the end of trading on Monday 13.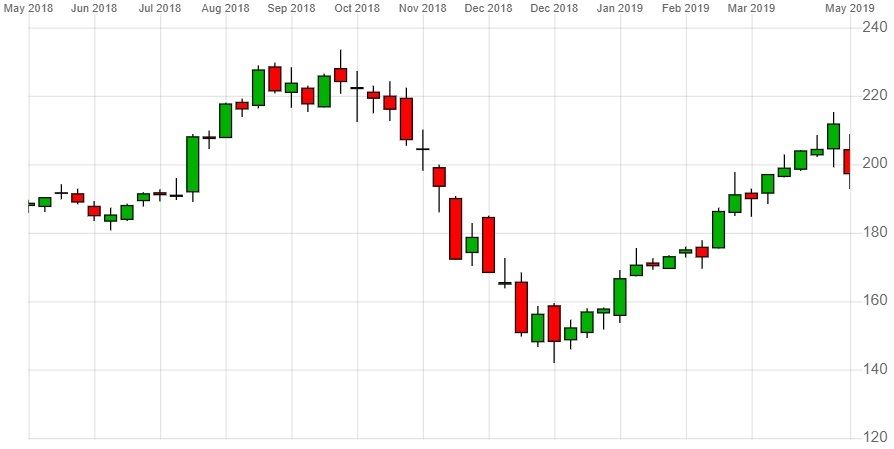 Apple 1-year share price performance, CMC Markets, 15 May 2019
China is an on-going source of concern for the tech company. It's both a significant customer and a major manufacturer of Apple's products, leaving the firm sensitive to trade disputes. Meanwhile, demand among Chinese consumers is slowing; net sales to Greater China were down 27%, from $13bn to $10.2bn, in the previous quarter. Analysts IDC revealed a 20% fall in iPhone shipments to China in the final calendar quarter of 2018; CEO Tim Cook responded to the findings by dropping its retail price to boost demand. 
Global shipments of the device between 1 January and 31 March 2019 sunk 30%, according to IDC's data, to 36.4 million units from 52.2 million in 2018, leaving Apple with an 11.7% share of the smartphone market. Market leader Samsung also saw a decline in shipments, but only by 8%. 
In a note to clients last week, Morgan Stanley analyst Katy Huberty estimated the Chinese's 25% tariff on US imports could lead to a price increase of $160 on the iPhone XS, or a 23% drop in earnings per share in 2020 if Apple were to absorb the tax. 
Services steam ahead 
Despite the iPhone disappointment, the immediate market reaction to Apple's earnings update suggests investors saw enough in the company's other divisions to keep them satisfied. Its Wearables, Home and Accessories division, which includes the Apple Watch, saw strong growth, up 30% to $5.1bn. Although unit figures have not been released, research firm Counterpoint Research said shipments of the Apple Watch in the first three months of 2019 had grown 49% year-on-year, and that it holds a 35.8% share of the global smartwatch market. 
Likewise, the Services segment, which includes the App Store and Apple Music, posted $11.5bn in Q2 revenue, up 17% from the $9.9bn in sales YoY.
Market cap
$

868.04bn

PE ratio (TTM)
15.87
EPS (TTM)
11.89

Return on Equity

 

(TTM)

49.13%
Apple share price vitals, Yahoo finance, 15 May 2019
Apple has been working with German business software maker SAP to help clients develop their own business applications using Apple's machine-learning technology. The technology, available on iPhone and iPad, will utilise augmented reality to help users execute business-related tasks, such as stocking store shelves. 
The App Store drove $46.6bn in 2018, almost double the amount Google made via its Android equivalent, and Cook will be hoping to improve on that this year to meet the $50bn services revenue target he laid out in 2017. 
$46.6bn
App store revenue in 2018
Some of the more noteworthy developments revealed to be coming with iOS 13, codenamed Yukon, includes a new Dark Mode for night-time usage, a new keyboard function that allows users to swipe across letters in one motion to type words and a revamped health app that tracks 'hearing health', which takes into account the loudness of the surrounding environment. 
Meanwhile, iOS 14 is already being worked on and will support 5G and AR functionality when it's released in 2020.
The share price
The company also announced a $75bn buyback in its most recent results, as well as a 5% increase in dividend payments. The buyback means that EPS increased slightly on those shares still in circulation, while also making increases to future investor payouts more sustainable. 
$75bn
Value of Apple's targeted shares buyback
Writing in Seeking Alpha, Apple-shareholding analyst Nicholas Ward said of the buyback: "That $75b is a tremendous amount of cash being returned to shareholders and while I know that many income-oriented investors will complain that this cash should have been dedicated to the dividend instead, if you're from the Warren Buffett School of Buybacks, you understand that this is the most tax-efficient way to return cash to shareholders."
The next quarterly release is on 23 July.