The last few years have been nothing if not eventful at mining group Anglo American [AAL]. The commodities downturn at the middle of the decade beat the LSE-listed stock into an all-time low of 229p per share, and pushed its credit rating into near-junk territory. CEO Mark Cutifani, in charge since 2013, responded by selling 31 of its 68 mining assets in 2016 and early 2017, boosting output and cutting just under half of the company's global workforce.
The shock therapy worked: in the 18 months to December 2018, debt fell by $9bn, while production levels are set to grow 3% this year and 5% the next. Following the sale of its interest in the New Largo coal project in South Africa last August, Cutifani now wants to focus on increased productivity, not least through improved technology.
The share price responded well: a 10% gain over the course of 2018 consolidated the stock's rediscovered glory, and shares began 2019 at a value of £17 – a price not seen since 2013. Its payout ratio sits at 40%, well above Glencore's and in line with Rio Tinto's, Anglo American's peers.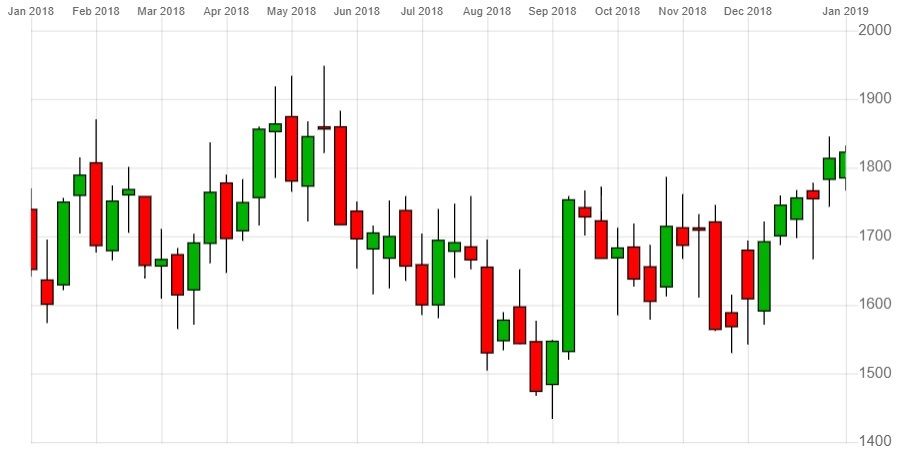 Powered by CMC Markets, as at 22 January 2019
Yet in many respects, investors are reserving judgement. Anglo American's P/E ratio for the last twelve months averaged 6.64 – below Rio Tinto's 7.87 and a far cry from Glencore's 32.86. Investors still want to see material output grow though – which may not happen before next year – before they reward the miner. So, can Cutifani deliver?
"Capital discipline"
Under Cutifani, cost efficiency has become Anglo American's mantra. "Capital discipline, capital discipline, capital discipline, get the costs down," as he succinctly described the new imperative to investors in December. The company shed several sites in South Africa and Australia in order to focus on profitability, and it wants to increase productivity by investing in new technologies and digitalisation – what it calls "FutureSmart Mining".
"Everybody has been working to bring their costs down, but on a relative margin curve position we have improved more than any of our peers," Cutifani said in December. "We were behind the pack back in 2013 in terms of competitive performance… Now, we're comfortably within the pack and even nudging towards the front."
"Capital discipline, capital discipline, capital discipline, get the costs down" - Anglo American CEO, Mark Cutifani
Cutifani was keen to point out that the output boost would not come by cutting corners in corporate environmental responsibility. The use of data and new technologies, he said, aims to "reduce our energy footprint, our water footprint, our broader environmental footprint, which… ultimately improves our costs… while also creating a far more sustainable business in every sense."
Rushing to South America
Anglo America's efficiency mantra first emerged in its South America business. The region has achieved crown jewel status within the company, and Ruben Fernandes, head of Brazil, was rewarded accordingly by being promoted to global head of base metals.
The company has made no secret of its South American ambitions. In December, operations resumed at the Minas-Rio iron ore pipeline in Brazil, which had suffered a nine-month stop due to leaks. Anglo American expects it to produce 16-19m tonnes of iron this year and 26.5m tonnes the next year.
Elsewhere in South America, the Quellaveco copper mine in Peru is expected to be up and running by 2022; it will complement Anglo American's other prized copper assets in Chile. The Quellaveco project has even proved highly attractive to Mitsubishi [MBI.F] – parent conglomerate of the eponymous carmaker – which in June increased its stake in the project to 40% for $600m.
40%
Mitsubishi's increased stake in Anglo American's Quellaveco project
Wait and see?
There's little doubt that investors would have liked to see further asset disposals, and for the company to avoid an increase in its capital expenditure. Cutifani was pressed on these in December, but repeatedly stated he is happy with assets in the portfolio, and higher costs now need to be expected in order to achieve higher output and extend the life of some facilities. He also did not rule out the possibility of cashflows being redirected away from dividends if needed – so the 40% payout bonanza may not last.
| | |
| --- | --- |
| Net debt % change, H2 2017 - H1 2018 | -11% |
| Market cap | £22.95bn |
| PE Ratio (TTM) | 7.66 |
| EPS (TTM) | 236.00 |
Anglo American stock vitals, Yahoo finance, as at 22 January 2019
For now, Anglo American's stock price is sitting idle. In mid-January, Société Générale's analysts lowered the company's stock from "buy" to "hold": of 26 analysts tracked by Reuters, another six agree with SocGen. Meanwhile, eight rate it as "outperform" and seven still advise to buy the stock. Only two urge to sell it.
Anglo American has emerged from a phase of major restructuring in good shape. Investors will now want to see if it can deliver on its newfound discipline and realise its big ambitions for South America.