AMD's [AMD] stock looks unstoppable right now.  Since the start of the year the semiconductor manufacturer's stock has surged 54% to leave the S&P 500's 14% gains in the dust. This comes after being crowned the S&P 500's star performer last year with a 69% gain in share price.
On Wednesday the stock spiked 9% when Instinet analyst David Wong rated it a Buy. The accompanying glowing analysis of AMD went down well with tech-hungry investors who quickly picked up more shares.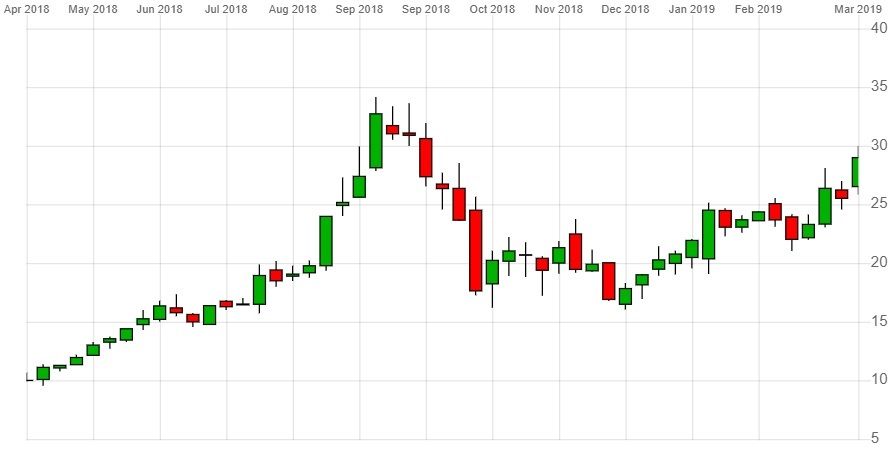 AMD 1-year share price performance, CMC Markets, as at 8 April 2019
When AMD CEO Lisa Su took the top job in 2014 the share price was trading at $3.40. Under her leadership, the stock has shot up to trade around the $28 level - that's an incredible rise of over 700%.
Behind Su's strategy has been an effort to build market share in two lucrative areas.
How has AMD performed recently?
What sets AMD apart is its strong position in both the datacentre processor and graphic card markets. This is in contrast to competitors Intel and Nvidia who only focus on one specific market.
Wong sees AMD's share of the datacentre processor market growing from 4% to 10% this year. In its graphic cards business, AMD could see its market share shoot up to 15% on desktop and 30% on mobiles.
Market cap
£

31.34bn

PE ratio (TTM)
90.56
EPS (TTM)
0.32

Return on Equity

 

(TTM)

36.20%
AMD stock vitals, Yahoo finance, as at 8 April 2019
2018's full year results saw AMD post a positive earning result, pulling in $6.5 billion in revenue, which translates to a 23% year-on-year growth. Significantly, its EBITDA margin has turned around under Su's leadership, going from -2% in 2015 to 12% last year. Expectations are that revenues will hit $7 billion in 2019.
If the company can keep this up, then a return to sustained profitability could see the stock generate earnings per share of $2 this year. That's a substantial rise from the 48 cents earnings per share it mustered in 2018.
AMD's product pipeline
Investors will be keen to see how the newly released Radeon VII graphics card performs. The card is designed to run power-hungry AAA video games that fuel the growing world of esports, where millions watch players compete against each other for cash prizes.
Tapping into esports looks like a shrewd move. The market is set to be worth over $1 billion in 2019 and the global audience for these events will top 453 million.
$1bn
Estimated value of the global esports market in 2019
Ubisoft also used Radeon technology to build AAA title Tom Clancy's The Division 2 - the sequel to the million selling video game. Although the game hasn't been as well received as its predecessor, links with a major video games publisher is good business strategy.
Down the line, there is the hotly-anticipated AMD Navi and a new 7nm GPU aimed at the next generation of video game consoles.
Is there opportunity in AMD's share price?
Wong's price target for the stock is $33, which represents around 14% upside on current levels.
"We believe that further share momentum, as well as favourable mix, will help drive AMD's sales growth through 2019, 2020, and beyond," the analyst wrote in a note to investors.
"We believe that further share momentum, as well as favourable mix, will help drive AMD's sales growth through 2019, 2020, and beyond" - Instinet analyst David Wong
AMD shares have gained 75% over the past 3 months. The Street reported that $28 will be a key level for the stock, but $30 could be a tough resistance level to push through. If the price falls below $28, then $25 is likely to be the next level of support.
On Wednesday last week, the stock crossed $28 to trade at $29 a share, nearing The Street's upper limit. What traders have to weigh up is whether the move past $28 is a sign that the stock is on the rise, or if it's stretched past its limits and a fall is on the cards. With a pipeline of products on the horizon, all eyes will be on AMD to see if it can come close to matching last year's success.