Wherever there's a middle-class household with an internet connection, Amazon [AMZN] wants to be there. The Seattle-headquartered behemoth has become a ubiquitous presence in the life of consumers in the US, Europe, and Japan, and investors are keen to see it replicate its success in emerging markets such as India, where the budding e-commerce sector lacks homegrown incumbents like Alibaba or JD.com.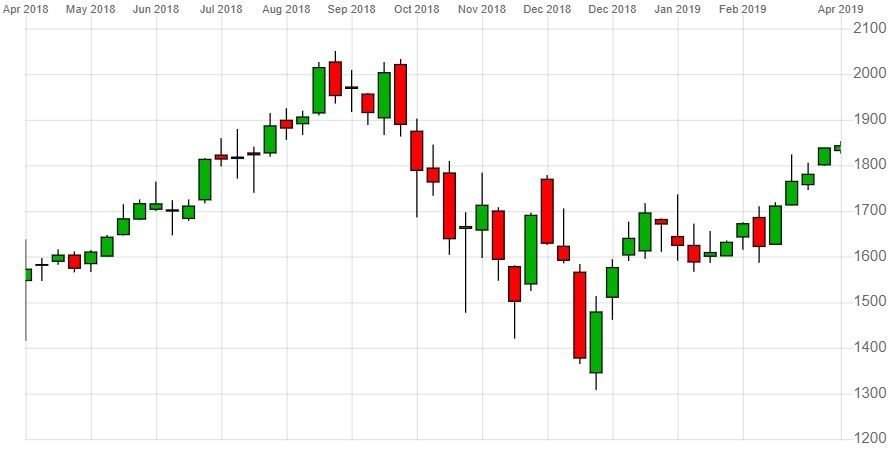 Amazon 1-year share price performance, CMC Markets, 16 April 2019
But whereas Amazon's rise in the US and Europe came as governments were just starting to grasp the upending effect of warehouse-to-consumer online retail, the company's Indian expansion has had to reckon with a government fiercely protective of the country's small businesses – forcing it to play by different rules than it was used to when debuting on new markets.
No country for foreign retailers?
Ever since India started opening up its economy to capital from abroad in the mid-1990s and early 2000s, e-commerce players have faced hurdles. While foreign direct investment (FDI) in purely "marketplace" platforms (think eBay, or price comparison websites) face few restrictions, foreign firms cannot sell their inventory directly to consumers.
By the time Amazon entered the country in 2013, it had the scale and experience to find ways around these obstacles. It would take an equity stake in a local vendor, sell it Amazon products – such as the Echo smart speaker – on a wholesale basis, and then have it list those products on Amazon.in as a third-party seller. Walmart [WMT] would later rely on the same technique after it bought up Indian online retailer Flipkart for $16bn in May 2018.
$16bn
Value of Walmart's Flipkart acquisition
The perceived disregard for FDI restrictions incensed small business owners throughout the country, leading Prime Minister Narendra Modi to introduce a radically-overhauled version of the rules governing investment in e-commerce, which became effective in February of this year. If a vendor supplies more than 25% of its inventory to a marketplace, it's deemed to be controlled by that marketplace – meaning that an Amazon-controlled entity is selling on Amazon.in, which is illegal.
But the new restrictions didn't stop there: online retailers are now prohibited from acting as the only retail channel for a vendor, or to provide preferential treatment to certain vendors, including by way of discounts. That's a big problem for both Amazon and Flipkart, who have so far been acting as exclusive retailers for Chinese phone makers Xiaomi and Oppo, respectively.
A dented reputation
Despite the government's adversarial stance, Amazon is by now a well-established presence among India's urban dwellers. From Prime to Pantry and Fire TV, Indian customers have access to as pervasive a brand as North American ones, and Amazon has been tailoring its offering, populating its video service with Indian-produced series. Moreover, since September, its website and mobile apps have been available in Hindi.
But Modi's FDI move spurred an enormous deal of negative headlines, both in India and in the US, and Amazon's reputation as an unstoppable retail disruptor has been dented.
Just as Amazon.in was hurriedly de-listing a swathe of products overnight to comply with the regulations, which kicked in on 1 February, the company's management in Seattle was taking questions from analysts as part of Q4 earnings. Analysts repeatedly tried to get the board to quantify the impact of the FDI rules, but chief financial officer Brian Olsavsky stuck to the script: "Really, we're still evaluating the situation in India," he said. "We feel very good about the long-term prospects in India and doing a good job for both Indian customers and Indian sellers. The new regulations need to be interpreted … to make sure they don't have unintended consequences."
"The new regulations need to be interpreted … to make sure they don't have unintended consequences." - Chief financial officer Brian Olsavsky
Amazon did manage to re-list some items within just a week by shedding stakes in vendors, according to the WSJ. But the FDI rules have forced it to weave ever-more complex ownership structures, and risk crippling the retailer's ability to leverage scale to grow business exponentially across the country, as it has elsewhere.
What's next?
Perhaps more worryingly for Amazon and Flipkart, the country's own magnates see in the FDI restrictions an opportunity to carve out a market for themselves. Mukesh Ambani, whose Reliance Industries [RELIANCE] shook up the country's telecom sector with ultra-cheap 4G data packages, has confirmed plans to build an online marketplace for small retailers – exactly the kind of domestic-owned platform that would please Modi's government.
Market cap
$

907.77bn

PE ratio (TTM)
91.60
EPS (TTM)
20.14

Quarterly Revenue Growth

 

(YoY)

19.70%
Amazon stock vitals, Yahoo finance, 16 April 2019
The Financial Times first reported the news on 18 January, and Amazon's stock opened down 3.7% the next trading day – at the time its steepest overnight loss since the start of the year. Meanwhile, Mumbai-listed Reliance gained 4.4%.