The retail sector has had a strange 12 months. Big-box retailers have suffered at the hands of Amazon's [AMZN] online clout, and while companies such as Target [TGT] and Costco [COST] experienced all-time highs, at the same time, there were record amounts of store closures, with Sears for example [SHLDQ] calling time on more than 180 of its worst-performing sites.
China demonstrated a monstrous appetite for high-end products that propelled almost every luxury stock in the world to all-time highs, but on the back of President Donald Trump's trade war and a slightly slowing economy, this cash cow is showing signs of stagnating.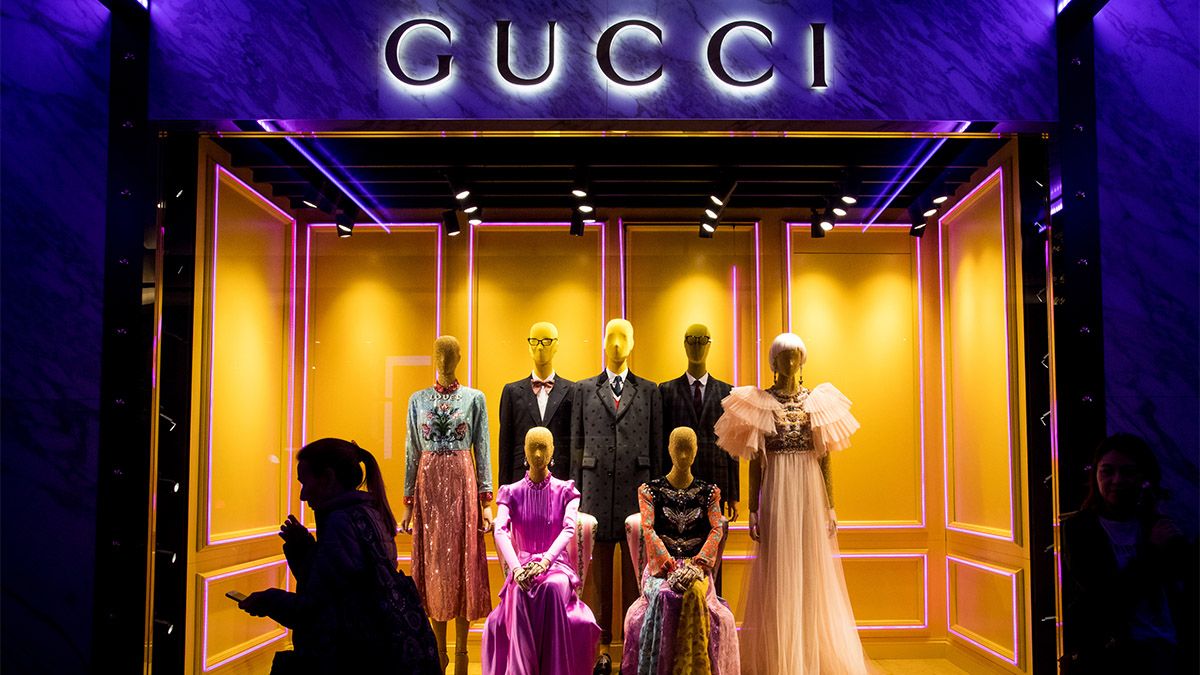 On the whole, emerging markets are still showing strong potential for growth. Both Walmart [WMT] and Amazon have picked up their efforts to expand into these regions, as seen in the aggressive takeover of Indian ecommerce site FlipKart. 
In the US, luxury spend was boosted by tax breaks for the rich, but spending slowed going into retail's golden quarter, most vividly shown by Amazon's market cap rising above $1tn on 4 September, before swiftly losing $250bn. 
After peaking at the end of September, the S&P 500 Retail Composite mirrored the rest of the US market and lost more than 15% over the next six weeks, before experiencing a modest uptick following Black Friday. But what will 2019 bring?
Challenges and opportunities 
Ecommerce in China 
There's been a huge increase in strategic consolidations between ecommerce platforms and the high street – and nowhere more so than in China. By 2025, luxury spending in China is set to equal the 2016 spending of France, Italy, Japan, the UK and the US combined, according to a new study by consultancy firm Bain, with many of those purchases made online. Take Lululemon [LULU] – much of its growth in 2018 was down to direct-to-consumer ecommerce spend in China. 
33%
Portion of global spend on luxury by Chinese consumers in 2018
"The ecommerce market in China has taken over the US as it has more than two and a half times the internet user base," Sundeep Khanna, director of fashion and luxury at Deloitte tells Opto. It's why 2019 will see more link ups between luxury brands and ecommerce platforms in China.
The London-based luxury goods platform Farfetch [FTCH], which made its debut in September 2018 with an IPO of $20 a share that raised $885m, has been quick to recognise the potential of China's ecommerce market. It strengthened its partnership with the Chinese ecommerce company JD.com [JD] in 2017. 
In another noticeable deal, Swiss luxury group Richemont [CFR] unveiled a new global partnership with Alibaba [BABA] to bring Yoox Net-A-Porter (YNAP) to China. YNAP (which is owned by Richemont) and Alibaba have established a joint venture that will see them launch mobile apps for Net-A-Porter and Mr Porter for consumers in China. 
However, there are warning signs for China's luxury goods industry: the country's economy is beginning to slow down, and consumer spending is starting to slip, growing at its slowest pace in 15 years in November 2018.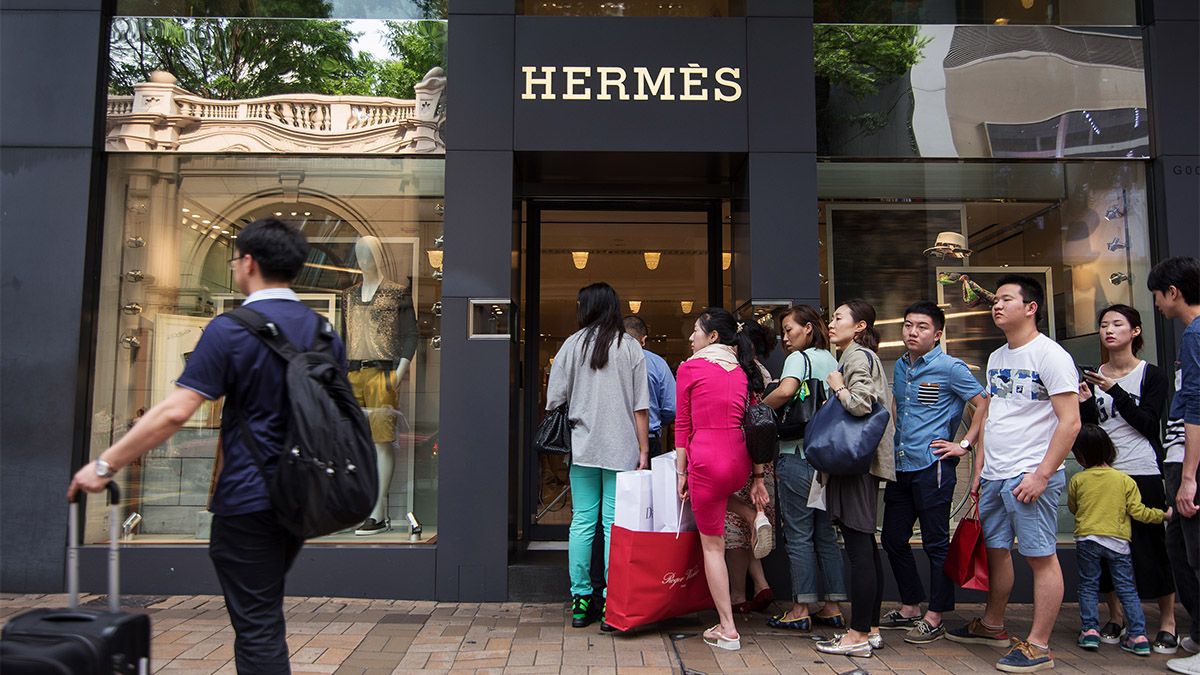 "The environment is still severe and complex both at home and abroad, the economy is stable but still subject to changes and slowdown, and the downward pressure is mounting," said Mao Shengyong, China's National Bureau of Statistics spokesperson. 
Deborah Weinswig, founder and CEO of Coresight Research, a global retail think tank, believes that although there's huge potential for the retail sector in 2019, the fluid macroeconomic environment could potentially affect the level of luxury consumption by Chinese consumers. Pascal Martin, partner at consultancy firm OC&C Strategy, argues the direct impact of the trade war on retail will be minimal as luxury goods haven't been a part of the list of products that will see tariff increases.
"But there is definitely an indirect impact: a trade war will probably result in somewhat slower GDP and will impact consumer sentiment and propensity to spend on luxury," he says. 
An uncertain US retail market
The US has long dominated the luxury goods market – which is valued globally at $314bn in 2018 and is expected to grow annually by 2.1%. However, as China and other emerging markets begin to show strength in the sector, the US may find itself being left behind: higher borrowing costs, a weakening global economy, an escalating trade war and fading fiscal stimulus from US tax cuts and extra government spending are all contributing factors. 
$314bn
Value of the global luxury goods sector
The S&P 500 retail stocks reported a mixed bag of 2018 Q3 earnings, with Nordstrom [JWN] seeing its stock fall by 13.8% after it missed estimates. The S&P as a whole was down by nearly 10% in November as most US retail corporations saw a big sell-off, including Walmart, which was down 7.46% from its 9 November high and Macy's [M], which fell 20.37% from its August highs. 
Investors will be eagerly awaiting the Q4 earnings of retailers in February to see if retail sales during the holiday season helped the sector to climb back from its August and September lows.
Emerging markets rise above the turmoil 
A new report by Boston Consulting Group expects emerging markets to grow from about 15% of retail sales to 20% by 2020, with about 3bn consumers to be online by 2022. 
India has one of the fastest-growing emerging markets – online retailers such as Flipkart, Snapdeal and Amazon are becoming increasingly popular, with ecommerce expected to reach $150bn by 2022, according to a PwC report. Walmart's acquisition of Flipkart – which, at $16bn, set a record for a foreign direct investment deal – revealed a wider trend of how US companies are ploughing investment into emerging markets. 
$16million
Amount Walmart paid to acquire Flipkart
Meanwhile, Amazon – previously banned by India's competition authority from buying Flipkart – has acquired stakes in several retail companies in the country to defend against Walmart. It now has stakes in leading retailers Future Retail [FRETAIL], Shoppers Stop [SHOPERSTOP], an Indian department store chain, and Aditya Birla [ABCAPITAL], an Indian conglomerate. Amazon and Flipkart each currently hold around 30% of the country's ecommerce market.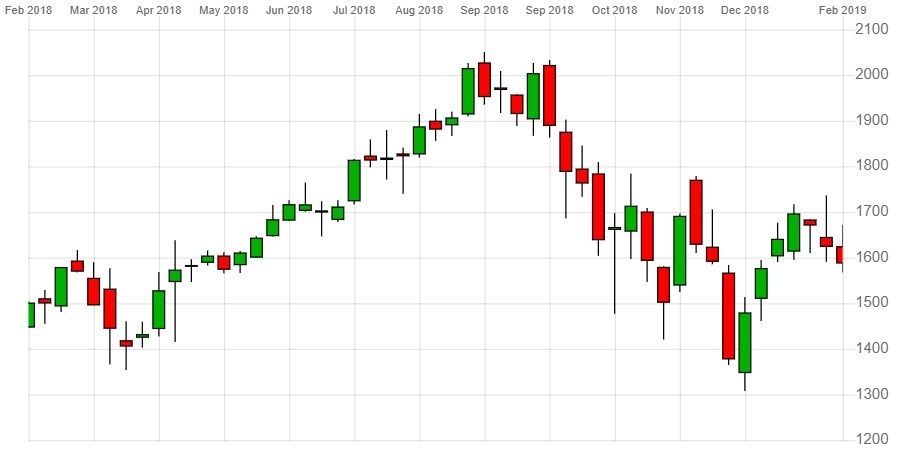 Amazon share price performance, CMC Markets, as at 15 February 2019
Physical stores still offer potential 
The rise of online shopping is reimagining the retail industry – but bricks-and-mortar stores are showing surprising resilience. Ecommerce sales accounted for just 12% of all sales worldwide in 2018, and although growth in online retail is set to outpace bricks-and-mortar expansion, it's expected to still only represent 17.5% of global sales in 2021.
 
Digital native companies such as Amazon and Warby Parker are opening physical stores, recognising their continued importance in building brand. Ray Hartjen, marketing director at RetailNext, says for the most part, ecommerce companies are more in tune with what new consumers want in both digital and physical retail. 
Retail's redirection is clear. Companies and brands offering ecommerce as well as physical shopping spaces are in the best position, able to take advantage of the new experiential and entertainment retail strategies that are driving sales and fighting off store closures. Moreover, according to a report published by Deloitte in 2018, digital interactions influence 56 cents of every dollar spent in bricks-and-mortar stores. 
Indeed, for Hartjen, a more holistic approach will always win: "The days of stores versus online are primarily over. It's no longer a question of one or the other. Today, in this new era of retail, the solution is both online and in-stores, and it pertains to both shoppers and retailers."
STOCK SPOTLIGHT 
A big name to look out for in 2019 is Michael Kors [Kors] – soon to become Capri Holdings [CPRI] – which is creating a luxury brand powerhouse with its acquisition of Jimmy Choo in 2017 for $1.2bn and its recent $2.12bn acquisition of Versace. The long-term goal for Capri is to grow its $6bn in revenues to $8bn over the next three to five years, but its stock stuttered at the close of 2018 after a year of gains. 
The apparel industry is showing healthy returns with Lululemon [LULU] poised to gain from the progress of its digital strategy for 2020, which aims to double its revenue by expanding into new markets, adopting ecommerce and using new technologies such as apps, QR codes and radio-frequency identification. The yoga-wear specialist has an established record for topping earnings estimates. For Q3, it reported quarterly revenues that jumped 20% y/y  to $747m, marking its sixth consecutive estimates beat. 
Walmart had a great 2017 but its stock took a few dives in 2018. Its most recent drop was on 9 November, which saw its stock slip by 7.4% despite its fiscal Q3 earnings being better than expected at $124.9bn in revenue, with store sales rising by 3.4% and ecommerce sales growing by 43%. It is expecting to see growth in its ecommerce sales as it cuts back its operations in Brazil and merges its UK unit, Asda, with rival, Sainsbury's [SBRY]. 
When Farfetch [FTCH] made its debut in the stock market on 21 September its stock closed on $28.45 per share (it priced shares at $20 at the start of trading). Most recently, Farfetch reported its first earnings quarter since going public with strong growth in revenue of $132.18m, which was up 52.1% on a year-over-year basis. Going forward, Farfetch's digital reinvigoration is expected to increase its growth, as its partnerships with Chanel, Thom Browne and Fendi spur innovation. 
Established powerhouses understand that diverse portfolios thrive. Take Kering [KER]: after a strong performance in the first half of 2018 – with growth in brands such as Gucci, Yves Saint Laurent and Alexander McQueen – its stock stuttered during Q3, before its Q3 earnings report showed outstanding performance, reporting revenue of $3.8m, up 27.6% compared to Q3 last year. Its total assets amount to a massive $22.9bn.
The CMC View
David Madden 
"Provided there isn't a major economic shock, online retailers will continue to do well as the trend towards more and more people shopping online looks set to continue. The key to success will be to tap into the ecommerce sector in Asia and South America. The real growth will come from emerging market economies. Traditional high street retailers are likely to have a difficult year ahead as trends are changing and, given the relatively low prices online, ecommerce is likely to become even more popular next year. Where does that leave the traditional retailers? They will need to adapt or risk getting left behind."