It's been over three years since Google's reorganisation. The tech giant has thrived under its new parent company, Alphabet [GOOGL], with revenue surging $259.3bn and the share price up nearly 90% at $1,205.
However, with Google accounting for 99% of Alphabet's total revenue, the company is still waiting to realise the returns on its cost-heavy research and development division, "Other Bets".   
The shake-up was intended to help Google and its associated ventures operate more efficiently, as focus grew outside of its main internet products, particularly in healthcare with biotech company Calico and life sciences firm Verily.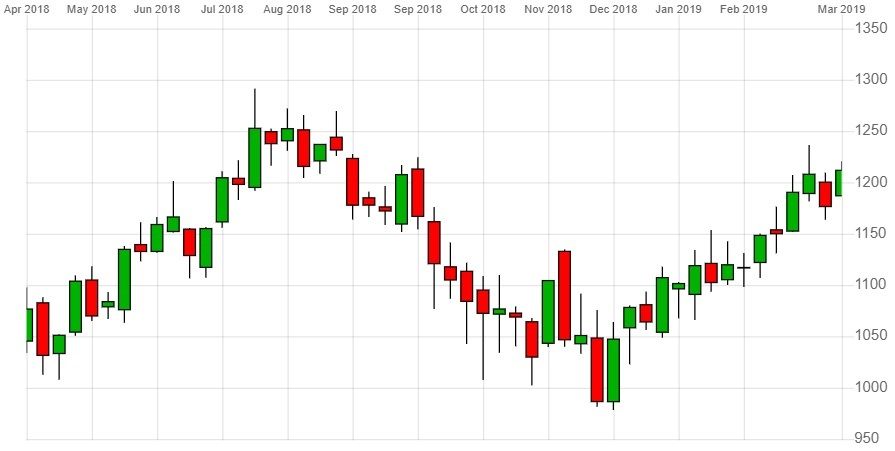 Alphabet 1-year share price performance, CMC Markets, as at 9 April 2019
Since Alphabet's inception, it has introduced many subsidiaries, absorbed some back into the company and even managed to spin off other projects into independent businesses. However, whether the model has increased innovation or slowed it down is unclear.
Alphabet's struggling "Other Bets" 
Alphabet's Other Bets has diversified into various sectors with both new launches and acquired ventures: the collection of divisions includes its experimental X lab, its internet group Access, its LTE balloon initiative Loon and its drone delivery project Wing, among others.   
While none of these Other Bets have quite taken off, Alphabet's $100bn in cash does offer a buffer for it to make long-shot bets on new ventures that have idealist upside potential like Loon and Wing, which have both been spun out as separate businesses. 
These are the fourth and fifth businesses to become independent from Alphabet following Verily and Waymo, its self-driving car unit, and while costs for each of the companies are likely to increase in the short-term, revenues are expected to remain low as they pursue commercial viability. 
Last year, $21.4bn was spent in Other Bets, primarily to capitalise on new trends such as virtual and augmented reality, AI, machine learning, 5G and quantum computing. However, the division only made $595m in revenue in 2018, which is just 0.4% of its total revenues, and was dealt a large blow when it lost arguably its biggest revenue raiser: smart home product manufacturer Nest, which re-joined Google in February 2018.  
MoffettNathanson analyst Michael Nathanson explained that while Alphabet's recent capital expenditures have been rising sharply, the bulk of it has been going into real estate investment and data centres, which is a "net positive" and a sign that the company is "thinking strategically".
"As artificial intelligence becomes a greater driver of its businesses, we believe Alphabet is building now to support human capital and processing power needs in the near future. Accordingly, we anticipate Alphabet will soon gain leverage from these investments, powering top-line growth and cementing its competitive positioning in the market," said Nathanson, who has a 'buy' rating on the stock with a $1,380 price target. 
$21.4bn
Alphabet's spend on "Other bets" in 2018
Overall, it appears that, despite the failed businesses, Alphabet's stock has a strong 'buy' rating among analysts with an average price target of $1,345, suggesting a 13% upside. 
Google streamlines products 
Google's product portfolio hasn't had the best start to the year either. In January, the company's hardware division discontinued the streaming device Chromecast Audio and YouTube removed the annotation tool.
In February, Google's Access division made more cuts to its broadband service, Google Fiber, which is set to end 15 April, and Android Things, Google's stripped down version of Android, dropped Internet of Things support.  
In March, the hardware division was hit again as it announced staff cutbacks, the entertainment unit Spotlight Stories closed its doors and in an effort simplify its messaging strategy, Google shut down two out of its seven apps, Google Allo and Hangouts 
April has been more of the same too with its failed Google + social network being axed the same day Inbox closed. Later this year, Google Music will also start to wind down as it's migrated to YouTube Music.
The businesses most likely to drive growth
Google's massive Cloud platform, which houses a diverse portfolio of cloud-based tools and services, is the third leading business in the $180bn cloud market, making it strongly positioned to benefit from the 24% predicted annual growth in the sector.  
In addition, there is much to be said for the tech giant's bet on self-driving cars as a potential long-term growth driver, given autonomous vehicles are forecasted to be a $7tn a year industry by 2050. 
Market cap
$

838.18bn

PE ratio (TTM)
27.55
EPS (TTM)
43.70

Profit margin

22.46%
Alphabet stock vitals, Yahoo finance, as at 9 April 2019
Whether Google will allow investors to financially back Waymo is unclear, however it appears that it is selling equity in at least some of its companies. Verily raised $1bn in a funding round led by private equity firm Silver Lake, putting the company a step closer towards potential independence.   
Alphabet's most prolific investing-arm, GV, continues to make strategic moves that are helping the company achieve big earnings through its backing of scooter rental startup Lime, online publishing platform Medium and coffee retailer Blue Bottle. The company had claimed more than $4bn in investment gains in the first half of 2018. 
Alphabet has profited handsomely from its dominance in the search and ad business – which makes up 87% of its revenue – and while its pursuance of the 'next big thing' could pay off, investors will have to watch closely.