The last of the FAANG stocks to announce earnings, Alphabet [GOOGL] made $39.3bn in the fourth quarter, a 22% jump from the previous quarter, and $136.8bn up 23% year-on-year. 
Costs per click on Google's advertising fell 29% from last year, signaling to shareholders that pricing pressure from its competitors is heightening. 
Google's parent company announced earnings per share of $12.77 that beat analysts' expectations of $10.86, and its bottom line was further lifted by a $1.3bn investment related to "a non-marketable debt security". 
"With great opportunities ahead, we continue to make focused investments in the talent and infrastructure needed to bring exceptional products and experiences to our users, advertisers and partners around the globe," Ruth Porat, CFO of Alphabet and Google, said.
The company's share price started 2019 positively, gaining 16.7% from its 52-week low although it is still down 4.8% year-to-date. The results led its stock to rise 1.9%, closing at $1132.80.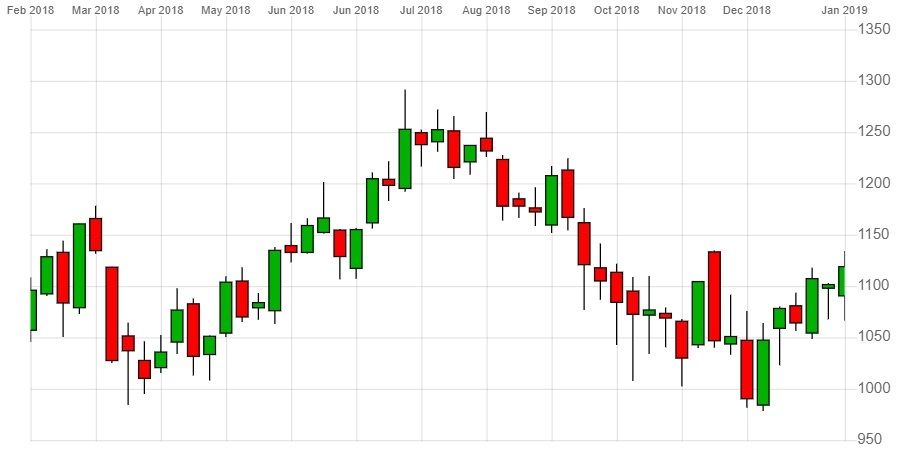 Powered by CMC Markets, as at 6 February 2019
Shares are trading at a fairly expensive price to earnings ratio of 42.51. When compared to its FAANG peers, only Amazon [AMZN] and Netflix [NFLX] are trading on a more expensive price-to-earnings ratio at 90.59 and 124.00 respectively.
Like most online proprietors, Alphabet remains consistently a 'buy' among analysts, with some regarding the stock to be undervalued at $1132.80 despite a tough 2018. 
Some reprieve after a bruising year
2018 was a difficult year for big tech, perhaps most publicly because of the transatlantic interrogation of companies like Facebook [FB] after the extent of the social media network's relationship with politics, the media and its outsized impact on society became clear. 
But Alphabet struggled too, down 24.3% in December from its 52-week high in the previous 12 months. It was hurt by the rotation out of risk-on assets; its role in propagating conspiracies or inappropriate YouTube content in search engines; diversity issues; and regulation mishaps to name just a few of the many gaffes.
24.3%
Alphabet stock's fall in value in December, from last year's 52-week high
As a result, the stock underperformed most of its major peers as well as the S&P 500 and the Nasdaq Composite, and in 2018, only Facebook and Apple [AAPL] fared worse. However, the company's fourth quarter report suggests there's light at the end of the tunnel.
It now boasts a strong balance sheet – whilst some of its competitors, for example Apple, have chosen to buyback loads of their stock, Alphabet has allowed its cash reserves to grow – as of last quarter the company had around $106bn in cash/short-term investments, and approximately just $4bn in long-term debt.
Yet something holding Alphabet's share price back is its already high price to earnings ratio. The company's P/E stands at 42.51, above the S&P 500 average of 20.975 and even above that of the Nasdaq Composite, which has a ratio of 19.83 at the time of writing.
Upward momentum if scandal avoided
If Alphabet can avoid scandals similar to those seen in 2018, such as any serious advertising or privacy breaches, then Alphabet shares could soar this year. 
Google cloud, Google Play Store - its hardware division - and Waymo are becoming increasingly significant income sources and will form a key part of the company's portfolio moving forward.
| | |
| --- | --- |
| Market cap | $799.42bn |
| PE ratio (TTM) | 26.22 |
| EPS (TTM) | 43.70 |
Alphabet stock vitals, Yahoo finance, as at 6 February 2019
Alphabet's "other revenues" segment, which includes its cloud business and hardware sales, accounted for $6.49bn during the most recent quarter, rising 31% year-over-year and beating analysts' estimates of $6.43bn. It's "one of the fastest growing businesses across Alphabet", the company said during their announcement. 
If the growth shown in its fourth quarter report is maintained going into the New Year, the stock could be the sector's best performer come the end of the year.