It has been a rotten year for Chinese stock markets. The Shanghai Composite Index has fallen over 20% since the start of 2018 as concerns over a weakening economy and the threat US tariffs pose to China's huge export business, worth billions of dollars, take hold.
But things got worse two weeks ago, when the index slipped a further 3.7% as it digested a week's worth of data in one day following the end of the Golden Week holiday. Not even the People's Bank of China's latest move to cut banks' cash reserves in order to pump $100 billion back into the economy helped.
Lowered expectations for Alibaba's share price
Alibaba (BABA) was caught harder than most. The once sought-after stock was sent plummeting in the fallout from Golden Week and at one point hit a fresh low for the year of $135.14.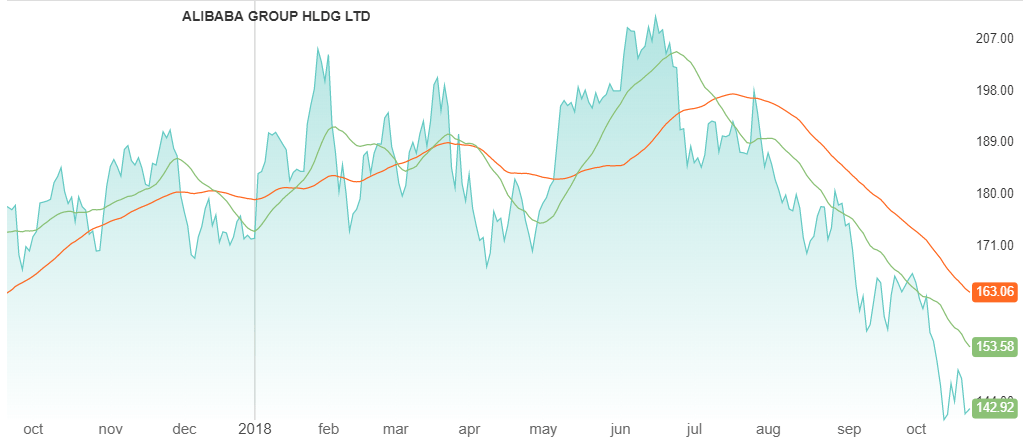 Source: NASDAQ interactive chart, as at 22 October
As the share price tumbled even bullish analysts trimmed their price targets, with KeyBanc cutting its target from $280 to $260. On the RSI (relative strength index), the company had already been trending lower, suggesting momentum may have left the stock since hitting overbought levels. 
Part of the squeeze has been triggered by September sales figures coming in weaker than expected and investment in new business lines eating into profit margins. Not to mention President Trump's trade war with the Middle Kingdom which has hit US-listed Alibaba.
Alibaba is not alone. Along with fellow Chinese tech giants Baidu (BIDU.O) and Tencent (TCEHY) – known as the BATs – these companies have collectively been crunched to the tune of $165 billion this year. 
Can Alibaba turn things around?
Despite this bleak assessment, Goldman Sachs is bullish on Alibaba's future and rates the company's stock as 'Buy', having upped its 12-month target price from $241 to $247 at the start of October.
What could be backing Goldman's optimism? Cloud computing via Alibaba offshoot Ant Financial has been a good news story, with domestic market share growing from 30% to 46% in 2017. A lucrative business considering China has over 700 million internet users. 
Amazon (AMZN), the global leader in cloud computing, has so far struggled to crack the Chinese market, where local conditions favour home-grown businesses like Alibaba.
Another reason for guarded optimism was a change of leadership in September, when CEO Daniel Zhang inherited the top job of chairman from Jack Ma.
While Ma's retirement announcement initially unsettled the markets, it's worth remembering that Zhang has long been credited for turning Ma's big vision ideas into profitable reality. 
Known for a more pragmatic style of leadership than Ma – who once entertained staff with a medley of Lion King songs – Zhang has masterminded Alibaba's mammoth online Singles' Day event, Henna supermarkets, which blur the line between retail and online shopping, and deals to expand into Russian and south-east Asian markets.
Long-term prospects for Alibaba shares
An argument can be made that western investors might not fully understand the sheer size of Alibaba's operations, and, therefore, its opportunity – it is easier to understand a company that operates in your own backyard than one that primarily does business on the other side of the world. 
With a turnaround in domestic growth and expansion into overseas markets, Alibaba could be set for long-term prosperity, despite the current bearish signals. However, for Alibaba's stock price to pick up in the short- to mid-term, there might have to be a renewed focus on the bottom line and a thawing in the US-China trade war.