China's slowing economy, escalating trade tensions with the US and changing regulations have been strong headwinds for the country's top two technology companies, Alibaba [BABA] and Tencent [TCEHY], and have hit their respective share prices, hard.
Market values of the two incumbents had been sitting around the $500bn mark in mid-2018, however, the China-US impasse has seen them fall to around $400bn so far this month. As the two largest stocks on the MSCI Emerging Markets Index, their falling share prices could drag the wider index down as far as its January lows.       
When comparing the two companies' share price performances in 2019, Alibaba's 14% rise since December more than outshines Tencent's 5% uptick. Tencent outweighs its key rival's return on equity, however, with 25.76% compared to Alibaba's 20.42%, according to Reuters.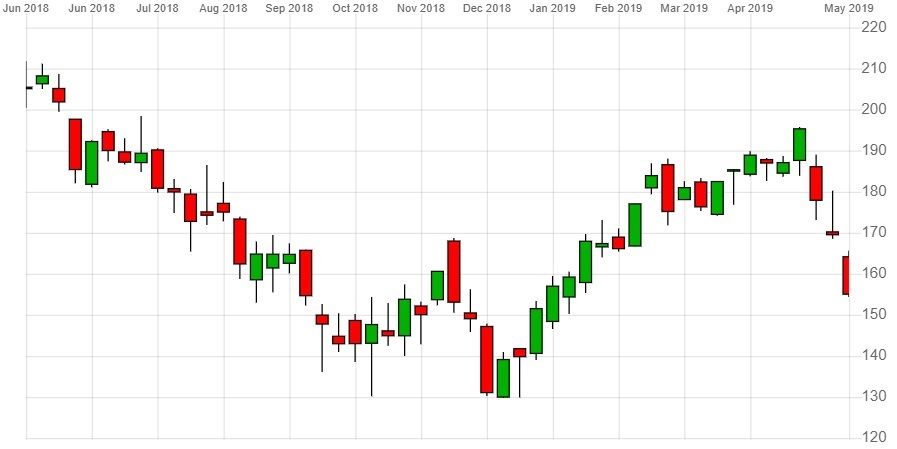 Alibaba 1-year share price performance, CMC Markets, 28 May 2019
Both companies outperform the interactive media and services sector, which supports am 18.96% return on equity (TTM). However, when it comes to earnings, Alibaba's $3.50 earnings per share more than trumps Tencent's $1.35 EPS, making it the more attractive bet for income investors. 
Diverging revenues
Both companies released earnings results on 15 May, and investors were keen to see how macroeconomic struggles had impacted their performances.  
Both firms beat market expectations, but it was Alibaba's new strategy in incentivising merchants to spend more that appeared to give investors renewed confidence. 
The ecommerce giant posted revenue of $13.9bn for the three months ended in March, its Q4 of fiscal 2019, and forecast revenues of 500bn yuan for its fiscal 2020, which would represent growth of around 33% from its 2019 total of 377bn ($56bn).  
Alibaba's Q4 income was up 51% year-on-year – a complete turnaround from its previous quarter, which saw the company's slowest growth in three years. The success was largely due to a 54% jump in revenue from its core commerce business, suggesting its recommendation-based ad business was successful in luring more merchants to spend. 
 
Alibaba
Tencent
Market cap
$401.79bn
$

390.01bn

PE ratio (TTM)
44.32
30.15
EPS (TTM)
3.50
1.36
Profit margin
23.32%
25.46%

Quarterly Revenue Growth

 

(YoY)

51.00%
16.20%
Alibaba & Tencent share price vitals, Yahoo Finance, 28 May 2019
Tencent's Q1 results, on the other hand, were quite the mixed bag. While the $4bn in net profits beat analysts' estimates, it posted a modest 16% year-on-year increase in revenue – its slowest growth since going public. 
The slowdown was mainly due to lagging growth in its online gaming segment, which had been hit by the country-wide freeze on new game monetisation that prevented Tencent from charging for its new online title: PBUG. 
However, government restrictions have recently been lifted, allowing the company to finally tap into the royalties. The online game grossed $14m within the first three days of release, more than surpassing the $4m Fortnite – the widely popular battle royale game – pocketed in the same duration. 
Cooperation signals growing maturity 
The common thread for both is their increased cooperation in recent months. Although they operate in separate sectors – Tencent primarily in gaming and social media, while Alibaba's core business is advertising across its ecommerce platforms – the two companies have made similar investments in recent times. 
In March, both joined forces with carmakers including Chongqing Changan Automobile, in a $1.5bn ride-hailing venture to take on the Chinese market leader, Didi Chuxing. 
They're also building on their cloud capabilities to offer software and other services to business users. Alibaba Cloud, which IDC ranks as China's top cloud service with a 43% market share, grew by 76% year-on-year in its fourth quarter to $1.15bn by serving more than half of the top listed companies in China. 
76%
Growth of Alibaba Cloud year-on-year
Tencent's cloud business has expanded rapidly as well, although it is well behind Alibaba Cloud with an 11.2% share of the market. Tencent pegged its 44% year-on-year growth in its fintech and business services segment on the growing sales and customer base in its cloud business. 
Indeed, both Alibaba's and Tencent's cloud divisions shine a light on how their business strategies are evolving, as they continue their battle for the title of Asia's most valuable company.