This earnings season Activision (ATVI), Electronic Arts (EA) and Take 2 Interactive (TTWO) all missed Wall Street's expectations as they succumbed to pressure from online phenomenon Fortnite.
By offering its battle royale mode for free, Fortnite has radically changed the gaming industry where players are typically charged £50 for the latest release. Since its release in 2017, more than 200 million people have registered for Fortnite, with 75 million registering between June 2018 and November 2018. 
75million
Number of Fortnite players registered between June and November 2018
Investors will now be weighing up how the gaming industry's heavyweight publishers respond to this challenge after this month's mixed set of earnings results. 
 
Activision Blizzard [ATVI]
 
Activision Blizzard's fourth-quarter results saw the company announce $2.84 billion of revenues with earnings per share (EPS) at $1.28, missing the $3.03 billion in revenues and $1.29 EPS expected by Wall Street.  The company also forecast weaker-than-expected full-year revenues of $6.30 billion. 
Even though Call of Duty: Black Ops 4 – the latest entry in the best-selling Call of Duty series – was the number one game of last year, Activision admitted that sales fell short of their own expectations, with sales slowing in the second half of the quarter as gamers raised issues about the online multiplayer and defected to Fortnite.
The company also confirmed in the announcement that 8% of Activision's workforce would be cut in a move to boost profits and centralise functions. However, the company said it would be increasing its development team for its internally owned franchises.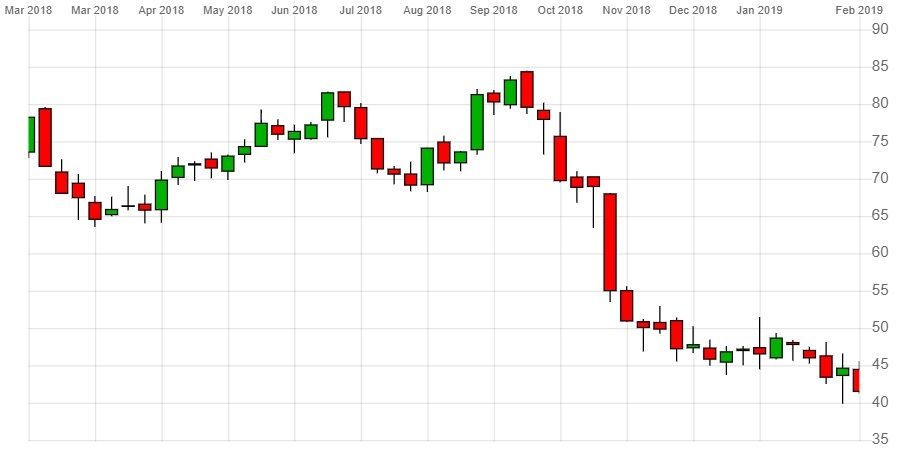 Powered by CMC Markets, as at 27 February 2019
Chief Operating Officer Coddy Johnson commented:
 
"Our 2019 outlook assumes that we will not improve in-game monetization as quickly as we would like and that it is a transition year where we have less new major content to release than we should."
Since October the share price has dropped 50% and recently touched a two-year low of $40.11, so news that there is a lack of new games in the pipeline and problems driving revenue from in-game purchases will do little to reassure investors.
Electronic Arts [EA]
 
Like Activision, Electronic Arts's (EA) share price took a hit after third-quarter results missed analyst expectations with the stock dropping 13% after the announcement. 
Analysts had been expecting $1.94 earnings per share from $1.75 billion in sales. Instead, earnings per share came in at $1.93 with adjusted sales of $1.75 billion.
| | |
| --- | --- |
| Market cap | $29.51bn |
| PE ratio (TTM) | 21.45 |
| EPS (TTM) | 4.59 |
EA stock vitals, Yahoo finance, as at 27 February 2019
The company cited 'insane competition' in the gaming industry as a reason for the miss.
 
Battlefield V - the company's answer to Call of Duty -  also underperformed over the Christmas period, feeling the heat from a botched launch and competition from Fortnite.
 
"Our [Battlefield V] launch didn't resonate as strongly as we would have liked it to with players, and we were never truly able to catch up," said EA's CEO Andrew Wilson. 
 
EA is now looking to take on Fortnite with free-to-play Apex Legends. Released at the start of February, Apex has amassed over 25 million players and is generating around 4 times more viewers than Fortnite on video game streaming service Twitch.
 
So far this year, the share price is up over 22% having had a tough 2018. But with the success of Apex and the upcoming release of much-hyped Anthem it could find further momentum and head closer to July's high of $150. 
22%
Increase in EA share price value YTD
Take-2 Interactive [TTWO]
 
Sales of Red Dead Redemption 2 helped the Take-Two Interactive hit £1.25 billion in GAAP net revenue, crushing the $480.8 million the company managed in the same quarter last year. 
 
The game shifted 17 million copies in the first eight days of release, bringing in $725 million. However, total sales now stand at 23 million as the hype around the game's launch died down.
Despite these impressive numbers the share price slumped 12% after missing Wall Street's optimistic expectations in the earnings announcement. Worse still, the share price has caved over 25% since the release of Red Dead Redemption 2 in October as sales slowed.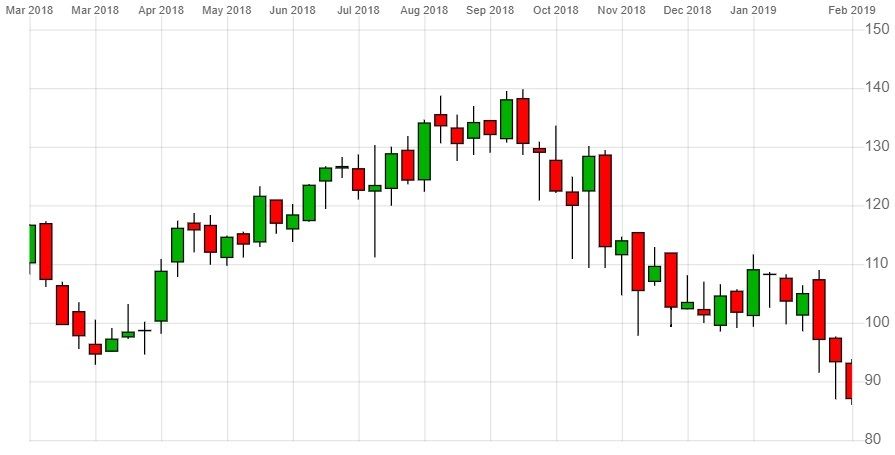 Powered by CMC Markets, as at 27 February 2019
Still CEO Strauss Zelnick was bullish about the company's performance, telling CNBC: 
 
"Our outperformance was driven primarily by the record-breaking launch of Red Dead Redemption 2 along with strong results from NBA 2K19. In addition, consumers engaged significantly with our offerings, and recurrent consumer spending grew 31% to a new record."
The hope will be that investor confidence will be restored with a 7-year exclusive deal with the NBA and the release of Red Dead Online, which will provide an additional revenue stream through in-game purchases.