On Tuesday, pharmaceutical company AbbVie [ABBV] made a shock announcement that sent Wall Street into a panic: it would be acquiring beleaguered competitor Allergan, the maker of Botox, for $63bn. 
The company's investors were not happy. AbbVie's share price plummeted following the news, closing down 16% to $65.70 by the end of the day.
For Allergan [AGN], it was a different story. The company' share price, which had been acquired at $188.24 per share (a 45% premium on its Monday price) shot up by 30% to a year-to-date intraday high of $168.65 on Tuesday.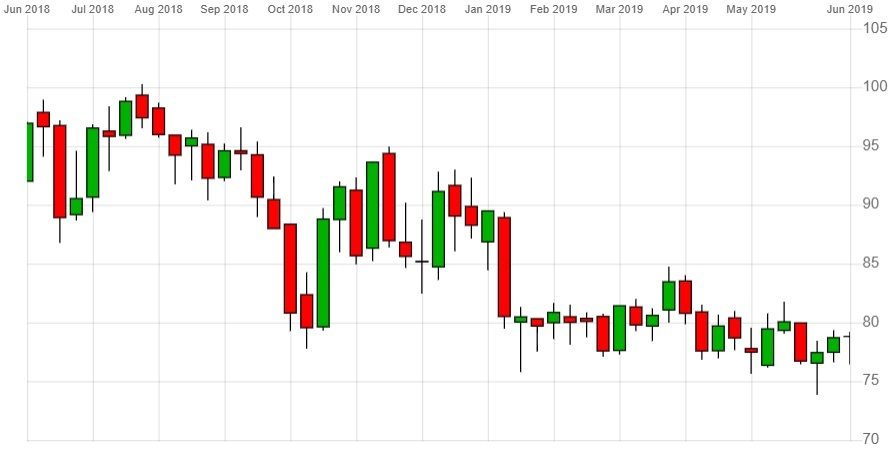 AbbVie 1-year share price performance, CMC Markets, 28 June 2019
A tale of two pharma firms
Both AbbVie and Allergan's share prices have been on a downward trend in recent years as the firms have each struggled to broaden their drug portfolios and ward off activist investor attempts to shake up their management structures.
For Allergan in particular, which was trading 60% lower than its 2015 high of $331 on Monday, the sale is a "welcome exit" according to RBC Capital Markets' Randall Stanicky, in a note written to clients on Tuesday.
Jefferies' healthcare strategist Jared Holz agrees, saying the acquisition is "a major bailout for Allergan shareholders that before today were hoping for a split as a salvaging event".
"A major bailout for Allergan shareholders that before today were hoping for a split as a salvaging event" - Jefferies' healthcare strategist Jared Holz
AbbVie's investors, on the other hand, clearly aren't pleased with the developments. Not just because commentators are saying the company has overpaid for the Irish drugmaker – but also because of increased competition for Allergan's flagship product, Botox. 
One of the most well-known cosmeceutical brands, Botox was first approved in 1989. But as the muscle-freezing treatment has increased in popularity, more competitors have emerged. 
Investors now have their eyes on Evolus, a young pharmaceutical firm which received FDA approval for a similar drug earlier this year. On Tuesday, the company's share price opened 9.5% higher, at $15.00.
Meanwhile, AbbVie's flagship arthritis drug, Humira, is due to lose its patent protection in 2023.
Is AbbVie a buy opportunity?
Despite the market's reaction, AbbVie itself is upbeat about the deal. It reckons that once finalised in 2020, EPS could increase as much as 10% by 2021. At its most recent quarterly earnings call in May, the company announced revenues of $7.83bn and EPS of $2.14, beating Zacks consensus estimates on both counts. It also raised its full-year outlook, saying it expects adjusted EPS of between $8.73 and $8.83 up from its previous estimate of $8.65-$8.75.
Market cap
$

103.49bn

PE ratio (TTM)
19.94
EPS (TTM)
3.51

Quarterly Revenue Growth

 

(YoY)

-1.30%
AbbVie share price vitals, Yahoo finance, 28 June 2019
By Wednesday morning, AbbVie's share price was climbing again, opening 2.3% higher than Tuesday's close. Coupled with expected future growth, some analysts are suggesting that the drugmaker's stock could be a good-value buy. Its current forward P/E ratio of 7.40 – trading at a discount to the industry's forward P/E average of 14.56 – supports this theory.
SVB Leerink upgraded AbbVie to 'outperform' after the acquisition was announced, saying it expects the company to discover "even more synergies from Allergan than was suggested yesterday". 
"Based on AbbVie's new dividend yield of 6.5%, the sustainability and likely growth of that dividend through 2023 (at least) … we are upgrading AbbVie to Outperform," Leerink analyst Geoffrey Porges said in a note to clients. He also reiterated a price target of $88 for the stock, representing a potential 26% upside on Thursday's closing value of $70.00.