From cloud databases to online messaging tools, there's a huge demand for online business software. Big hitters like Salesforce and Oracle earn billions every year and are now indispensable to how many companies operate.
A new breed of software companies offering online business solutions are now following in their footsteps, vying for the attention of investors to fuel their ambitious plans. 
But which ones are worth watching out for? We look at the software stocks turning traders' heads right now.
MongoDB has undergone rapid growth since launching its cloud-database product in 2007. In 2018's full-year earnings report annual revenues were up a huge 72.8% from 2017, coming in at $267 million.
This year shares are up a massive 70%, and have easily outperformed the rest of Zacks' Computer & Technology sector.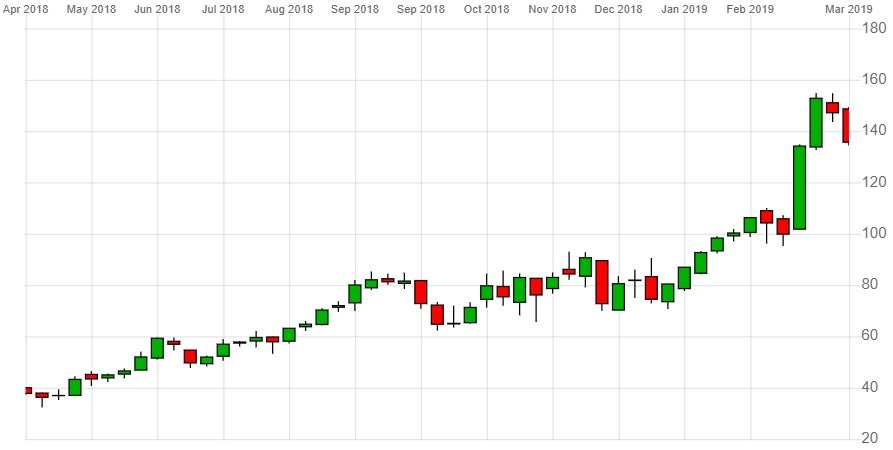 MongoDB 1-year share price performance, CMC Markets, as at 9 April 2019
But can MongoDB mount a serious challenge to market leader Oracle? That depends on whether it can transform its bottom line. An EBITDA of -91.97 million and operating margin of -36.61% falls someway short of the big players on the market. Oracle, for example, has an operating margin of 35.90% TTM.
Of further concern to investors is MongoDB's failure to achieve a profit, and losses have in fact been growing – last year the company recorded a $99.01m loss in revenue, having lost $83.97m the year before.
The company also faces stiff competition from Amazon. Back in January the stock plunged when Amazon rolled out DocumentDB - a direct competitor to MongoDB's cloud-based offering.
If investors are going to take the company seriously, it'll need to get its losses under control and start making a profit.
Still, shares are up a massive 70% since the start of the year, and have easily outperformed the rest of Zacks' Computer & Technology sector.
66%
MongoDB's share price increase YTD
Smartsheet Inc. [SMAR]
Analysts expect the global enterprise collaboration software market to be worth $53.8 billion by 2023. Looking to ride this boom is Smartsheet, which lets teams assign tasks, manage calendars and generally keep on top of things.
The fourth quarter of 2018 saw Smartsheet's revenues grow 58% year on year to $52.2 million. This comfortably outperformed the market forecast of $50 million. Subscription revenues grew 56% and professional services revenue was up 77% to $5.7 million. The share price rose 9% following the announcement.
Market cap
$

4.03bn

Forward P/E

-72.50
EPS (TTM)
-0.65

Quarterly Revenue Growth

 

(YoY)

58.20%
Smartsheet stock vitals, Yahoo finance, as at 9 April 2019
Commenting on the results, Smartsheet's chief finance officer Jennifer Ceran said:
"The momentum in our business is supported by strength across our key metrics. Our net dollar retention rate reached 134%, aided by domain average ACV growth of 50%."
Investors haven't been shy about picking up the stock. Since this time last year, the stock has surged a huge 68.48%. 
Could the share price go higher? The average 12-month price target among analysts is $52.13, which suggests a 28% uptick on current levels.
Zendesk's has upped its R&D budget to 20% of revenue as it looks to expand its product portfolio beyond its main online support offering. Chief among these is Sell, an automation tool that gives Zendesk a presence in the applications for business sales market which could be worth $13.8 billion in 2021.
This shift also sees a focus on picking up enterprise accounts with +100 users, rather than the smaller pickings where Zendesk made its name.
Targeting bigger fish looks to be a profitable move. Since going down this route, enterprise accounts now make up 40% of Zendesk's monthly income. As larger accounts come on board, it will have a wider market to up sell new products and increase revenues.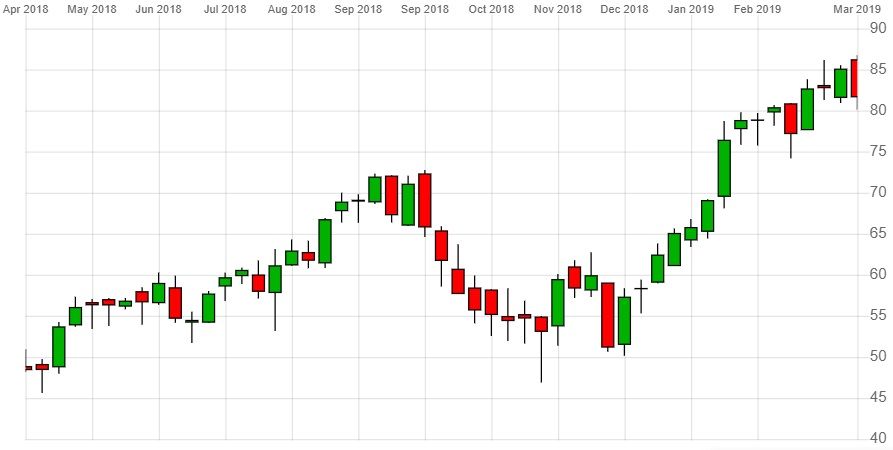 Zendesk 1-year share price performance, CMC Markets, as at 9 April 2019
Investors are buying into the shift in focus. Shares are up 47% since the start of the year and an astonishing 200% since the middle of 2017 when Zendesk announced its strategy. Recently the stock has been trading at an all-time high of $84.56. Growth also jumped from 38% to 41% in the most recent quarter.
Zendesk, however, has some way to go to challenging rival Salesforce's market dominance. In its full year results, Salesforce saw revenue of $3.6 billion, making Zendesk's $598.7 million seem paltry in comparison.