Will this week see a break out of the Yen trading range?  This is a key question for world markets.
The fact that the US Dollar has stayed relatively weak in the face of Bazooka easing efforts by the Bank of Japan and the ECB has been a significant feature of the market landscape this year. It's helping both commodities and stock markets (especially in the US).
Forex traders will have a watching brief on this afternoon's Bank of Japan meeting given its history of outlier action. However, this week's Fed meeting might be the one with the greatest chance of moving markets. The Fed is not expected to change its rate at this meeting but it could leave markets thinking that at least 2 rate hikes are possible this year.
Nothing in the recent flow of data on the US economy that I've seen would stop the Fed continuing on its path of gradual rate hikes. If anything, the improvement in the core PCE inflation measure improves the prospects of rate hikes. Perhaps more importantly, recent improvements in world equity markets and the relative weakness in the $US are making the rate hike task a little easier at this stage. No doubt the Fed will be very cautious in its language but if it starts preparing markets for the next rate hike, the risk on the Dollar might be to the upside.
Dollar Yen trading range
A Dollar Yen trading range has been developing in recent weeks. The direction of the break out of this might be a useful indicator of where the Dollar goes from here.
The support for this trading range looks pretty clear. It consists of the double bottoms around 111. A break through this would be bearish.
The resistance looks a little less defined at this stage. If price backs away from here we would be left with a downward sloping resistance line and a descending triangle. That scenario could see more time inside the triangle with another test of both the support and resistance possible.
On the other hand, a move straight up through the 115 resistance from here would look like completion of a bullish double bottom. In that case, the previous low around 116 would be the next resistance and might be an area that could threaten a new rally.  Some defensive action with stops on long positions  might be a good idea around that resistance until the up trend gets clearly through it.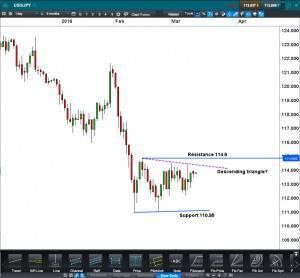 Yen trading range
USDJPY Daily