Woolworths released its first quarter sales report this morning. Most aspects of the report were in line with expectations. This in itself was a relief. When Coles missed expectations last week, there was nervousness that Woolworths might follow suit. In the event, Coles' relatively soft result can now be seen as being about Woolworths reclaiming market share
The key take away from today's report is that Woolworths is a company executing sensible strategy well.
 The 4.9% increase in comparable supermarket sales was based on a 6% increase in sales volumes. It came despite a 2.4% decline in prices, led lower by a weather related drop in fruit and vegetables.
Woolworths' sales volume increases reflect improving customer satisfaction. It is concentrating on efficiency and service now that it has neutralised Coles' price advantage. Queue wait times improved while online sales grew 10% as Woolworths Click and Collect service was expanded to all 970 Australian supermarkets.
The biggest surprise in today's numbers was a positive one. Big W achieved comparable store growth of 2.9%. Management's view is that this improvement came as they achieved the first step in the turnaround strategy. This involved restoring customers' price trust in the brand. This may change this Big W into a valuation plus as the market begins to look forward to the possibility of it being sold
Challenges and valuations
The supermarket industry's challenges are well understood. High margins are attracting international competition. Aldi has already carved out a significant market share putting downward pressure on supermarket profit margins.
Fellow German hypermarket operator, Kaufland, will be opening in Australia soon and Amazon is due.  The greatest threat from Amazon may not be so much its online capability as its aggressive strategy of growing market share with minimal profit. This will put further pressure on local margins.
Woolworth's will need to execute strategy well to achieve modest growth beyond an immediate recovery stage. At 19.5 times the next 12 months earnings and 17.2 times forecast earnings of F2020, there is plenty of good news priced into the share price already
Chart Review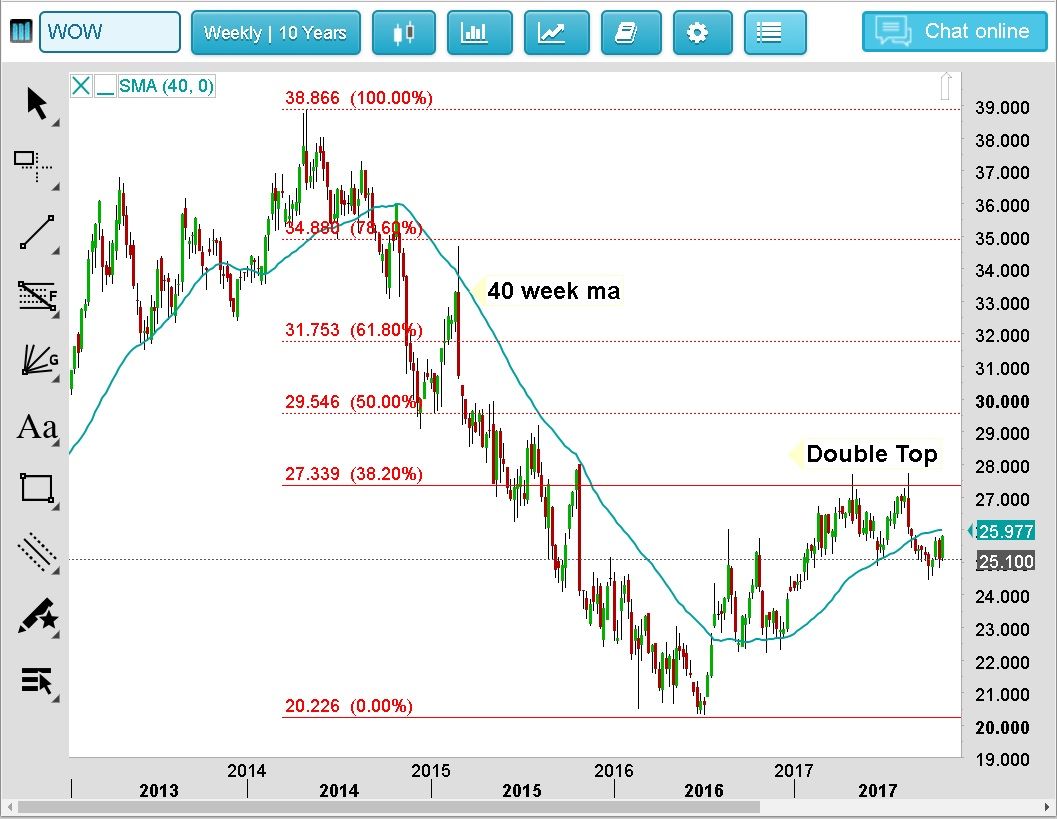 Perhaps the standout feature of this chart is how consistently the 200 day (40 week) moving average has acted as support and then resistance over the past 3 years.
Having broken below the 200 day moving average in August, it  could easily turn out to be resistance  again around $26, given full valuations.
It pays to give this resistance a bit of tolerance. For me it would take a break above about $26.30 to assume a definite upside break.  Also that might not mean a major uptrend to follow, just some choppy range trading.
 Everything comes to an end. An upside break of the 200 day moving average may mean it has finally lost its power as support and resistance and is beginning to flatten out with a range trading period in place.