Woolies' share price was up 4% yesterday in an interesting day's price action.
There are again press unsubstantiated press reports of private equity interest in buying Big W. This is always likely to make short sellers nervous if nothing else. In other news, former CEO Roger Corbett has been appointed as a consultant for the 2nd time around after serving in this role between 2006 and 2011.
Perhaps of most immediate interest is that the company will hold its AGM on Thursday. Some may be positioning for the possibility that new Chairman Gordon Cairns might just use this as an opportunity to strike hard and early with strategy announcements designed to begin the process of restoring investor confidence.
Yesterday saw the share price gap above its 20 day moving average. Volume was above average although not exceptional at around 7m shares. If the share price can stay above this gap it will be a sign of short term strength. The slow stochastic in the box below the chart is also heading north out of the oversold zone and still well below the over bought zone. This is typical behavior for  the relatively early stages of a rally.
So there are some potentially encouraging technical signs for this stock but it seems likely that any rally will be capped unless there is actually some positive news in the near future. This might be either on strategy relating to the Big W or Masters divisions or signs that Woolworths' core supermarkets business has managed to arrest its loss of market share with the new price cutting initiatives.
In the absence of news, the 38.2% and 50% retracement levels loom as a near term tests for the share price. The 50% retracement coincides with the bottom of the gap created by Woolie's shock lower profit guidance in late October. At the 50% retracement level around $25.50, Woolworths would be trading on around 17.3 times forecast earnings for F16.
Before then, a bounce off  the 38.2% retracement and quick move to fill the gap would be a short term disappointment for bulls. However, this would be typical behavior for the first leg of a larger correction and could yet for a push to higher retracement levels.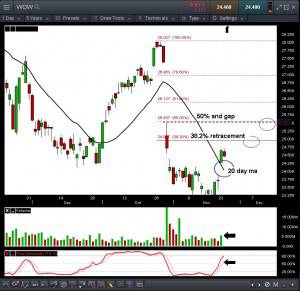 WOW.ASX Daily
Source: CMC Pro Platform